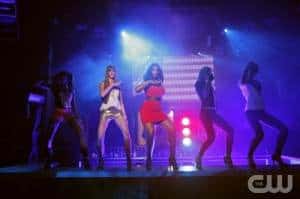 Hoochie toochie smoochie bootchie toochie toochie coochie coochie.
Don't worry, everybody, I'm not having a fit or psychotic break from too much Top Model. (That's like saying "too much air", c'mon. No such thing.) I'm just practicing what tooches to do and what tooches not to do, as the Good Lord (and Mama Tyra) intended. You wouldn't want your salad tooch to get mixed up with your dessert tooch and heaven knows, if I mixed up my dinner tooch with my fish tooch, I might not be to show up at the next TV Blogger Luncheon, Fashion Show, and Tooch Off. And we wouldn't want that now, would we?
Y'all, tonight's Top Model was all types of stupid and train wreck-y, but I have to admit…I kind of loved it. I don't know if it's residual good feelings from an improved cycle or what, but episodes like this are proof that Top Model can still produce cray cray TV with the best of 'em. We return to the music challenge that began last cycle (POT POT POT LEDOM), but instead of nine individual videos crammed into 42 minutes, it was the battle of the girl groups, as Fiercely British took on The United Sirens of America. That sound you hear is the Pussycat Dolls shaking in their hooker heels. Even though I would like to have seen what the nine could have come up with for their individual video, having it be group v. group gave the episode more focus than last cycle's music episode, playing up the concept of the season to great effect.
What it mostly did, though, was subvert expectations about the casting this cycle; before the cycle, I figured the Brit girls would dominate on the modeling front and struggle with personality (and vice versa for Team Amurrica), but you know what? It's kind of the other way around. The Brits absolutely turned the video for their Lisa D'Amato-penned speak-sing out, in, and out one more time, for good measure. While the Americans were either pitifully blank (Kyle, Seymone), over-the-top (Eboni), a mess (Laura), or "too cool" (AzMarie), the UK sparkled and showed off serious confidence and star power. Even demure little Catherine amped it up and put last week's debacle in the rear view mirror in a challenge I expected her to have a tough time with. The Brits like each other much more than the Americans and that unity played well in front of the camera, both in terms of group shots and giving each other confidence for individual scenes, so the team concept isn't merely gimmicky window dressing. You had to really lean on your team to take this challenge and that closeness from the Brits soothed any lingering doubt, propping up girls that aren't dancers and making them look like true divas. After weeks of the Brits never really gaining a foothold, in terms of call out order, it felt fantastic to have all four of them be called out before a single American.
The songs that they had to play with, though, were a little too Lisa to get into. I liked (and shamefully jammed to) "I Be Like Whoa" quite frequently, but she put too much of herself into the lyrics and it felt like this turned into a Lisa D'Amato cover challenge v. a music video challenge. The one advantage that cycle 17's music
episode had over this episode is that it let the girls write their own lyrics; they may not have been penning Joni Mitchell songs, but you got a little personality in there and it helped differentiate the pack from one another. I wish that it had been a total team effort a'la the editorial challenge earlier this cycle, if only so we could watch them come together and observe the teamwork aspect one more time. Amurrica would have been f-ed over that way, too, since Laura's a crazy lady and Kyle can't seem to conjure any emotion in her voice/face aside from mild constipation. What the h-e-double-fiercely-real was that teddy bear fight? You guys, there was a teddy bear fight. If there's not a pillow fight soon, I may literally die. But seriously, Laura, get it together, girl – if you're having a tough time adjusting to your friend passing, maybe going on reality television and trying for a modeling contract isn't the best thing for you to do. No shade about grieving and taking the time you need to heal, but it's clear she's not in the frame of mind right now to become America's Next Polydent Spokesmodel.
I'm all for hating on Kyle, since she still hasn't remotely impressed me, but that screaming fit indicates that maybe it's time for Laura to pull an Ondrei from cycle 16. Go home, deal with your tragedy, and then try to become a model.
The best thing about the episode, by far, was the elimination of presumed frontrunner AzMarie. While her performance lacking any energy and her part in the song jacking Nicki Minaj's 497907th alter ego made it easy to root for her to leave, the main plus is that it might be anybody's game now. Top Model is much more fun when there's not an obvious winner in the bunch (ahemANNahem) and I had AzMarie in the top 2 going into tonight; she was coming off two first call outs in a row and raves from the judges, but that type of momentum can change if you flub enough. And flub she did, refusing to tooch and smelling herself a little too much for my liking. Girl, you still have eight others to outwit, outlast, and outfierce, so now's not the time to let your ego do the posing. And I'm sorry, Top Model has been on since the Dark Ages – if you don't know what you're getting yourself into by now, I can't feel sorry for you when you have to do something goofy. That's not to say that Top Model can't go (way way) overboard and beyond the bounds of normal behavior expected from a model. It can be horrendously irrelevant and tangential to actual modeling, but it's only pretended to be high fashion for, like, a cycle and a half. I complain about the show, but I'm not on it trying to get cheap exposure or become a model, so put on your tooch ensemble and stop talking about yourself in the third person.
Well, that episode happened, didn't it? Even though I've been enjoying the gradual improvement of cycle 18, there's nothing like a good ol' fashioned mess to clear the palette, no? Top Model may be trying to become a more legit competition series, but it'll always have a sweet spot in over-the-top episodes like this, the type of episode that is obviously awful but glorious in every single way.
Thoughts, Quotes, & Observations:
-"I need all the hussies to come down now!"
-"I wouldn't even be in a boy band."
-"I can tell. You have a flat tooch."
-"Say nooch to the hoochie tooch."
-"I love the booty tooch train!" The poo choo train?
-"She's like a nasty mechanic. That face."
-Final Call Out Order: Alisha, Sophie, Catherine, Annaliese, Seymone, Laura, Eboni, Kyle, AzMarie (eliminated)
-Tyra starting to step during the dookie tooch made me crack. the hell. up. Brilliant.
-If you'd like to be the songs you hear tonight, here's Team UK's "We'll Mash You Up" and Team Amurrica's (wait for it) "Stop, Drop, N Tooch".
-The mentors didn't really do anything, but I found Nadine (and her accent) to be quite lovely.
-Next week on Top Model: The remaining eight modeloonies shoot an anti-bullying PSA (It Gets Toochier?) and pose as art installations at a fancy dinner party. Something something Gesamtkunstwerk.