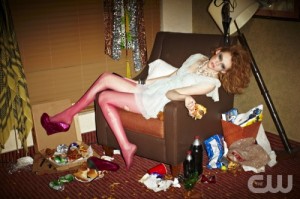 I've struggled with my perception of Victoria, pretty much since she popped onto the Top Model audition episode espousing about the Trail of Tears. Her (unintentional) humor has been one of my favorite things about cycle 19 and much of the time, I'm entertained by how unusual of a person she seems to be. Top Model often repeats archetypes and personalities, to the point where you know the dynamic the house will have before the cycle even starts, so it's been nice having a round peg trying to fit into the square Top Model circle. Though I can't help but giggle at how committed she gets at a photo shoot or the continued drubbing she gives Kiara in her confessionals, Victoria's had many moments that make me believe that she doesn't have the emotional fortitude it takes to become America's Next Top Model. The asocial behavior, the dangerously co-dependent relationship with her mother, the fragile nature of her talking heads – they're all leading to trouble and it's been hard to fully embrace her humor without having to look at her pain.
Help Me Help You
On A Very Special Episode of Top Model, the topic of Victoria's health came into the foreground after a cycle that has mostly played it for laughs or shuffled it away from view. Victoria's near-constant exercising around the house combined with her reduced appetite from being away from her mother (the phrase "I can't taste food" came out more than once) and the near-episodic breakdown on the phone to her mother finally roused up enough concern with the other girls. After her latest crying fit on the phone, wherein her mother told her to come home, Nastasia and a couple of the other girls brought Victoria outside and explained their concern for her. Victoria, however, didn't think that they had anything to be concerned about, denying that she had been doing anything to intentionally harm herself and trying to sweep the entire thing under the rug. The other models all claimed to be thinking of Victoria's health first, but she didn't seem to take what they had into serious consideration.
Road Trip!1!!1!111
For the challenge this week, the girls are taking a road trip to Palm Springs, but on the way, they have to participate in random acts of modeling. In the Top Model universe, a random act of modeling is when a model turns any mundane activity (making the bed, using the phone, brushing your hair) into a photo-worthy moment; you bring the model-esque out in the most ordinary of settings. The girls divided themselves up into two teams of three, with Allyssa, Brittany, and Kristin (Team 1) agreeing pretty quickly and Victoria, Kiara, and Nastasia (Team 2) paired up on the other side. Laura, who ruled last week pretty mightily, got to pick the time that she wanted to be on, joining Team 1. The teams would travel in two separate RVs and have to make three stops to participate in their random acts of modeling, while also filming videos for Nylon TV. There would be a winning team and a winning individual this go-around, with the individual champion (the one who most understood the concept and fit the Nylon brand the best) taking home the scholarship money, the top score, and a spot on Nylon TV.
Team 1 seemed to have more of an idea about what Nylon wanted and what the challenge entailed, as they kept their styling more simple, with pops of color and a fun, flirty edge to their modeling. Not everyone hit the mark, particularly once they headed to a windmill farm for one of their shoots (while wearing pretty tiny ensembles), but there were strong indications that at least a couple of members understood what was being asked. Team 2 had a disadvantage going in, as Victoria has made no secret of her distaste for Kiara's one-note modeling and stank attitude, so it's no surprise that they never got off the ground. They delivered a few cute photos, but they didn't understand what a random act of modeling was, they couldn't get the technology working (i.e. they had to reshoot Kiara's video for Nylon TV, as it didn't record and save), and their styling felt incongruous with the Nylon brand, as they were caught in evening gowns and high fashion hair at their final rest stop, a barbecue restaurant called the Farm House.
The girls then met up with Johnny and Nylon editor-in-chief Marvin Scott Jarrett who revealed the results. On Team 1, Allyssa was too posey, Brittany looked like she took vacation pictures rather than modeling shots, Kristin fit the Nylon brand pretty well, and Laura had the confidence and rocked each part of the challenge. Team 2 had a minor bright spot with Kiara's performance in the photos, but otherwise, they really missed the mark on the challenge, not delivering any random acts of modeling. (He did compliment Nastasia's overall look, however). As expected, Team 1 took home the win, with Laura earning the individual win and an appearance on Nylon TV. Allyssa claims that she's not giving up (where has THAT girl been all cycle?), while Victoria is drained, tired, lonely, and seemingly growing detached from the competition in general.
Dirty Sexy Money
Though the girls were all sweaty, stinky, and exhausted after what was surely a long day cooped up with one another, they didn't have much time to rest at the motel, as Johnny came a-knockin' to tell them about their next photo shoot. The premise, which faintly recalled cycle 17's emphasis on wild behavior and the celebrity lifestyle, was that each model had returned from a night out and were pretty much destroyed; there were a couple of set-ups in a bathroom, with Laura's photo calling for her to fiercely pretend-vomit, while others took place in a corroded bedroom filled with old food (Brittany), a dumpster (Kiara), and a cockroach-infested kitchen floor that apparently needed to be licked (Allyssa). Nastasia may have gotten to be in the shower, but her photo was anything but clean, with Kristin pouring milk all over herself (and pouting about it afterwards) and Victoria taking the moment to dream up another lavish scenario about the character she was playing. This time, she was a Baptist who had lost her virginity and hadn't gotten her period that month, thus her time in the nasty bathroom taking a pregnancy test. Thankfully, though, the test turned out to be negative and there will be no children brought into the Top Model world quite yet.
Panel-vention
At panel, the girls had a very strong reaction to Victoria, as they bring up their concerns about her eating habits to Tyra, who takes the opportunity to get on her soapbox about modeling health. Both during Victoria's time in front of panel and when her name was called in the callout order, she took the time to remind Victoria that she would indeed be monitoring her from her on out and if it became evident that she was intentionally restricting her diet, she would be sent home from the competition. For her part, Victoria kept denying everything that the girls said, claiming to eat full meals during the photo shoots before admitting that she hadn't eaten as much as she usually does due to being away from her mother.
In terms of the photos this week, the upper echelon consisted of Nastasia and Brittany, the prior of whom took home the first callout for the second time. Nastasia had a photo that I didn't particularly care for; her face was fantastic, but where she's so tiny, her body language looked a little dead. Had she added a bit more angle to her body while in the shower, she would have blown me away, but the judges thought that she (finally) photographed taller. Brittany, meanwhile, was the opposite, as her body positioning on a ratty chair was truly lovely and her face was a touch too blank for me. It kept her looking innocent amid all the chaos and played right into what the judges had been asking from her since day one.
The middle tier of the night were Kristin, Victoria, and Kiara, all of whom delivered photos that were good/okay but didn't stand out. Kristin's milk-splash had a certain amount of control to it that I liked and the set-up played to her favor, as she didn't have to look at the camera. Having a variety of facial expressions had been one of her faults in recent weeks and her photo took that away, allowing good body position and an eye-catching element take the focus. Victoria might have been a little too committed to her character, losing a bit of her model and leaning a bit more toward actress, while Kiara had the same problem that she has had from day one. Her body language was strong, but her facial expression (or lack thereof) made her dumpster shot look like a crime scene photo vs. a fierce editorial. Had there been an inkling of power or life in her face, she could have challenged for the top spot, but for now, she continues to hit the same flat note again and again.
In the bottom two were Allyssa and Laura. Allyssa, who it had been made obvious was going home from about minute two of the episode, had a photo that could have been dynamite had it been executed well, but there was no fire to it. It had no arch in her back and no smize on her face, again wasting her beauty on mediocre work. Laura, meanwhile, got too posey with her photo and the judges hammered her for it; Laura's mother had been a model in her younger years and that won't leave her with much of a margin for error. With that much exposure to the fashion industry, the judges expect her to knock it out of the park every time, but she'll get to try it again next week, beating Allyssa by nearly 4 points to stay in the house.
America's Next Top Model Weekly Leaderboard
1. Nastasia – 42.2
2. Brittany – 39.2
3. Kristin – 38.1
4. Victoria – 36.7
5. Kiara – 35.9
6. Laura – 32.9
7. Allyssa – 29.0
Additional Thoughts and Observations:
-Apologies for the lack of a recap last week. Technical difficulties got in the way.
-Kiara's whole "mother hen" routine was a bit too much this week. The bossiness wasn't becoming and felt too much like an overcorrection from her past behavior.
-One of the reasons I'm not a huge Laura fan is her cockiness (see: her reaction upon winning the challenge), so I hope that an appearance in the bottom two humbles her.
-What did you think about Tyra's reaction to Allyssa being in the bottom two and being cut? The whole "we have to try harder."/"I'm a black woman with a big booty." thing felt like it came from a good place, but it looked/sounded ridiculous.
–America's Next Top Model will be off next week, as The CW will be reairing the pilots for Arrow and Beauty and the Beast. When we pick things up on October 19th, it's time for go-sees, where each designer can only book one girl, while the photo shoot is centered on fifties-retro and one girl will be reentering the competition. Who will it be?