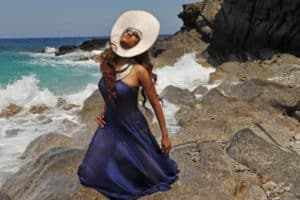 Cycle 17 of Top Model has thus far been on the wrong side of the crazy train, backing away from the show's so-bad-its-perfect typical formula and going for a we're-vaguely-trying-and-failing-miserably bland of dull desperation that simply won't do. Top Model is nothing with out a little looniness and in continuing the charade that dressing like Snooki and eating a hot dog freely will gain you fame and fortune, cycle 17 has lacked the fun that earlier cycles exuded in spades.
But tonight, y'all…tonight was something else, to say the least. In my years of watching Top Model, I've never been as dumbfounded as I was watching whatever that motion editorial was. Awkward laughter, wide eyes, a few "what the hell"s – every time Allison dressed like a cat or Lisa held a baby doll or Laura ate whipped cream too sexily, I was flabbergasted to the point of exhilaration. If Tyra has the stones to knowingly put something like this on TV, she's either hideously not self-aware or the smartest lady ever, but if anything, this will be making the digital rounds before we know it. (Please be on The Soup, please be on The Soup…) The editorial actually featured gorgeous clothing (for once) and solid styling, but the stunning Greek backdrop was tuned out in favor of…Tyra sucking on Tyson Beckford's thumb and enough seizure-y editing to make Twilight: Breaking Dawn say "whoa, that's enough". I appreciated Princess Banks climbing down from her weave-constructed castle to actually interact with the girls outside of panel, but when it's to play Oprah with Angelea's unstable self or to further sexualize the girls through the use of food products, thanks but on thanks.
(Or Banks but no Banks, amirite? Hur hur.)
Don't get me wrong, the editorial had an occasional pretty shot and the process of creating it was golden, but this was a perfume commercial in American Horror Story Land, not on Earth. Sorry Tookie and 'nem.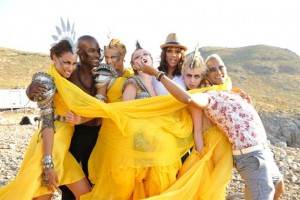 Aside from the hilarious acid trip that was Top Model's trip into motion editorials, "Tyson Beckford" was more maddening than entertaining, as the judges are still ridiculous. For one, the elimination of Laura was beyond asinine; Tyra went on about wondering if Laura could be more than sweet/innocent, but didn't the judges scold her two weeks ago for being "too sexy"? And look at the performance distribution. Laura got to eat whipped cream draped across some rocks and Allison had to be in the sun with her sensitive eyes, while Angelea got something to make her sympathetic and Lisa was given everything strong and dynamic. Just like The Amazing Race, Top Model feels the need to butt in too often and puppermaster the results to its liking, which is never good TV and makes the show even more of a joke than it already is. Speaking of which, the whole "Allison has no personality" thing is too irritating, though I assumed the show would go there sooner rather than later. Per usual, Top Model has a one-dimensional viewpoint, as personality isn't all whoopin' and hollerin' and actin' a fool; you'd think a show that has preached about body acceptance and tolerance of all would realize that as all people don't look the same, they don't behave the same.
Also, you can have all the personality in the world, but if you look rough (Lisa) or aren't professional (Angelea), I'm doubting that you'll be hired in the entertainment business.
It's a shame that the rest of "Tyson Beckford" didn't live up to the insanity of the editorial. While I enjoyed the thought behind the blog challenge, Franca wasn't even there and didn't get to speak to the girls face-to-face, so the Angelea victory felt a little…hollow. Nonetheless, our final three are intellectual weirdo Allison, party girl Lisa, and sure-to-be-winner Angelea, who was described by Andre as a "phoenix rising out of the ashes" following her umpteenth bottom 2 visit. Cycle 17 of Top Model may have lacked some fun, but…
Ah, hell. You know next week will be bad, too.
Thoughts, Quotes, & Observations:
-"Run like a normal person!"
-"300. Woman style!"
-"I feel like we had 18 photo shoots in a day."
-Cool fact, bro: I live not far from Laura's hometown.
-Sidebar: Andre's "hee haw" comment infuriated me. I was going to be sad to see him go, but he can take his ugly silver bolero and Judge Judy capes back to his tacky salon.
-For that matter, Nigel's "if she came into my office, I'd tell her I want my coffee black" and his calling Allison's blog "high faluting" for mentioning Greek mythology were both hideous.
-I love how unabashedly self-absorbed Tyra is. How many times did she mention how much her book sold or how the entire experience had been her dream? Oh, and how the main character is, of course, based on her. For those interested, there will be a sequel to her first book, which was almost 600 pages. No, really.
-Here's a sample of To Nisi, the TV series that films where the girls shot this week.
-What crawled up Tyson's butt regarding Allison? His diva-ness was a turn-off.
-In Top Model music news (wait, what?), an album of extended versions of songs from a few weeks ago exists. Also, Dominique has a new video out.
-Next week on Top Model: It's finale time, y'all! There'll be underwater modeling, creepy runway masks, feathery eyelashes, and a final commercial to determine who wins this dumpster fire of a season. Join me?