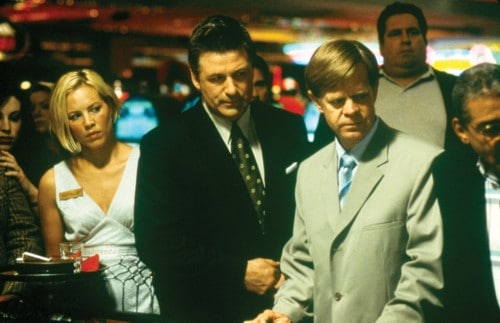 William H. Macy is the kind of guy you look at and think that he could be someone's kind older father or grandfather. I do wish I could put Shameless on here but it's a Netflix show and doesn't really qualify as a movie. Despite his looks being mostly the same he's the kind of guy that can make you support him with his acting or think he's one of the worst human beings walking the face of the earth. Macy has been in a lot of roles over the years but some of them are more memorable when he's at his worst or at his very best. In many cases it's when he seems to be just taking it easy and not really acting that his roles tend to stick out a little more.
Here are just a few of his many roles that really caught the attention of the audience.
5. Fargo-Jerry Lundegaard
Jerry is worse than just your standard, run of the mill creep. He's a desperate creep that will do anything to get himself out of the hole he's already dug. It doesn't matter that he orchestrates the kidnapping of his wife to do it either. Unfortunately for him something goes horribly wrong and when the cops come a-knocking at his job Jerry finally decides to bolt.
4. Wild Hogs-Dudley Frank
Dudley is the nice guy. He's also a lovable loser that can barely stay on his motorcycle and is always make some social faux pas that is really mostly his doing but is still a case of Murphy's Law in action. As a member of the Wild Hogs, which includes him and his three friends, he's more or less the heart of the group, but otherwise isn't much help otherwise. He's pretty funny though.
3. Boogie Nights-Little Bill
Little Bill is the guy that get's walked on by everyone, including his wife. Her excuse that she's a pornstar and that's what she does is kind of thin to begin with and the fact that she uses it at one point in the movie to justify her cheating is pretty lame. Little Bill takes it though, at least up until the point when he figures that he can't take it anymore and shoots her, the guy she's with, and then himself.
2. Sahara-Admiral Jim Sandecker
Macy doesn't have a huge role in this movie but he's basically the big boss that runs the show, when his guys are willing to actually listen. The Admiral is the guy that the two heroes answer to but thanks to the amount of leeway he continually gives them it's more like he's a figurehead that commands obedience when he's actually in the same room as his people.
1. Mystery Men-The Shoveler
They're not the classic superheroes. They're the other guys, the ones that nobody counts on. Thinking about it though as a street-level vigilante a shovel is a pretty useful weapon. If you sharpen the blade and keep it in good condition it could be a deadly weapon in its own right. A little ungainly perhaps, but still interesting. Of course the Shoveler isn't a vigilante really, he's a hero, so the shovel is pretty much what it looks like.
William H. Macy is a great actor but he sometimes gets a little less appreciation than he deserves.
Tell us what's wrong with this post? How could we improve it? :)
Let us improve this post!