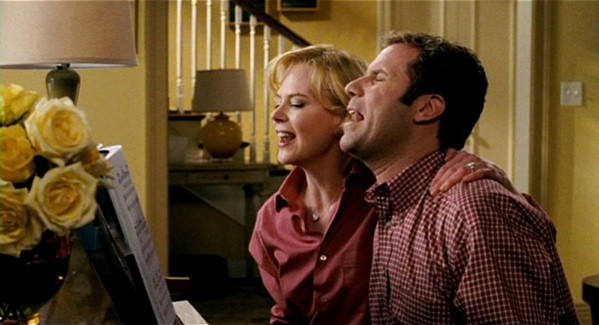 Something about this song is just fun, bouncy, and inescapably humorous. It probably wasn't meant to be that way, as Rupert Holmes was writing about a man that had lost the fire in his marriage and was looking for something exciting to come his way. In films this song has become something of a parody considering that it just a very laid back and relaxed tune that almost anyone can sing.
So not everyone wants to leave their boring humdrum life, but they can at least enjoy a song that makes them feel somewhat relaxed right where they are.
5. Bewitched
Another remake of a beloved classic TV show, this film is kind of up and down as far as entertainment goes, but the piano scene in which Farrell and Kidman serenade each other is actually pretty funny. It has its moments when it can be truly hilarious, but some shows were kind of meant to stay on the small screen largely because that's where they excelled. Not all favorites can make the transition so easily.
4. Shrek
If you like pina coladas, over hot boiling lakes….. Seriously, it would take a monumental effort to get anyone just to think about storming a dragon-guarded castle looking for a princess to wed off to someone else. If there's an army behind them a lot of guys might go ahead and give it the old college try, but one on one just doesn't seem like a lot of fun. To Shrek though the prize is his home, so that seems to be more than enough incentive to go a few rounds with a fire-spitting, bad-tempered dragon.
3. Wanted
After a good car chase that ends with your car being flipped onto the side of a bus and the unerringly to the ground on all four wheels it might seem like a good time for a song. And why not Escape? It definitely sets the mood, if only Wesley was awake enough to enjoy it. You can't really blame the guy, it's not every day you get abducted/saved from a gun-toting assassin and subjected to one of the craziest car chases ever.
2. Grown Ups
Young boys should be classified as walking hormones at a certain age and be given a warning label. Granted, the young woman stepping angrily out of her car is undeniably hot, but the mere fact that the two young boys seem to find it okay to leer at her and even talk about listening to her in the shower seems a little disturbing even for an Adam Sandler movie. No worries, it's the onset of puberty as we know it. Batten down the hatches and fire up the birds and the bees speech, for all that it helps.
1. The Secret Life of Walter Mitty
If ever there was one guy that needed to escape, it's this guy. Taken for granted at his job, almost completely out of a job, and definitely about to get fired if he can't find a single negative to complete the cover of TIME magazine, Mitty goes on an adventure unlike anything he's ever experienced. He wanted to get away, and there's no better escape than to go searching for the man that gave him the photo in the first place.
An escape is just needed sometimes, and the song is a perfect example of what it means to just get away from your ordinary life. It's not necessary to read into the whole message of the song, just the feeling. It would likely be a lot safer that way.
Save