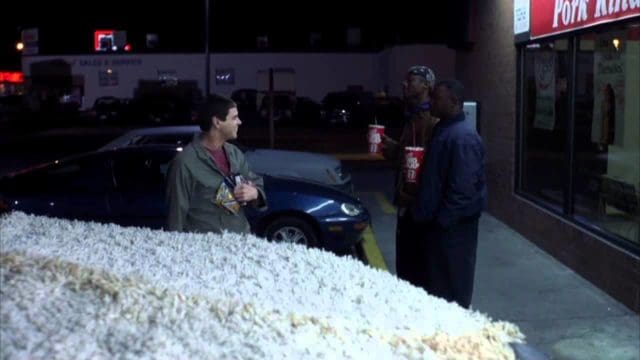 Is there anything better than a Slurpee when it's hot out? Well if you're an adult a special kind of Slurpee might be preferable but we won't get into that. Anyway, it was such a simple drink, ice, syrup, and a cup, and there you go. Ah, summer days were magical with a good Slurpee. Even Hollywood seems to agree that Slurpees are good for the soul, and a good laugh. Sometimes the most comical expression can come from drinking a Slurpee just a tad too fast or even just some simple dialogue.
Here are five awesome Slurpees scenes in movies:
Ready to Rumble
This scene has nothing to do with slurping an icy drink too fast, but it seems to be a good, if gross, way to get a new one, ASAP. If your Slurpee smells like raunchy butt fruit then it stands to reason that something might be wrong with the machine, or someone is trying to scam you. But yeah, pour another one anyway.
Hotel Transylvania 2
Do you get the feeling that Mavis has been a little deprived of the finer things in life? Sure her teeth look like a technicolor rainbow when she's done, but how does the brain freeze not set in quicker? Maybe that's the advantage of being a vampire, certain things just don't affect you in the same way. In any case, it's nice to know that even the undead can appreciate a good Slurpee at times.
Inside Out
Can you just imagine what's going on inside your head when brain freeze kicks in? Absolutely everything shuts down for am moment or two and you're left wondering if it's safe to continue with your beverage. You know it could happen again so you sip carefully this time, but the chilly goodness of the Slurpee is usually too much to resist so you just keep on drinking and then, yep, it happens again.
Escape From Planet Earth
You can only hope an alien won't get aggravated by experiencing brain freeze as the result of a human being kind to them. In any alien film it seems that humans are way overmatched and extremely naive. Thankfully this little guy doesn't seem to mind all that much, but let's call it luck that he's trying to escape the planet and not take it over.
Dumber and Dumber
Big gulps huh? Well, see ya later! Best Slurpee scene ever, hands down.
Ah Slurpees, the perfect drink for a hot summer day, and the perfect gag to get a good laugh. It gets better than this, but in the moment it's as good as it gets.
Save
Save