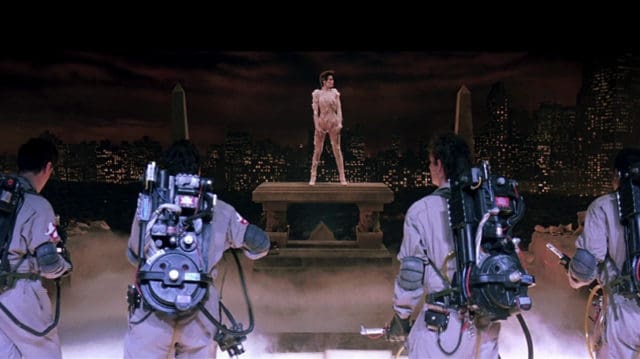 It's a long way up, and a short way down when you're talking about rooftop confrontations. Throughout film history there have been some great fights and quibbles that take place on the rooftop, or a rooftop, or some semblance of a rooftop. Unfortunately some of the best have belonged to movies that didn't get a lot of play for one reason or another. Those scenes got lost as a result since no one wanted to continue them after they were over or no one wanted to watch long enough to get to them. But they had no idea what they were missing out on! Some films don't allow their best stuff to take place on the ground, they've got to raise it up and let be seen by everybody. Okay that sounded corny by you get the gist right?
Sometimes you've got to take it to the top if you want to get things done.
5. Iron Monkey
I get the feeling that this movie is a lot more popular over in Asia than it ever got here, but I could be very wrong about that. In any case it was pretty good I thought, especially since the tale of Iron Monkey was kind of like that of Robin Hood in a way, but obviously with a lot more fighting and a lot more impressive movements, some of which are amped up way beyond reality.
4. Trespass
This is actually a vital scene to the whole movie since if this didn't happen, if they just shot the guy or beat him to death on the roof, they wouldn't have even known the other guys were downstairs. By shoving the dude through the skylight they opened up the movie to a wide assortment of possibilities that led to the finale and eventually saw just a few people manage to walk out.
3. Brick Mansions
This film doesn't get nearly enough love but I can admit that I see why. Apart from the awesome Parkour and fight scenes it doesn't have much in the way of development or character. Even with the late great Paul Walker in the movie to add some needed star power it didn't do all that great and to be honest it was just barely a flash in the pan.
2. Shawshank Redemption
Normally you wouldn't want to walk up and talk to a prison guard about their wife. Well, actually you wouldn't want to just walk up and talk to a prison guard at all really, unless there was reason. Andy seems like the kind of guy that's always weighing the options no matter how dangerous each outcome could possibly be. He's definitely a lot tougher than he seems in this film.
1. Ghostbusters
"Let's show this prehistoric….how we do things downtown." Gozer is one mean-looking woman, thing, creature, whatever. But she fails to inspire a lot of fear in the guys and as a result just kind of disappears. Of course what takes her place is anything but what the guys wanted to face. Mallow, anyone?
It's Miller time.