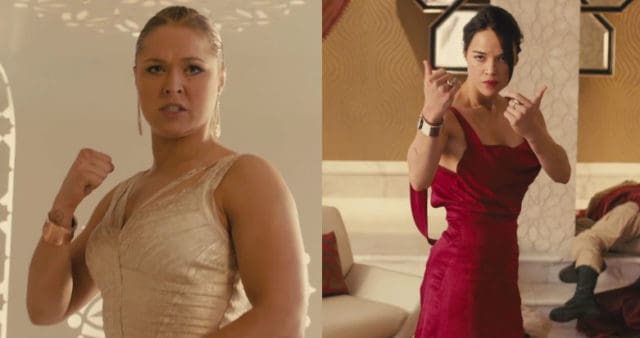 Michelle Rodriguez can come out looking like a girly-girl but more often than not in a movie she's the type to throw down and have one knockdown, drag out fight. She looks like she might be tough and could possibly back it up. Whether she really has the skills or not isn't even the question, it's whether you'd really want to try her and see. It's not just the fighting ability, it's the look she gives. She can scowl with the best of them and make you think that she's about to walk up and down your body with her boots laced up and ready to grind every inch of space she treads upon. Yeah, she looks that tough.
Anyone want to see if it's real?
5. Bloodrayne
This movie was terrible but the game it was adapted from wasn't that bad. The fight scenes were pretty good too since Michelle knows how to put on a performance and make it look like something awesome. Kristianna Loken wasn't too bad when it came to the fight scenes but her acting needed a lot of work. I kind of wondered why Rodriguez decided to appear in this movie.
4. Girl Fight
Sometimes you've got to fight to earn your respect. In this film she plays a young woman that gets into trouble continuously until she takes up boxing so that she can learn to fight and to control herself. Eventually things go off the rails however when she puts her own father on the floor after he makes the mistake of berating her one time too many.
3. Machete Kills
You don't normally see Amber Heard as the hard-hitting type that will throw down with a woman like Rodriguez, but I suppose when the other character is blind it might enable a bad guy to actually fight with a little more confidence. Of course the bad guy usually let's their guard down in thinking that they've got the fight in the bag. That's usually a big mistake.
2. The Fast and The Furious
Her part in this is very brief but it's meaningful all the same since the focus is largely on Dom and Tran who are arguing about who snitched Tran out. Once the fight gets going everyone's losing their minds, but as Letty notices Tran's cousin making his way towards the fight, no doubt to blindside Dom, she doesn't hesitate as she dishes out a punch that puts him down hard and without apology.
1. Furious 7
This scene is just awesome piled on top of awesome. Ronda Rousey might not be much of an actor but what she lacks in skill she more than makes up for in the fact that she's one of the best fighters the UFC has ever produced. Watching her and Rodriguez go at it was the highlight of the movie for many people since it was one of the most anticipated movie fights ever.
Honestly, Rodriguez just looks like she could do some major damage if she really wanted to.
Tell us what's wrong with this post? How could we improve it? :)
Let us improve this post!