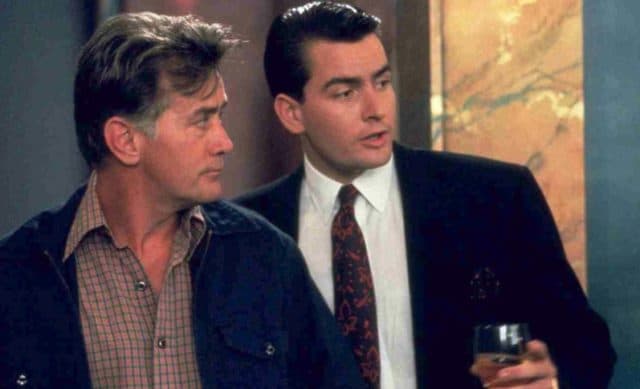 Charlie Sheen is the kind of guy that doesn't yell all that often but in many scenes it almost sounds like he has to force it. The fact that it comes out sounding strained at times either has something to do with his physiology or how he feels about yelling. Some people don't like it since the act can strain the vocal chords and does occasionally hurt if you do it for too long. But each and every time Shen does it the sound is almost like he's pushing it as much as he can in order to get the desired effect. It seems this way more as he gets older.
Thankfully it's a signature of his character that has been accepted over the years.
5. Wall Street
A man like Gordon Gekko gives people two options. You learn to run with the big dogs or you go back to making minimum wage until you die with little to nothing left in your bank account. He kind of leaves out the part about how minimum wage earners don't tend to get locked up when their conscience saves them from robbing other people blind and getting them into enough trouble to warrant prison time.
4. Money Talks
This pairing was pretty funny since a lot of people didn't see it coming. Charlie Sheen might have a big mouth and a slick tongue in some of his movies but he can't hold a candle to the motormouth that is Chris Tucker. Tucker completely shreds him in every scene they share in this movie and thankfully it's what makes it rather than tears Sheen down because it works so well.
3. Young Guns
Richard is probably one of the least-liked of the Regulators simply because he's so stodgy and set in his ways. Even when he should be able to sniff out a rat in their midst it takes Billy's impetuous nature to make him finally see the truth. Even then he shows that he's only willing to bend so far since he attempts to reaffirm his position as the leader of the group no matter that Billy has kind of staked his claim without saying as much.
2. Major League
Rick Vaughn is the loose cannon of the ball club that has an arm like a bazooka but an aim reminiscent of Mr. Magoo. If the name of the game was physically punish the batter he'd be perfect, but throughout the movie his aim eventually gets better. He starts off as a cocky young star that often speaks before he thinks and flies off the handle rather than ask why he's been cut. Fortunately Lou is the patient type.
1. Men At Work
It might not be the most well-known movie in the world but this film is one of the absolute best that he and his brother Emilio have starred in together without fail. It's funny just about the whole way through and it doesn't rely on a lot of vulgarity or even obscene comedy. It's just a laugh riot because of the two actors.
He knows how to yell, but it still seems like he forces it.