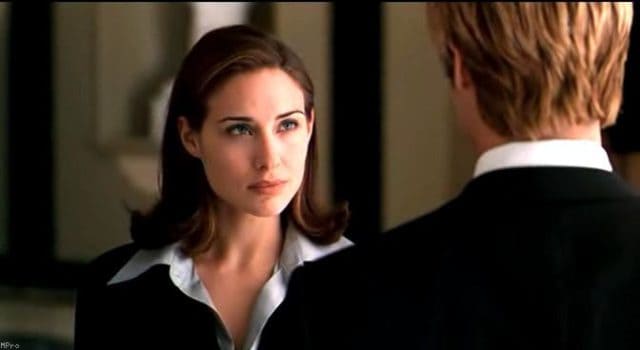 There is no doubt that she looks like just a pretty face, and she is in fact very pretty, but Claire Forlani is far more than just someone that's pleasing to look at. In nearly every role she's shown a very sophisticated manner that allows her to showcase the kind of talent that brought her to Hollywood and has let her succeed. She's performed beside some of the greatest names in the industry and has shown remarkable talent when others have been upstaged with little real effort. In short, she's not just a beautiful woman, she is a fierce and well-refined actress that knows how to capture an audience.
Here are our picks for the top five Claire Forlani movie roles of her career:
5. Brandi in Mallrats- 1995
Let's face the facts, if an actor or actress had any part in Mallrats it might have been their crowning achievement in life or it might have been the film that acted as a springboard to a bigger and better career. The simple but insanely well-liked film has been a mainstay for the Generation X crowd and remains a cult favorite today.
4. Jade Angelou in The Rock – 1996
So admittedly her role was small in this film and she didn't have but a handful of lines, but she executed them perfectly and held her own with the great Sean Connery while she was doing it. Some say that Connery might have lost a step in his advancing years but Forlani hit her marks perfectly, complementing the legendary actor and propelling herself forward as well.
3. Monica in Mystery Men – 1999
Despite the inherent silliness in this film, Forlani acted kind of like a grounding point for the character of Ben Stiller's character, Mr. Furious. She was the calm point in the storm, the damsel in distress, and the woman that supported Mr. Furious when all was said and done. Overall, it was a very supportive role, but a memorable one.
2. Alice Poulson in Antitrust – 2001
What would you do if you discovered the person you trusted was the last person you SHOULD trust? While Forlani has played some very trustworthy roles, in this film she is as close to being evil incarnate as possible. Acting as an ex-con planted to watch over NURV's newest acquisition, she soon enough becomes his worst enemy as the film heats up. It's hard to watch some of your favorite actors break bad in a film, but when they do it so convincingly it's hard not to be impressed.
1. Susan Parrish in Meet Joe Black – 1998
Susan Parrish is a woman that has decisions to make in her life, but a rather indecisive spirit. She wants to enjoy her life, but she also wants to be successful. Above all she is a good daughter despite her doubts and a very caring person that is more than willing to try something new. Enter Joe Black, a stranger that is somehow acquainted with her father, and is as much a mystery as anyone could possibly be. Throughout the film she evolves as she goes through the process of making one decision with her life after another, finally coming to the conclusion that she has learned how to lose, and how to truly love.
Claire Forlani is without doubt a gifted actress and a very talented addition to any film. Her seeming innocence and kind face can bring a heartwarming touch to any movie, or it can mask a truly devious and sinister mind.
Save