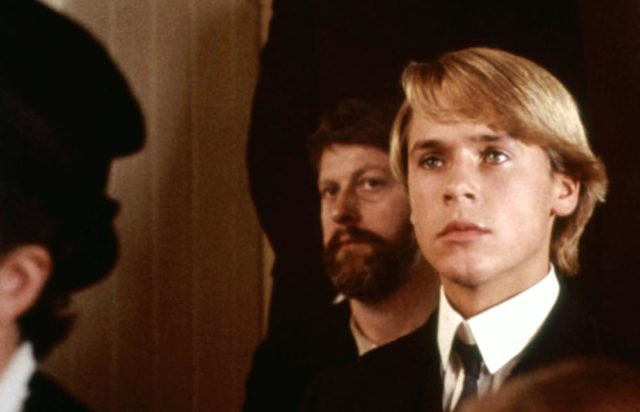 There's a good reason why you haven't seen a lot of Chad Lowe in movies even though he's got a very impressive resume. Even if he's one of the stars of the film though he's bound to be overshadowed or somehow relegated to B-list status simply because he's not that well known. The brother of Robe Lowe, he looks almost just like his sibling, but is missing that sort of edgy feeling to his person that Rob is so well known for. Chad Lowe has a lot of credits to his name, but to this date he's been more of a bit player and a supporter of those in films, not so much the star.
Here's a few films you might recognize him in.
5. Nobody's Perfect – Stephen Parker
Lowe plays a lovestruck college student that desperately wants to get the attention of a woman that to him is the epitome of perfection. When he's given the idea to pose as a woman to get on the women's tennis team however he balks only long enough as is necessary before deciding to go through with it. Throughout the film he learns a great deal about women and about himself before he's outed as a faker. Thankfully he has a good friend that has his back and helps him out in his time of need.
4. Entourage – Himself
You likely won't see him in this clip because the camera focuses on other celebrities who are considered more of a big deal in this time and place. Chad Lowe is not a nobody by any means but his star power is far less than a lot of the talents in Hollywood. He could easily get a job when he needs it one assumes but finding that perfect spot to shine in a way that can't be denied is difficult for anyone, especially a guy that was never a megastar to begin with.
3. April Morning – Adam Cooper
The son of a man that is involved with the American Revolution, Chad has more of a part in this film but is still just there to fill a spot and make it look believable. He's not featured as a star or even as the most important character in the film. Even if he had been there is big chance that Tommy Lee Jones would have overshadowed him and made it seem as though he was only there for a few lines.
2. Red Betsy – Orin Sanders
Once again he's kind of a bit player in this film but he is there. His role in this WWII-inspired story is so small that you'd likely miss him if you weren't watching. One has to wonder if Lowe is happy being an extra without much to do in the film or if he's just as happy to be a producer and a director as well as an actor. He's been in the film industry for quite a while so you have to kind of assume that he steps into films now and again just to get noticed and keep himself involved.
1. Unfaithful – Bill Stone
How many guys get to chastise Richard Gere on film? Chad Lowe gets to do it even it sounds a bit petty and not all that strong of a point. He appears in this film but finding a clip of him is a struggle that didn't bear out much fruit obviously. In any case, he tells Richard Gere in no uncertain terms to look to his own family before he ever tells anyone else what to do.
Chad Lowe has won awards, he's been around, and he's a decent actor. The only problem is to see this you really have to look for him.
Save
Tell us what's wrong with this post? How could we improve it? :)
Let us improve this post!