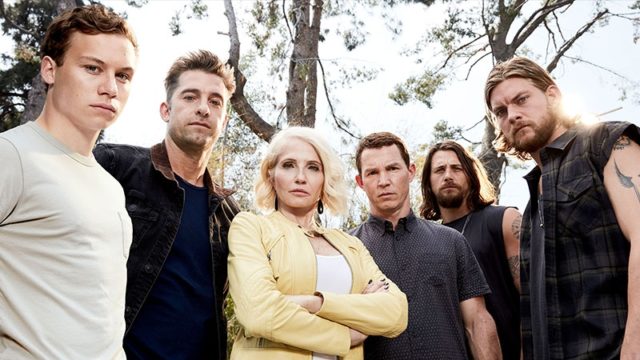 Not since "Sons of Anarchy" has there been a TV crime drama that is so riveting as "Animal Kingdom." This show, like "Sons", proves that the family that kills together stays together. "Animal Kingdom", which debuted on June 14, 2016, portrays a strong-willed woman named Janine "Smurf" Cody, played by the very talented Ellen Barkin, as the head of a Southern Cali family criminal organization much like Katy Segal did in "Sons". Ellen is probably best-known for her sexy siren roles in major motion pictures like "Sea of Love", "Switch", and "Oceans 13", where she starred opposite hunks like Al Pacino, Jimmy Smits, and George Clooney.
Now, in this fascinating TNT series, she plays opposite some new young talent like Scott Speedman as Barry "Baz" Blackwell. Speedman is probably best-known for his role as Michael Corvin in the "Underworld" movies. In this series, he is Smurf's adopted son. Her other sons Pope, Craig, and Deran are played by Shawn Hatosy, Ben Robson, and Jack Weary respectively. Her grandson, "J" is played by Finn Cole and, although he's still in high school, he's smarter than the entire family.
Altogether, they create a great ensemble cast and they all play well against each other. So, now that the second season has just begun, we have put together the Top Five Animal Kingdom Moments from Season 1, which was no small fete considering the fact that the entire first season was one big exciting moment in time for most viewers. "Animal Kingdom", however, just like "Sons of Anarchy" is definitely not for the faint of heart. So, here are those five moments:
1. Animal Kingdom- Season 1, Episode 9- Judas Kiss
This is the episode that shows just how perverse and manipulative Smurf can be. It is revealed that not only did she have her mentally deranged son, Pope, kill Baz's baby momma's parents years before by blowing up their house, but then she gets him to kill her as well. She's the love of Pope's life but he smothers her with a pillow during sex, then dumps her in a hole in the ground out in the boonies as her daughter sleeps in the car. Cold and calculated, like mother, like son.
2. Animal Kingdom – Season 1, Episode 1 – Pool Party
In the pilot, we get a pretty good idea of what crazy kind of family the Cody's can be. J's mother had died due to a heroin overdose so he has to go live with his grandmother's (Smurf's) family where everybody is a criminal and they're always competing with each other in everything they do. At a family pool party, the Cody brothers are jumping off the roof into the pool and they goad J into doing the same, telling him not to worry, they'll buy him a motorized wheelchair if it all goes horribly wrong. In the end, he's pushed in, which leads to some pretty cool underwater shots.
3. Animal Kingdom – Season 1, Episode 10 – What Have You Done
This one is definitely a favorite because J outsmarts the FBI with a recording. The agents epitomize the bad cop/bad cop story. When it's all said and done, they're beaten by a high school kid. It's a classic.
4. Animal Kingdom – Season 1, Episode 6 – Child Care
We loved this one because it features C. Thomas Howell as J's girlfriend's father who is also a career military officer. In this episode, Baz becomes good buddies with him as part of a plot to steal a large sum of money from the military base. It's just a lot of fun watching these two complete opposites bonding over a fast car and things like that. OK, it's kind of implausible but still fun.
5. Animal Kingdom – Season 1, Episode 5 – Raising a Teenager
Just as in episode 6, this one's a winner because of C. Thomas Howell. He's an actor's actor and we especially loved him in "Criminal Minds". But, what really makes this episode great is watching Smurf shmoozing his character, Paul. It's like watching a snake cozying up to a coyote or something. She just slithers in, smiles that amazing crooked smile and shakes his hand like they're old friends. Watching these two great actors together is always a treat.