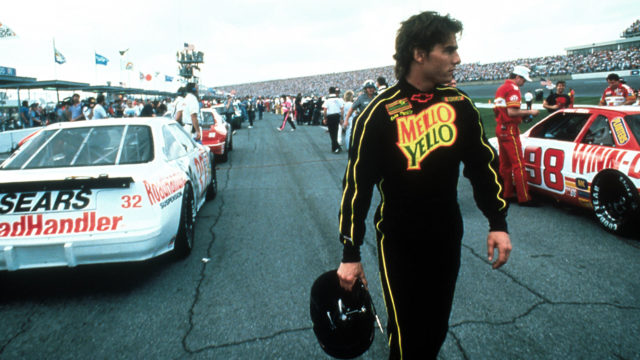 NASCAR is the epitome of racing to many, but we might have to split a few hairs and cross the line a bit when talking about race car drivers. While NASCAR is by far and large what most fans would want to see and agree is the best example a racer can be, there are other venues in which racing is for more than just a top spot and a big payday. In the fictional world of race car drivers there are always other things to race for and more than just a prize to collect at the end. So let's see what we've got in the grab bag.
Here are a few race car drivers that definitely exemplify the spirit of racing.
5. Belle – Taxi
Admit it, most of you read this and went "huh?". It's true, Queen Latifah had her time as a race car driver, but admittedly the role didn't come until the end of the movie, when she finally got to realize her dream. Up until then she used her highly modified and hardly street legal taxi cab to insure that her skills were kept well-honed and ready at a moment's notice. Imagine getting from uptown to downtown in a quarter of the time. Just don't forget your seatbelt.
4. Ricky Bobby – Talladega Nights: The Ballad of Ricky Bobby
It's kind of hard to imagine that anyone believes that Will Farrell can carry a movie on his own without a few flubs. But this one wasn't too bad. It's likely because he had a very big and talented supporting cast, as the over the top comic seems to look for ways to make certain that people can't help but look away in embarrassment for a moment. All in all though he makes a decent racer.
3. Bo Duke – Dukes of Hazzard
Yes, another stinker that went nowhere, but still a great racer that went unappreciated largely because the film he was in just flopped into the box office without a pulse. If nothing else, Bo Duke knew how to handle the General Lee with as much grace and power as he could muster. And technically, if the car's in a race, that kind of makes it a race car.
2. Dominic Toretto – The Fast and The Furious
Let's not split hairs and say that the shiny new toys in this film weren't race cars. They were built and designed to do one thing, race. The fact that they were decked out in all kinds of bling and featured enough NOS to light several city blocks on fire with the exhaust doesn't matter all that much. And of course you had to know that Vin Diesel's character was going to blow them all off the road. I mean come on, it's Vin Diesel.
1. Cole Trickle-Days of Thunder
Whenever people think of Tom Cruise this role will almost always come up. It was one of his most iconic roles ever produced and the one that he seemed to finally come alive on screen. The pulse-pounding adrenaline-laced thrill ride that was Days of Thunder was a hit with most fans despite its lackluster appearance in the box office. Critics don't always know everything, which is why this film is still a legend.
*Let's face it, anyone from this movie could have made this list.  We chose Cole Trickle simply because he's the star of the movie.  However, don't think for a second we forgot about Rowdy and Russ AKA Goose and Ice Man.
So what do these drivers really have that so many others don't? They've got heart and the kind of determination that makes you realize that you could put a fleet of cars in front of them and they'll still be able to find a way to win.