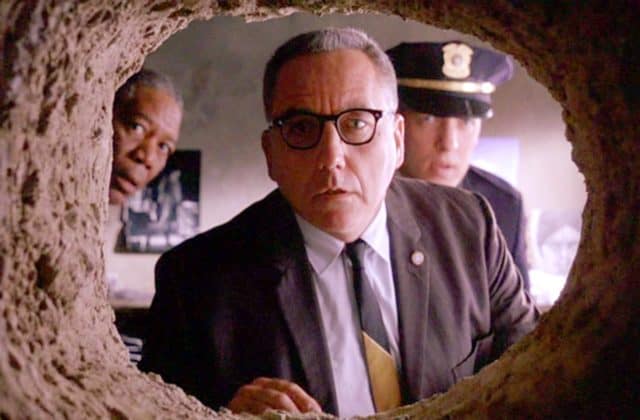 The setting chosen for a movie makes a significant difference to the viewing experience of the audience. The main locations used are a vital aspect of the storyline and contribute to viewers engaging with the action that is taking place in the movies. One type of setting that has been used in many films are prisons and these have been the primary location in which films are set in all genres of movies, from dramas to action films. Prisons are an exciting setting to use as they provide huge scope for storylines and action in a movie. There are many prison movies that have been a big hit with moviegoers and critics alike. Here are 20 of the top prison movies of all-time.
20. Cell 211
'Cell 211′ is a Spanish prison film that was released in Spain under the name 'Celda 211′. It was directed by Daniel Monzon who also co-wrote the film with Jorge Guerricaechevarria. The movie starred Luis Tosar, Alberto Ammann, Antonio Resines, Manuel Moron, Marta Etura, Carlos Bardem, Lusi Zahera, Vicente Romero, and Fernando Soto. The concept of the film is based on Francisco Perez Gandul's novel about a prison riot. In the film, viewers side two different sides of a prison riot from the perspective of opposing sides. One view is that of the inmate leading the revolt and the other is the view of a young guard who is trapped in the riot. In an attempt to survive the ordeal, the guard poses as one of the prisoners. This film received critical acclaim from international critics.
19. Animal Factory
'Animal Factory' is a crime drama film that is set in San Quentin and released in 2000. It was directed by Steve Buscemi and written by Edward Bunker and John Steppling. The film is based on a novel of the same name by Edward Bunker. Starring in the film are Willem Dafoe, Edward Furlong, Danny Trejo, John Heard, Steve Buscemi, Tom Arnold, Mickey Rourke, Mark Boone Junior, and Seymour Cassell. The film is about a young man who is sent to prison for possession of drugs and is considered a low-threat to society. When another inmate attempts to rape him, he stabs him. This causes him to be considered a serious threat. He then begins to plan his escape from prison.
18. Felon
This prison action film was released in 2008 and was written and directed by Ric Roman Waugh. It starred Stephen Dorff, Harold Perrineau, Marisol Nichols, Anne Archer, Sam Shepard, Val Kilmer, and Johnny Lewis. The story is about a family man who kills an intruder and is sent to prison. It is based on the true story of events that took place during the 1990s at California State Prison, Corcoran. Most of the filming took place in Santa Fe, New Mexico. This was a low-budget film that achieved only limited commercial success but was reviewed positively by both critics and moviegoers.
17. Big Stan
This 2007 prison comedy was directed and co-produced by Rob Schneider and written by Josh Lieb. Schneider also stars in the lead role in this movie alongside cast members including Jennifer Morrison, Scott Wilson, Henry Gibson, Richard Kind, Jackson Rathbone, M. Emmet Walsh, and David Carradine. A real estate con artist is convicted of fraud and sent to prison. He becomes a martial arts expert with the help of 'The Master' as he fears prison rape and knows he must defend himself. He eventually becomes the prison leader. This movie had a limited theatrical release in some countries, hence making only making $8.7 million at the box office from a budget of $7.5 million. IN the United States, it was released only on DVD.
16. Con Air
Con Air is a film that combines action, drama, and moments of comedy and delivers an ending that will bring a tear to your eye. When an ex-serviceman defends his wife, he accidentally kills her attacker and is sentenced to a long prison sentence, during which time his daughter is born. On his release, he is being transported home via plane that is transferring other inmates to a new prison. These inmates have a plan to take over the plane and escape from prison. The main character tries to save the innocent passengers and crew onboard. At the end, he is finally reunited with his wife and daughter. The film stars Nicolas Cage in the leading role and other cast members include John Cusack, John Malkovich, Steve Buscemi, and Colm Meaney. It was written by Scott Rosenberg and directed by Simon West.
15. Escape Plan
'Escape Plan' stars Sylvester Stallone and Arnold Schwarzenegger. Stallone's character works as a professional prison escape artist who is hired by prisons to test their security and identify where their weaknesses lie. He is kept as an inmate and must escape. He is taken to a new prison that boasts the highest level of security ever used in a prison and he believes it is just a normal job. However, he has been set up and is treated the same as the other prisoners. It seems he has no hope of escape. This is when he befriends a fellow inmate who is played by Schwarzenegger. Others who star in this movie include 50 Cent, Vinnie Jones, Jim Caviezel, Amy Ryan, and Vincent D'Onofrio. It was directed by Mikael Hafstrom and written by Jason Keller and Miles Chapman. It grossed $137.3 million at the box office from a budget of $54 million.
14. The Longest Yard
This sports comedy is a 2005 remake of a 1974 film of the same name. It was written by Sheldon Turner and directed by Peter Segal. Starring in this movie are Adam Sandler, Chris Rock, James Cromwell, Nelly, William Fichtner, David Patrick Kelly, and Tracy Morgan. In the movie, Sandler plays the protagonist Paul Crewe. He is a former professional quarterback who is disgraced and is then forced to form a team of prison inmates. This team then play football against the prison wardens. Burt Reynolds played the lead role in the original movie and returns in this movie in the role of the coach of the guards. It had a reasonable budget of $82 million and was a commercial success as it took $190.3 million at the box office.
13. Death Race
'Death Race' is the first in a series of three films. It is a science-fiction action thriller that was released in 2008. This movie was written, directed, and co-produced by Paul W.S. Anderson and starred Jason Statham, Joan Allen, Tyrese Gibson, and Ian McShane. Some people believed that this movie was a remake of the 1975 film 'Death Race 2000′ but the writer and director claimed it was intended as a prequel to that film. A wrongly convicted prisoner, played by Statham, is coerced into taking part in a Death Race amongst prisoners and the race is literally to the death. The two sequels to this film were released direct-to-video.
12. Maximum Conviction
This 2012maction thriller was written by Richard Beattie and directed by Keoni Waxman. Starring in the lead roles are Steven Seagal and 'Stone Cold' Steve Austin. The two men are former black ops operatives and have been hired to decommission a secret military penal facility. Others who starred in this movie include Michael Pare, Stephen Song, Michael Adamthwaite, Dean Redman, Ben Foster, Zak Santiago, and Ian Robison.
11. The Experiment (2001)
The Experiment is a 2001 German thriller film that was released in Germany as 'Das Experiment' and as 'The Experiment in other countries. The film was based on the novel 'Black Box' by Mario Giordano. The storyline is about a group of people who are invited to take part in an experiment in a prison setting where some of the participants are prisoners and others are wardens. The experiment looks at how people begin to behave when they are in different roles and some are given status and power. The movie was directed by Oliver Hirschbiegel and written by Marc Conrad, Norbert Preuss, and Friedrich Wildfeuer. Starring in the movie were Moritz Bleibtreu, Justus von Dohnanyi, Christian Berkelm, Oliver Stokowski, and Andrea Sawatzki. It took $11.6 million at the box office and inspired a 2010 remake of the movie.
10. Papillon
Papillon is a historical period prison drama film that was released in 1973. It is based on the autobiography of the same name written by Henri Charriere who was a French convict. It was adapted into a screenplay by Lorenzo Semple Jr. and Dalton Trumbo. The movie was directed by Franklin J. Schaffner and starred Steve McQueen and Dustin Hoffman. The title of the film is the French word for butterfly and this refers to the main character's tattoo and nickname. The storyline tells the true story of how Charriere and his fellow inmates try to escape from prison. It was made with a budget of $13.5 million which was a relatively large amount for filmmaking at that time. One reason for this was that the film was shot in many remote locations. It was a commercial success as it took $53,267,000 at the box office.
9. Undisputed 3: Redemption
This is the third instalment of the 'Undisputed' series of films. It is a 2002 action film that was written by David N, White and directed by Isaac Florentine. Starring in the film are Scott Adkins, Mykel Shannon Jenkins, Mark Ivanir, Hristo Shopov, Robert Costanzo, and Marko Zaror. Which of the three films in the series is the best is down to personal opinion, but in reviews and polls it is generally the third instalment that comes out on top. The two earlier films in the series were called 'Undisputed' and Undisputed II: Last Man Standing'. Despite receiving the best critics reviews and being popular with moviegoers, this was a commercial flop. It was made on a low budget of $3 million but grossed only $282,548 at the box office.
8. Law Abiding Citizen
Released in 2009, 'Law Abiding Citizen' is a crime drama thriller that was written by Kurt Wimmer and directed by F. Gary Gray. The movie stars Gerard Butler, Jamie Foxx, Colm Meaney, Bruce McGill, Leslie Bibb, and Michael Irby. It was nominated for many awards. The film is about a man whose family is raped and killed and he then seeks revenge. He buys properties around the prison and builds tunnels between the properties and the prison. When he is sentenced to prison, he escapes in the night to seek revenge and then returns in the day, so it appears he has been in the prison all night. This film was a commercial success as it made $126.7 million from a budget of $53 million.
7. Gridiron Gang
Based loosely on true story of the Kilpatrick Mustangs during the 1990 season, this is a sports drama film that is predominantly set in a prison and was released in 2006. The film was directed by Phil Joanou and was written by Jeff Maguire. It starred Dwayne Johnson, Xzibit, Kevin Dunn, and Leon Rippy. The basis of the storyline is a prison warden is sick of the young inmates leaving prison and having no focus in their lives, so they return to criminal behaviour. He decides to form a prison football team in the hope that it will teach the young offenders some discipline and give them a more positive focus in life. The film was both a critical and commercial success. From a budget of $30 million, this movie made $41 million at the box office.
6. Blood In, Blood Out
'Blood In Blood Out' was also released under the name 'Bound by Honor'. It is a crime drama film and was released in 1993. Taylor Hackford directed this film which was written by Jimmy Santiago Baca, Floyd Murtrux, and Jeremy Iacone. It was based on a story by Ross Thomas. Starring in this movie were Jesse Borego, Benjamin Bratt, Enrique Castillo, and Damian Chapa. The film is about a mixed race prisoner struggling to adapt to prison life in a prison run by three gangs of different races, the violence between the gangs, and the friendships he makes while in prison. Despite getting a good reception from audiences and critics, this film grossed only $4,496,583 at the box office from a budget of $35 million.
5. Escape from Alcatraz
The ocean-bound Alcatraz Prison is one of the most famous detention centers in the world and is supposedly one of the most difficult to escape from. Therefore, the story of an attempted escape from this prison is a great premise for a movie. This prison thriller film was released in 1979 and was directed by Don Siegel. It was written by Richard Tuggle and is based on a book of the same name by J. Campbell Bruce. The movie starred Clint Eastwood, Jack Thribeau, Fred Ward, Robert Blossom, and Larry Hankin. When the prisoners escape from the prison, the warden does not want his impeccable record blemished and insists that the escapees are drowned. No bodies are found but there is a chrysanthemum growing on Angel Island nearby and the warden throws it in the water in rage after he learns this plant does not grow on the island. The flower is significant as one of the elderly prisoners grew these plants and the warden would crush them. The film was a commercial success as it grossed over $53 million from a budget of $13.5 million.
4. Get the Gringo
This film was released in 2012 under two names and is known as 'Get the Gringo' in some countries and as 'How I Spent My Summer Vacation' in others. It was directed by Adrian Grunberg and was written by Mel Gibson, Bruce Davey, and Stacy Perskie. In the leading roles are Mel Gibson and Kevin Hernandez. Other cast members include Dolores Heredia, Daniel Giminez Cacho, Jesus Ochoa, Robert Sosa, and Tenoch Huerta. When Gibson's character is sent to a corrupt Mexican prison under false charges, he meets a young boy who has grown up in the prison with his mother. His liver is a perfect match for the prison's top dog who needs a transplant. Gibson takes on the gangs to save the boy and falls in love with his mother. Surprisingly, this movie achieved only limited success at the box office and grossed just $5,793,167 at the box office. This is in contrast to reviews of the film, most of which are positive.
3. Cool Hand Luke
Directed by Stuart Rosenberg, this American prison drama film was released in 1967. The screenplay was written by Don Pearce and Frank R. Pierson. It starred Paul Newman, George Kennedy, J.D. Cannon, Robert Drivas, Lou Antonio, Strother Martin, and Jo Van Fleet. For his performance in the film, George Kennedy won an Oscar Award. The film is set in a prison in the 1950s and is about a prisoner called Luke who refuses to follow the pecking order of the prison. Despite the low budget of $3.2 million, the film grossed $16,217,773 at the worldwide box office.
2. The Green Mile
While many prison movies are action-based and focus on the inmates, 'The Green Mile' is different as the central character is a prison guard. Released in 1999, this fantasy crime drama is an adaptation of a serial novel by Stephen King. It was written and directed by Frank Darabont. The movie starred Tom Hanks, Michael Clarke Duncan, Bonnie Hunt, David Morse, and James Cromwell. It has a flashback format as Hanks' character recounts his experiences of the supernatural events he witnessed while he worked as a death row corrections office. The film is set in the period of the United States Great Depression. It received great critical acclaim and was nominated for multiple awards. From a budget of $60 million, this movie made 290.7 million at the worldwide box office.
1. The Shawshank Redemption
'The Shawshank Redemption' is a drama film that was written and directed by Frank Darabont. It was released in 1994 and is based on a Stephen King novella called 'Rita Hayworth and Shawshank Redemption'. The film is about a man who is wrongly accused of killing his wife and her lover and is locked up in Shawshank State Penitentiary. While in prison, he plays an important role in a money laundering operation. Starring in this movie are Tim Robbins, Morgan Freeman, Bob Gunton, William Sadler, Clancy Brown, Gil Bellows, and James Whitmore. This movie made $58.3 million from a budget of $25 million. 'The Shawshank Redemption' was selected for preservation in the National Film Registry by the United States Library of Congress in 2015.