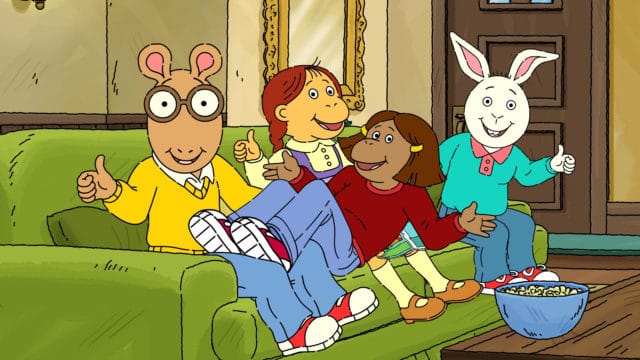 The Public Broadcasting Service (PBS) is one of the biggest public broadcaster and television program distributors in the United States. Although they broadcast many different genres of television programs, from comedies to news, they are particularly well-known for their educational television programming. This non-profit organization airs a wide range of cartoons that are enjoyed by both children and adults alike. While many of these have an educational purpose, others are just fun to watch. Since the network was launched in 1970, there have been a great many popular cartoon series aired by PBS. Over the years, children have loved getting to know the different characters in these series and engaging in the content of the shows. Here are 20 of the top PBS cartoons of all time.
20. Caillou
It is all about the imagination in the educational TV series 'Caillou'. This series was originally a Canadian cartoon that was shown on Teletoon before moving to Treehouse TV. This series had five seasons that consisted of 92 episodes that were aired between 1997 and 2010. This cartoon is about a boy called Caillou who lives with his mom, his dad, and his younger sister. He and his family have lots of adventures and all these involve him using his imagination. Other characters include his grandparents, other members of his family, and his friends. Although most of this series is animated, it also uses a mix of videos of real children and puppet skits. The stories are based on the book series of the same name that was written by Hélène Desputeaux.
19. The Cat in the Hat Knows a Lot About That!
'The Cat in the Hat Knows a Lot About That!' is a partially animated television series that is based on the 'Cat in the Hat' series of books written by Dr. Seuss. The main character is the Cat in the Hat and he visits a variety of educational settings in each episode so that children can learn about different topics. The series was developed by Portfolio Entertainment along with Collingwood O'Hare Productions and Random House Children Entertainment. There have been two seasons of this show consisting of 60 episodes and a third season is in development. Other than The Cat in the Hat, other characters include Thing One and Thing Two, Nick, Sally, Fish, Sally's Mom, and Nick's Mom. Some of those who provide voices for this cartoon include Martin Short, Jacob Ewaniuk, Alexa Torrington, and Rob Tinkler. The series is directed by Tony Collingwood and it aired on PBS Kids for the first time on September 6, 2010.
18. WordGirl
This children's educational animated television series first aired on PBS Kids Go! On November 10, 2006. It is produced by the Soup2Nuts animation unit of Scholastic Entertainment. Originally, the series was a short cartoon that was shown at the end of another cartoon, 'Maya and Miguel'. It was then developed into a stand-alone series with episodes lasting 30 minutes each. 'World Girl' was created by Dorothea Gillim and is also known as 'The Amazing Colossal Adventures of WordGirl. The series is directed by David SanAngelo and Steve Young. Some of those who provide voices for the characters in the cartoon include Dannah Feinglass, James Adomian, Tom Kenny, Cree Summer, Fred Stoller, and Ryan Raddatz.
17. Fetch! With Ruff Ruffman
Also known simply as 'Fetch!', this is an animated television series about an anthropomorphic dog called Ruff Ruffman. The dog, who is the host of the show, gives out challenges to real humans who compete in the series. This series was aired on PBS Kids between 2006 and 2010. It was created by Kate Taylor, developed by WGBH Boston, and written by Glen Berger and Jim Conroy. The voice of Ruff Ruffman was provided by Jim Conroy. This series ran for five seasons and consisted of 100 episodes.
16. Martha Speaks
'Martha Speaks' is an educational animated series that is based on the book of the same name written by Susan Meddaugh. The main character is a talking dog called Martha who is voiced by Tabitha St. Germain. Martha's owner is Helen Lorraine, a ten-year-old girl. The dog can speak after eating alphabet soup that goes to her brain instead of her stomach. 'Martha Speaks' is intended to improve language and literacy skills in children by having a theme with keywords each episode and focusing on vocabulary and synonyms. Ken Scarborough is the head writer while Coleen Holub and Dallas Parker direct the show. The series premiered on PBS Kids on September 1, 2008, and ran for six seasons.
15. Liberty's Kids
In terms of television series that teach American children about their culture, their roots and the history of the United States, 'Liberty's Kids' is one of the top cartoons to watch. This is an educational historical fiction animation that was aired on PBS 2002 to 2003. However, some of the stations on PBS ran reruns of the series until 2006. The series then moved to CBS from 2006 to 2008 and has since been shown on The History Channel and This TV. The series was written by Doug McIntyre and directed by Judy Reilly and Marsha Goodman Einstein. There are five main characters in the series; Benjamin Franklin, Sarah Phillips, James Hiller, Henri Richard Maurice Dutoit LeFevbre, and Moses. These are voiced by Walter Cronkite, Reo Jones, Chris Lundquist, Kathleen Barr, and D. Kevin Williams respectively.
14. Bob the Builder
Bob is the titular character in this popular cartoon and the premise of the series is Bob and his workmates finding solutions to problems. One of the main themes that runs throughout this series is how teamwork is better than working alone as everyone has different skills that can help to get things done. Keith Chapman created the series and its characters, and it was originally a British cartoon. Although Bob is an animated human builder, as is his friend Wendy, while the other characters are anthropomorphized work equipment and vehicles. In the British version, the main character was voiced by Neil Morrisey. In the version shown in the United States, the voices were dubbed to give the characters American accents and use American vernacular.
13. Rolie Polie Olie
This French-Canadian-American television series was created by William Joyce, Anne Wood, and Maggie Swanson. This award-winning cartoon is about a robot that is composed of spheres who lives in a teapot shaped house in a world of geometrical shapes. In 1999, William Joyce won a Daytime Emmy Award for the Production Design of the series and in both 2000 and 2005, the series also won a Daytime Emmy Award for Outstanding Special Class Animated Program. Furthermore, 'Rolie Polie Olie' also won the Gemini Award in Canada for the Best Animated Program in 1999. Although there are many futuristic aspects to the design of the series, it also has a vintage feel that is reminiscent of children's shows from the 1950s and 1960s eras. Cole Caplan provides the voice for Olie.
12. Maya & Miguel
Produced by Scholastic Studios, 'Maya & Miguel' is a children's animated series that was formerly aired on PBS Kids. It ran for 65 episodes for five seasons between 2004 and 2010. Maya and Miguel Santos are the main characters of the series and they are pre-teen Hispanic twins. The show is about the siblings and their friends. The aim of the series was to provide general education and to promote multiculturalism. The concept for this cartoon was created by Deborah Forte and it is produced in both English and Spanish. Three DVDs of this show have been released.
11. Sagwa the Chinese Siamese Cat
Created by Amy Tan, 'Sagwa the Chinese Siamese Cat' is an educational animated television series that is based on the novel of the same name. It was aired on both PBS and Sprout. The setting for the cartoon is the late Qing Dynasty during the late 19th and early 20th centuries. Sagwa is a cat who has fun while also trying to get across messages about loyalty and family obligations. It was produced by CineGroupe and Sesame Workshop. It was originally aired in 2001 but reruns continued until 2008. There were 40 episodes divided into 80 segments. Holly Gauthier-Frankel provided the voice for Sagwa and other voice actors included Hiro Kanagawa, Rick Jones, Oliver Grainger, and Jesse Vinet.
10. Wild Kratts
'Wild Kratts' is an animated educational adventure comedy series that was created by Martin and Chris Kratt, who are bothers. The show was produced by The Kratt Brothers Company in conjunction with 9 Story Media Group. Some of the main topics in the series include ecology, biology, and zoology and the main plot usually involves saving animals from the effects of human behaviour. This show is broadcast in 19 countries across the globe. The Kratt Brothers also voice the animated versions of themselves in the series. It was originally aired in Canda on TVOKids before joining PBS' schedule in the United States in 2011. It was aired by this network until 2013 when it then moved to PBS Kids and this network continues to air 'Wild Kratts' to this day.
9. Thomas the Tank Engine & Friends
'Thomas the Tank Engine & Friends' is also known as 'Thomas & Friends'. It was originally a British cartoon based on 'The Railway Series' of books which were written by Reverend Wilbert Awdry and Christopher Awdry, his son. The television series was created by Britt Allcroft. The series began to air on ITV in the UK in 1984. It didn't appear in the United States until 2004 when it made its debut on PBS. This series also airs in Canada, Australia, and New Zealand. There have also been 30 DVDs released, each of which shows a selection of episodes in chronological order. In the UK, the series is currently shown on Channel 5.
8. Cyberchase
This educational animated series is about three human children who are sent into Cyberspace to protect it from an evil hacker. To prevent him from causing harm, they use problem solving, the weather, the environment, and the application of math. The series was created by Thirteen and made its debut in January 2002 on PBS Kids. The main characters of the series are Jacki, Matt, Inez, Hacker, Digit LeBoid, Hacker, Buzz, and Delete. Some of the voice actors who provided voices for the characters include Christopher Lloyd, Gilbert Gottfried, Novie Edwards, Jacqueline Pillon, and Annick Obonsawin. The series was created by Sandra Sheppard and is directed by Larry Jacobs and Jason Groh. So far, there have been 11 seasons of this cartoon.
7. Clifford's Puppy Days
'Clifford's Puppy Days' features Clifford the Big Red Dog as a puppy and is a prequel to 'Clifford the Big Red Dog'. It is about Clifford's life while he was a puppy and before he moved to Birdwell Island. The series was created by Norman Bridwell and directed by Bob Doucette. It featured the voices of Lara Jill Miller, Grey DeLisle, Cam Clarke, Kath Soucie, Masiela Lusha, and Orlando Bloom. The series aired originally on PBS between 2003 and 2006 with occasional reruns to this day. It also aired in the UK on CBeebies from 2004 to 2011. There are three main stories in each episode that are read to Clifford by Emily Elizabeth. One of these is about the problems that dogs face, the second is about a dog called Speckle, and the other is about Emily Elizabeth and her friends. The final section of the show is called 'Clifford's Idea to Grow On'. This is a short animation about either basic truth, a proverb, or etiquette.
6. Curious George
Curious George is a character from a set of French books of the same name that were written by Hans Ausgusto Rey and Margaret Rey. The first of these was published in 1939. Over the years, there have been various television films and series adapted from the stories. The first television series was aired from the late 1980s to early 1990s on The Disney Channel. A new 'Curious George' television series began on PBS in 2006 and this remains one of the series in the networks regular schedule as part of the PBS Kids Preschool Block. In this series, Frank Welker provides the voice of Curious George and Jeff Bennet is The Man in the Yellow Hat. Each episode consists of two cartoons. It has won two Emmy Awards for Outstanding Children's Animated Program in 2008 and 2010.
5. Dragon Tales
Dragon Tales is a preschool fantasy adventure animation that was created by Rodecker and Jim Coane. It is based on the adventures of two siblings, Max and Emmy, and their dragon friends. The series first aired on the PBS Kids block in 1999 and aired regularly until 2005. However, reruns of the show continued airing until 2010. In the series, Emmy and Max have a special stone that allows them to transport themselves to a magical land with dragons. There is a group of four friendly, talking dragons who befriend them. In addition to the fun element of the series, there were also underlying educational goals. Some of these were helping children to understand that not succeeding fully is not the same as failure and that there are often multiple ways to approach a challenge.
4. The Berenstain Bears
The Berenstain Bears are characters that were created by Stan and Jan Berenstain for their series of books. It is about a family of anthropomorphic grizzly bears and the stories are generally trying to convey a safety or moral-related message. The series of books consists of more than 300 titles of which over 260 million copies have sold. The first television series featuring the bears aired on CBS between 1985 and 1987. PBS then launched their own version of the show in 2003 and they produced 8- 15-minute episodes of the show. Although these were predominantly based on the stories from the books, there were also some new stories added. Although both the books and the television series are extremely popular, they have also faced criticism for their saccharine nature.
3. The Magic School Bus
'The Magic School Bus' is an animated series that is based on the books by Joanna Cole and Bruce Degen. It has received critical acclaim for combining education and entertainment to become one of the highest-rated shows for school-aged children on PBS. The show made its debut on PBS on September 10, 1994 and aired until December 6, 1997. There was a total of 52 episodes over four seasons which were repeated many times since the series originally aired. 'The Magic School Bus' was produced by Scholastic Entertainment and aimed to teach children about science in a fun way. Some of the people who provided voices for the characters in this series included Lily Tomlin, Lisa Yamanaka, Danny Tamberelli, and Daniel DeSanto. This was the first fully animated series ever aired on PBS.
https://www.youtube.com/watch?v=-rxb15JcSUg
2. Clifford the Big Red Dog
This series is based on the book series of the same name written by Norman Bridwell. It is an animated educational comedy fantasy series that is about the adventures and exploits of Clifford. It aired on PBS from September 4, 2000, to February 25, 2003. It was also shown in the UK on BBC2 in 2002. Each cartoon lasted 30 minutes and was divided into two 15 minute sections with each half of the episode featuring a story. The first story was usually about Clifford and his friends while the second story was about Clifford's owner, Emily Elizabeth. John Ritter provided the voice of Clifford in the series.
1. Arthur
Probably the most popular cartoon series on PBS of all-time is 'Arthur'. This series is based on the books that are written and illustrated by Marc Brown. It was adapted into an educational animation for PBS by Cookie Jar Group and WGBH. The series is directed by Greg Bailey. The main character in the series is Arthur Read who is an anthropomorphic aardvark. The storyline revolves around his interactions with his friends and family. 'Arthur' is the second-longest running series on PBS with only 'Sesame Street succeeding its run. During the time it was aired, 'Arthur averaged 10 million viewers each week in the United States. It was first aired on October 7, 1996 and is an ongoing program in PBS' schedule. As well as supporting literacy development in children, the show coves many serious and topical issues.