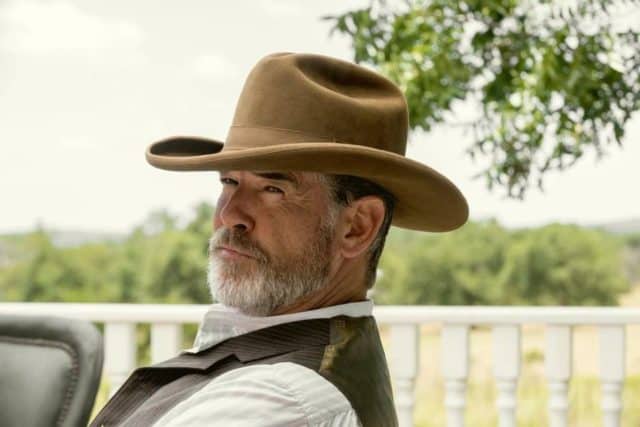 Saturdays are pretty light on the TV front. They've always been that way and they always will be. But tonight we've got the premiere of a new series on AMC which is starring Pierce Brosnan. It's called The Son. Pierce Brosnan plays Eli McCullough, a man who was kidnapped by the Comanches as a young boy and raised as one of their own, but later runs his family's cattle and oil businesses in Texas. The show is based on the bestselling novel by Philipp Meyer. Honestly I haven't a clue as to how this show is going to turn out but I will say that Brosnan definitely looks cool with a white beard and cowboy hat. Elsewhere on the tube tonight…..
Training Day (9 p.m., CBS) — Kyle's morals are tested when Frank involves him in a plan to take down a criminal defense attorney who has been helping his clients eliminate witnesses.
The Wrong Mother (8 p.m., Lifetime) — An accident victim's home nurse is the same woman she used for an in vitro procedure – but now the woman wants her children back.
Moonlight in Vermont (9 p.m., Hallmark) — A New York City real estate broker retreats to her family's Vermont inn after being dumped by her boyfriend. The same boyfriend that shows up at the in with a new girl.
Saturday Night Live (11:30 p.m., NBC) — Louis C.K. hosts with musical guests The Chainsmokers.