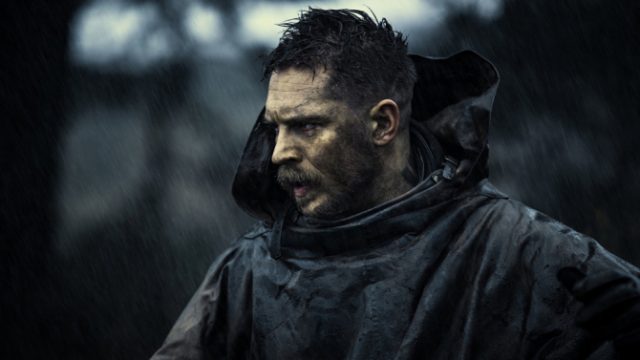 One of the hardest things to believe about Tom Hardy right now is that he's a regular on a TV show. I still have a hard time processing that a movie-star of his caliber is on Taboo, which is on FX no less. This isn't a knock on television stars but Hardy is just made for the big screen. Then again, the trend for at least 5 years now has been for bigger Hollywood names moving over to television shows, especially networks like HBO and Showtime. The list of names is pretty long but again, Tom Hardy is a true blessing to get to watch on a weekly basis.
Speaking of Taboo, if you know anything about Hardy's character on the show it's that like many characters Hardy has played before, there isn't a ton of dialogue required to convey a particular emotion. Hardy has an excellent way with body movements as well as sounds to capture the viewer. According to Film Rejects
If you're watching Hardy's new television series Taboo on FX, now five episodes into its first season, then you know the nonverbal dominance of the actor continues, as more often than not when he opens his mouth, what comes out aren't words but rather deep, guttural, telling grunts. In the world of the show, this overtly-masculine communication in place of, you know, actual conversation lends itself to Hardy's character, who has returned to civilized London after a dozen years on his own in the wilds of Africa at the turn of the 19th century, but even so his constant grunting is noticeable.
It's so noticeable that a "Tom Hardy Grunt Counter" has been created. If you're interested in learning just how many grunts Hardy sounds off in the first five episodes of Taboo then you'll enjoy the video below:
Tell us what's wrong with this post? How could we improve it? :)
Let us improve this post!