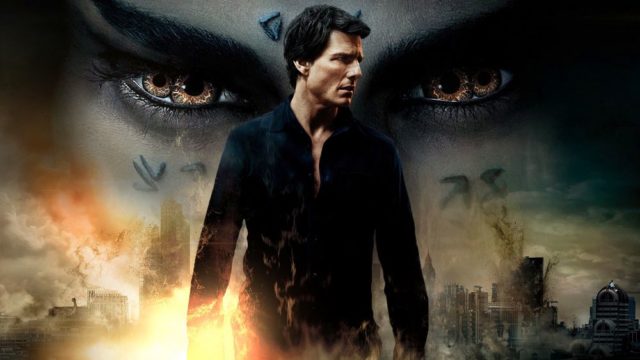 Anyone that's seen Tom Cruise's new Mummy movie and heard that weird scream he gives when the plane crashes raise your hand. If you thought it was weird there you'll definitely think it's weird when you hear it dubbed over other movie screams. He's given a lot of different yells and screams over the years, but this one was kind of odd in that it ramped up in such a way that it almost makes him sound like a human bullhorn. The sound itself was kind of odd, but the whole sequence make it sound even more kooky. Anyway, listening to it in other contexts will no doubt make you laugh or roll your eyes.
I know I did both.
Hearing it come out of Tobey Maguire's mouth was kind of creepy since it sounds more like frustration than fear or impending danger. Spider-man really shouldn't sound like he's being put out when it comes to saving anyone, especially MJ. As for Woody sounding like Cruise it makes the impression that the burn is just now being felt and that he wasn't really suffering until Sid got up and left.
Neo definitely doesn't need to sound like Cruise since it would have only made the character that much more confusing and unbearable as the films went on. Plus, that initial scream by Neo was probably one of the only few that he uttered throughout the three movies. Kevin McAllister however might have just hit puberty if this was his real voice, though with a splash of aftershave that he wasn't fully prepared for the sound might be expected.
With Marty McFly it almost makes him sound like he's about to do something stupid and/or rash, which of course he eventually does out of necessity. But the almost angry sound of the yell makes him sound just way too tough for what he is. And oh lordy, the T-Rex from Jurassic Park almost sounds like he has something stuck in his throat when this sound comes out. Perhaps half of the goat got stuck in his esophagus and the full roar can't really make it out. I'd be mad too I guess.
When placed in The Lion King it almost seems like blasphemy, to the Lion King of course. In a way it almost seems to promise Scar that Mufasa's going to come back somehow and he's not going to be happy, or merciful. Well, I guess you can argue that Mufasa did get a small measure of justice thanks to Simba. But hearing it with Ace Ventura is actually funny since the bit is pretty hilarious.
It's almost an improvement with Superman if the bass in his voice were just a little deeper, but come on now, Star Wars? Thank goodness for James Earl Jones is all I can say about this one.
That scream was perhaps one of the strangest ones that Cruise has given yet and despite all that it seems to work wonders in other clips. I wonder what prompted it in the film though.