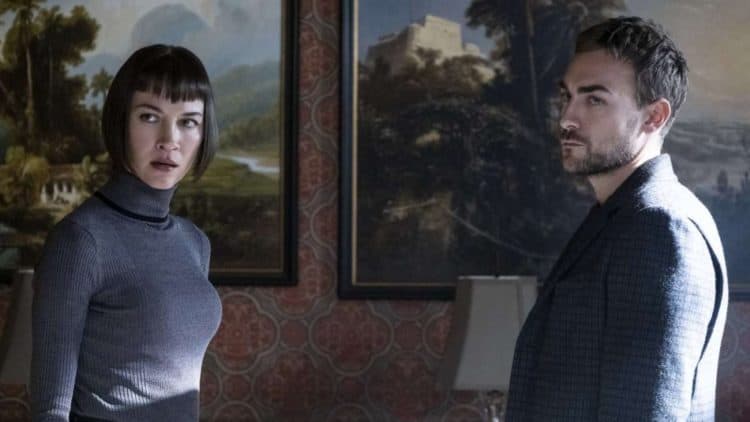 When people talk about the major keys to becoming a successful actor, they often mention things like talent and training. However, one of the most important ingredients often goes overlooked, and that's patience. However, in Tom Austen's case, patience has proven to be a game changer. Things haven't always been easy over the course of Tom's career, but he's never given up. With 10 years of on screen experience under his belt, Tom has gotten the opportunity to work on several successful projects, and he has yet another in the world. He will play the starring role in the upcoming TV series, Helstrom. Keep reading for 10 things you didn't know about Tom Austen.
1. He Made His TV Debut In Shameless
Landing a role on a popular TV series is a dream come true for every actor. Most of the time, actors have to wait until they're well into their careers to get those opportunities. Tom Austen was able to get that chance right out of the gate. His very first TV appearance was in a 2010 episode of Shameless.
2. He Might Be Off The Market
Tom's good looks have made him almost as popular as his acting skills. But unfortunately for anyone out there was hoping to slide in his DMs, he might already been spoken for. There have been lots of rumors about whether or not he is in a relationship with his Royals co-star, Alexandra Park. Although they haven't officially confirmed, it both of their Instagram pages suggest they might be more than friends.
3. He Loves To Travel
No matter how much you love where you're from, it's always nice to get out and see other parts of the world. Experiencing other cultures and ways of life can help you become a more well-rounded person. Thanks to his career, Tom has been fortunate to do lots of traveling over the years. He has visited places like, the United States, France, Canada, and Spain.
4. He Studied At Guildhall School of Music in Drama
Once Tom decided to get serious about acting, he knew that he wanted to learn as much as he possibly could about the craft. He enrolled in Guildhall School of Music in Drama in London where he was able to study acting. Other notable actors who attended Guildhall School of Music in Drama include Orlando Bloom, Daniel Craig, and Michaela Coel.
5. He Participated In Black Out Tuesday
The Black Lives Matter movement originated in the United States, but recent events have caused people all over the world to pay more attention to issues regarding race and injustice in the United States. On June 2, Tom participated in an online movement called Black Out Tuesday where people were asked to upload black squares to show solidarity.
6. His Brother Is An Actor
Great acting skills seem to run in the Austen family. Tom's younger brother, Freddy Carter, is also a successful actor. Freddy made his on screen debut in 2017 and he has had a handful of roles since then. He is probably best-known for appearing in the Netflix series, Free Rein.
7. He Enjoys Helping Others
Tom enjoys using his platform to help others in need and spread awareness for causes he believes in. He has been an advocate for the fight against blood cancer and has used his social media presence to help others learn more about the illness. In 2017, he also signed up for the stem cell register.
8. He Originally Auditioned For The Role Of Prince Liam On The Royals
When Tom initially heard about the audition for The Royals, he was brought in to read for the role of Prince Liam and Jasper. However, when he got to the audition, he decided that he only wanted to read for Jasper because he didn't think Price Liam was the best fit for him. He was the first person to read for Jasper and ended up doing such a great job that he was offered the part shortly after.
9. He Likes To Play Characters With A Dark Side
Some actors are hesitant to play characters who are perceived as the bad guy, but not Tom. During an interview with Dujor, Tom said that he enjoys playing characters that have a bit of a dark side. He says it's actually a little fun to not have to always be the good guy.
10. He Didn't Discover His Love For Acting Until College
Acting is definitely Tom's calling, but he didn't discover his love for it until college. While college is typically the time when people figure out what they want to do with their lives, it's considered a little late in the world of acting. Lots of actors seem to be born knowing that they want to entertain.
Tell us what's wrong with this post? How could we improve it? :)
Let us improve this post!