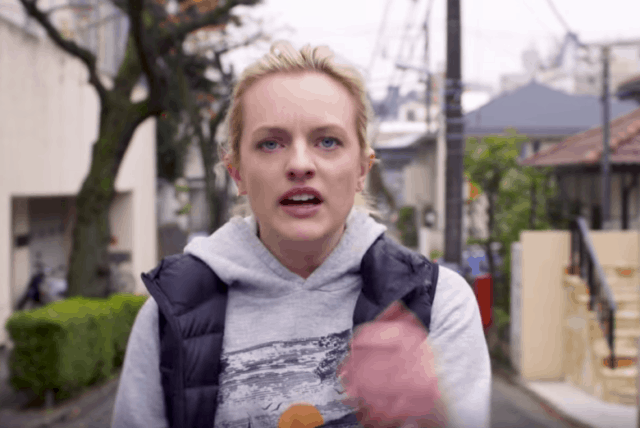 HBO have just issued a trailer for the Lena Dunham produced short film "Tokyo Project". "Girls" fans who have been experiencing withdrawal symptoms since the series finale will want to check it out. "Tokyo Project" is written and directed by Girls alumni Richard Shepard and stars Ebon Moss-Bachrach (Desi to Girl's devotees) alongside the actress of the moment, Elisabeth Moss.
The 30 minute short film, which is reminiscent of Lost in Translation, was premièred at the Tribeca Film Festival in April 2017. HBO have picked it up following the warm festival reception and will bring it to a wider audience when it is broadcast on the network on October the 14th at 10 p.m.
The trailer opens with a series of street-scape images. It immediately captures the sense of moody remoteness and otherness of life in an unfamiliar city. It features a glum and melancholy sequence with Emmy award winning Elisabeth Moss and Ebon Moss-Bachrach roaming the streets alone and lonely. We follow the two strangers as the roam around the titular city Tokyo.
They encounter and Sebastian tells Claire his name and asks hers. They are seen walking hand in hand and we learn that Claire is a photographer and whimsical by nature. In answer to a question about what kind of photographs she takes Claire responds "perfect things, imperfect things". The trailer hints at two broken souls with Claire saying that she feels a little like a ghost and that at times "she's there but she's not" In the series of slow images with the camera lingering on the stars troubled faces, we surmise that the two encounter, flirt and indulge in a love affair and that inevitably it may be a painful encounter.
The project boasts some big names. Moss is one of the hottest actresses on TV at the moment and has just earned an Emmy for her role in Handmaid's Tale. Ebon Moss-Bachrach hints at depth and complexity and is always watchable. Richard Shepard is credited with writing, directing and producing alongside Erika Naegle and Stacey Reiss. Jenni Konner, Karen J. Lauder and Lena Dunham are the heavyweight executive producers backing the film the film alongside Stacey Reiss, co-producer Ericka Naegle and executive producers Lena Dunham, Jenni Konner and Karen J. Lauder. Dunham and Konner's production company A Casual Romance and Karen J. Lauder's company Priority Pictures produced the short.
Save