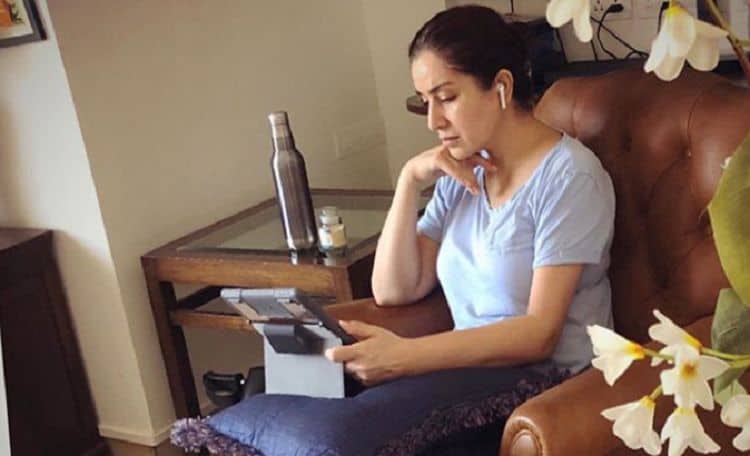 One thing we need to remember and sometimes be reminded of is that famous faces and names don't just originate or become famous once they hit the US. Tisca Chopra is one such example of an individual who is quite famous and yet doesn't seem to be as well known in the US at this time. That doesn't diminish her in any way but it does seem to limit the exposure that she gets in this country as opposed to the exposure she receives where she's from. That being said she's become quite the icon throughout her career and has done more than enough to become a known individual that has a great shot at being a legend in her own time. How far she wishes to take her career will be interesting to see, particularly if she decides to make a huge impact in American movies at some point. If not, then she's still a star no matter where her acclaim comes from.
Here are a few things about Tisca you might not have known.
10. From her college to her professional career she's been a very busy woman.
Tisca hasn't been idle at all since she's been a hardworking individual from the moment she knew what she wanted to do with her life. From college to her professional days she's been burning the midnight oil so to speak making sure that she's secured a legacy that's worthwhile and can keep her relevant for years to come.
9. Tisca can speak five different languages.
Yes, English is one of them, but she can also speak Hindi, Urdu, Bengali, and Persian. How a person keeps that many languages straight in their head is kind of hard to imagine, but even more so is how they don't end up speaking in one language on accident when they meant to use a different one. Hey, it happens.
8. Her career has spanned across TV, movies, and advertising.
She hasn't confined her career to one venue as she's been able to create advertisements, star on TV shows and in movies. In this manner a lot of actors manage to secure their popularity and make it known that there's nothing that is too low for them to consider when it comes to the work they enjoy.
7. She's often mistaken for another actress.
Many folks seem to experience this phenomenon in the acting industry but in some cases it makes you wonder how. There are some people that look quite a bit alike and need more than just a glance to differentiate them. But then there are those that people confuse at times that make you wonder if their vision is as sharp as it should be.
6. Tisca seems like a very down to earth person.
Judging only by the pictures on her Instagram it would seem that she enjoys the luxuries and the simple moments in life since she seems to enjoy being dressed in simple clothing and spending time with family and friends just as much as she does getting dressed up and looking her best. It's great to have a happy medium in life after all.
5. She does enjoy fashion it would seem.
As I mentioned above she does like getting dressed up it would seem and hitting the town. Or perhaps she's just out on the town and wants to look her best now and again. The point is that she does like to look nice and does appreciate the good fashion sense that she tends to display.
4. Her Instagram account has drawn a lot of followers.
She's definitely attracted a great number of followers in her time and it's no wonder since she has accomplished quite a bit in her career to date and is obviously someone that people love to watch when she's on screen. Plus it seems that she's fairly active on social media which is a good idea for anyone that's in the public eye and wants to stay relevant.
3. She's in her 40s at this time.
Technically she's not old, unless you talk to a teenager, but she's not all that young either. She's at that great age where you realize that you still have a lot of life left to live and have hopefully put your young and inexperienced years behind you. This is where some people might say the accumulation of wisdom begins.
2. Tisca leads a rather clean lifestyle.
She doesn't smoke and doesn't drink alcohol, so there are two big points in her favor for staying healthy. Obviously she takes care of herself and stays fit, and possibly eats right I would guess. In other words she's health conscious enough to keep herself on the right path.
1. She is a Buddhist despite being born to a Hindu family.
This might not seem like a big deal to some people but it is to those that have been raised in the Hindu culture since the two ideologies are different enough that it raises a need for discussion among some folks.
Overall she seems like a very interesting woman.