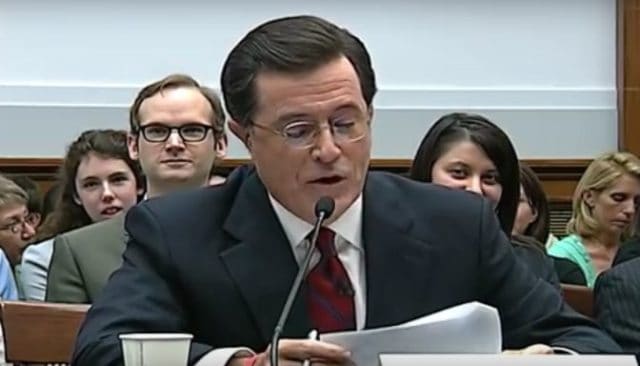 Just because we didn't get any Stephen Colbert over the weekend doesn't mean we can't be entertained by him today. I'd like to take you back all the way to 2010 when Colbert actually testified at a real congressional hearing. This is the description in the video and then below we'll have some analysis.
Stephen Colbert testifies at a House Judiciary Hearing on the state of agricultural jobs in the U.S. These are his opening remarks: The reason for Colbert's appearance was because of a program launched by the United Farm Workers: Take Our Jobs, which invited legal citizens and residents to replace undocumented workers in the fields. Colbert had used his program in the past to highlight this initiative by performing field labor for a day.
Alright. There's a lot to say about this video but there are really two things I deem important. The first is that the panel barely laughs, like at all and yet Colbert just doesn't care. Second, check out the guy in the glasses behind Colbert. The dude barely cracks a smile. Lastly, look at the girl behind the guy with the glasses. What in the world is this girl doing without braces? Wow. I never realized just how delightful this video was. No wonder it got over 2 million views.