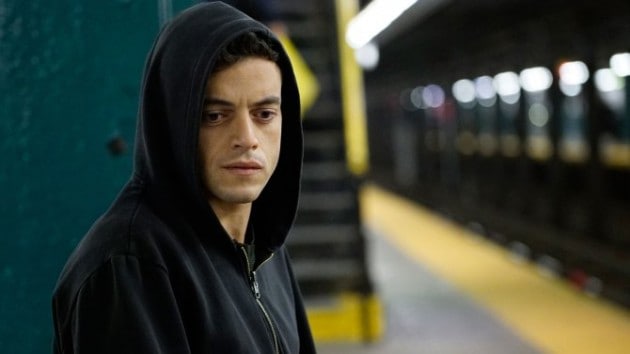 Fans can relax, Mr. Robot has been renewed for a fourth season on USA. The visually-enticing show has been getting huge buzz since it first aired in 2015 and has been moving steadily forward ever since. Fans have taken to both Elliott and Mr. Robot in a way that was hoped for but possibly never expected. The idea of a hacker attempting to create a new world by tearing the old one down is something that tends to get a lot of people riled up and in many ways scared for the future even if it is a TV show.
The trick of a great TV show however is to present something that hits people in a way that seems all too real even if it's a bit fantastical and doesn't seem like it could really happen. Keeping things grounded just enough in order to lure them in with the promise of good drama and just enough of a thrill is what a great director and a stellar cast can do. Up until this point I hadn't thought that Christian Slater had anything left in the tank but his performance on the show has proven that he's just shifted gears and is now firmly in the driver's seat of his own career. He's come out as a great figure in this show and despite his and Elliott's differing viewpoints the show has become something of a phenomenon.
So far the fourth season has gotten the green light but no one can tell just yet when it will air. The idea is that the writing room is open and perhaps after the finale of season 3 ideas will start flowing again. Until that point all fans can do is wait and hope that whatever outcome they're waiting for will finally be resolved and things will continue forward in a manner that they can easily follow and agree with. Chances are though that the story will follow its intended course no matter if the fans like it or not.
There are plans to have the show run for about five seasons before finally finishing its arc, whereupon Elliott and Mr. Robot will no doubt have to come to an agreement or some final conclusion that will still leave fans wanting more. No one wants to see their favorite show go off the air and Mr. Robot has gained a rather impressive fan base since airing a couple of years ago. The compelling tale of Elliott's condition and how he has to deal with Mr. Robot is going to come to a head eventually and will likely meet with either approval or outright disappointment depending on how the story is handled.
In television the outcome of a story is usually far longer lasting since the buildup is much longer and the episodic journey that's been undertaken is in many ways like a quest that the viewer has willingly endured for the promise of an emotional payoff at the end. Hopefully season four will be able to reward the loyal fans for their continued support.