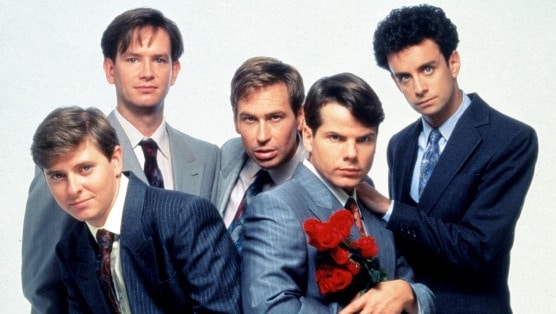 How many of you remember "Kids in the Hall?" It was show that aired from 1989 to 1995 on HBO, CBC and on Comedy Central in the US and CBC in Canada. It consisted of a comedy troupe which included Bruce McCulloch, Kevin McDonald, Dave Foley, Scott Thompson and Mark McKinney. The quirky and often surreal parodies they delivered were so bizarre that you either loved them or hated them. There didn't seem to be much room for fence riding. The series packed a weekly punch of shock value that fans were sad to see fade away, but is it time for a reboot of the popular show?
We believe that the answer to this question is a definite yes and here is why.
Pop culture is parodied
The country has been through a lot of turmoil over the past few years on a socio-political level. One group rises against another and there has been a definite rift that is slowly being mended. Humor has a way of bringing people together by getting them to laugh at themselves and at each other. It is when we see serious situations portrayed in a ridiculous light that we stop and consider that perhaps we're all taking ourselves a little too seriously.
How the characters are relevant
McCulloch's Cabbage Head character was a misogynistic jerk who didn't really understand what it took to attract women. He attempted to gain their sympathy and he was a guy that everyone loved to hate. The character was funny and had the odd quality of being able to make us feel both disgusted and entertained at the same time. Scott Thompson brought being gay into the theme as well and when he made the announcement to the kids that he was no longer gay, they were horrified at the prospect of losing their gay following. How is this for putting career success over personal honesty? They're great and relevant topics and only "The Kids in the Hall" has been able to jab at these touchy subjects with such total disregard.
Taboo breaking topics work
One of the best things about "The Kids in the Hall" was their ability to perform sketches that tackled taboo issues and make them funny. Granted, not all of them were as humorous as they could have been, but they made us think about what was going on in society. It may be healthy for the nation to get a good look at what we're doing and how our differences are pulling us apart in the blunt and often offensive manner that this show was able to transmit. As an audience, we tend to gravitate towards the bizarre and shocking and what could it hurt to do a little invasive fun poking at the current situation?
Final verdict
What we really need is a good dose of shock and awe. We need to be disgusted, to laugh at ourselves and each other and to come together in agreement that there is a show out there that makes us think. "The Kids in the Hall" wasn't everyone's cup of tea, but there are a lot of us who would like to see the sideways humor hit the air again.