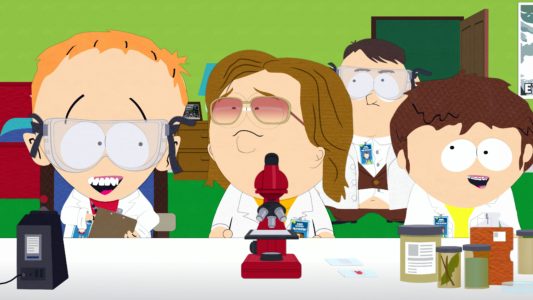 After parodying the decreasing popularity of the Donald Trump administration by comparing it to the Stockholm syndrome during the previous episode, South Park will tackle the annual science fair this coming Wednesday. Prepare for another half-hour of laughter with Stan, Kyle, Cartman, Kenny, and the townsfolk of South Park on its next episode titled "Moss Piglets."
"It's time for the annual science fair. Jimmy and Timmy's project has caught the attention of some very important people. Their experiment could have far reaching implications that could save the world…and they might even win first prize in this year's science fair," according to a statement released by Comedy Central regarding on what will happen on the show this Wednesday. You can now speculate on what current events will the show tackle and parody on its next episode.
South Park is created by Trey Parker and Matt Stone and it is currently on its 21st season. The show was launched on August 13, 1997. During the previous episode titled "Doubling Down", the show parodied the decreasing popularity of the Donald Trump administration by loosely comparing it to suffering from Stockholm syndrome. Kyle is fed up with Cartman's abuse towards Heidi and ends up getting involved. Meanwhile, President Garrison's advisors worry about some of his recent actions. Dani Di Placido of Forbes said that it was "the best episode of the season, and perhaps the best the show has been in years" and that "This episode, and the brilliant 'Put It Down' have shown that Matt and Trey have learned how to use their 'Trump card.' Garrison-Trump is a lethal weapon, to be used sparingly, for when they actually have something worth saying. Compared to the ocean of white noise out there, it's admirably restrained, and South Park's satire is all the sharper for it."
You can watch the episode this Wednesday, November 15 at 10:00pm ET/PT on Comedy Central. All new episodes this season will be available for streaming in HD on South Park Studios and Hulu the day after the premiere.
You can watch the sneak peek of the next episode here.
Tell us what's wrong with this post? How could we improve it? :)
Let us improve this post!