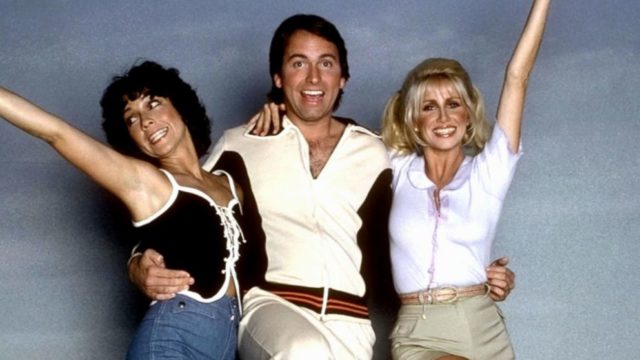 Just when you thought that you'd seen every episode of the popular sitcom "Three's Company," an old pilot surfaces. The pilot was made in 1976, but it was never aired. It's odd that the producers would put in all of the time and expense to create an episode and then just let it sit on the shelves all of these years. There must have been something about the pilot that they felt could be improved upon. While it was similar to the pilot that actually did air, there were some glaring differences.
Here is what we found out with a little research.
The beginnings of the show
We were all highly entertained by the zany antics of the cast, John Ritter as Jack Tripper, Suzanne Somers as Chrissy and Joyce DeWitt as Janet. Most fans do not know that Billy Crystal was interested for the role of Jack and even auditioned for the part. In the unaired pilot, neither Janet nor Chrissy were present. If changes had not been made to include them, the show would have likely had a much different dynamic. There were different actresses in the unaired version and the names of their characters were Samantha and Jenny. On a related note, John Ritter's character was David Bell instead of Jack Tripper.
More contrasts between the two pilots
There were a lot of changes made to the sitcom during the time in between the first pilot that didn't air and the second that gave us a different perspective. The 1976 version had Ritter's character David as a Hollywood filmmaker versus being former Navy personnel. From what we saw in this first attempt, the humor was certainly more racy with different types of jokes, but the story line was pretty much the same. We can only assume that the writers of the series were not satisfied with the product and went back to the drawing table to recreate the series that we came to know and love. A few strokes of the pen can make noticable changes and it takes a trained eye as well as good instincts to have a sense of what will work and what won't.
What might have been
It's not so much a matter of if the series would have been better if they had stuck with the original plan. It's more about the fact that the show was a big success and this was likely because of the changes that were made. The chemistry between Ritter, DeWitt and Somers was undeniable. It was perfect as it was. We'll never know what might have been and perhaps this is a good thing. The show may not have had its amazing appeal to the masses and it may have hit the chopping block after the first season. We're thankful that somebody with a tremendous insight reeled the pilot back in to place the final tweaks on the show before it was delivered to the public. "Three's Company" had a wonderful eight season run and it resulted in the beloved spin off sitcom series "The Ropers."
You can catch the clip of the unaired pilot here
https://www.youtube.com/watch?v=vFax1T_siUE