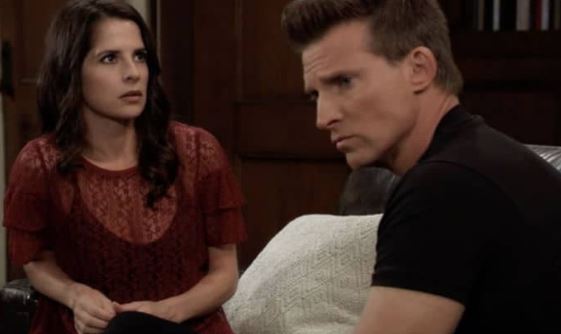 General Hospital fans know that love never lasts around here. There's not much that anyone can really do about that, either. There's just no room for love in their lives in some cases, and we appreciate that. But, we do think that some couples should have made it even though they did not. We do think that they had a chance to make their situation work out better, but we also hope that they don't have much else to worry about in the meantime. For now, though, we do hope that things work in our favor. We do think that things might just change over time, but these couples just can't get it together. They belong together, and we want to see that happen. Can it?
Julian and Alexis
We know that she has a powerful job and a lot more to offer than anyone else, but he doesn't fit into that life. He's a criminal with a lot more to offer than he currently has going on, but that's not something that she can overlook. He's got a bad reputation, and it doesn't work for her career. We get that, but they are so good together. They are so, so good together. Their chemistry is amazing. Their love for one another is obvious, and they do have Sam. So what if they've never been able to get it together in any way that's long-lasting? They are good together, and we love them. We'd love to see that one work out in some way that it hasn't already, but we just have to sit back and wait on that one.
Jason and Sam
Is there a better couple? We are not sure. Sure, they've had some ups and some downs, and things haven't always gone well between them, but that's not all that important. They do have some love there that will never go away, even when they aren't together. It's very obvious to us that they are the best couple in town, and we want to see it work. They are the kind of couple that make it obvious to us that they don't have much else to work with, and we are okay with that. They are just the kind of couple who are just meant to be. They are one another's everything — and we love that. We love them, and there is no one else for either of them. It's obvious to us they are one another's one true love, and we think that should have a little more than just a fleeting moment or glance here or there. We want more from them, and we want it now.
Liz and Lucky
They may go down in soap history as the greatest young soap opera love. They were children together who grew up and were madly in love. They were kids who were always there for one another in every sense of the word. They were the very best of friends, they were good kids, and they had such a good road ahead of them, but things just didn't work out for them. It's sad and heartbreaking, and we'd love to see it work in another manner.
For example, we'd love to see him come back and sweep her off her feet. But, their love didn't last through their adulthood. We do know that they grew up together, they got married, they started a family, and they had a lot more downs than ups, but she eventually ruined everything when she had an affair with Nikolas Cassadine. They were able to get over all their other affairs with other people, but that one was just too much for Lucky. So, maybe if he came back and they had another chance, it would be different. But, we don't know for certain if that is true or not. They might not make it, and that's too bad. They should work on that, though. We loved them so much. They were the couple we all cheered for and rooted for and wanted to see work out. They were pretty much the next Luke and Laura, though we suppose that didn't exactly work out either, did it?