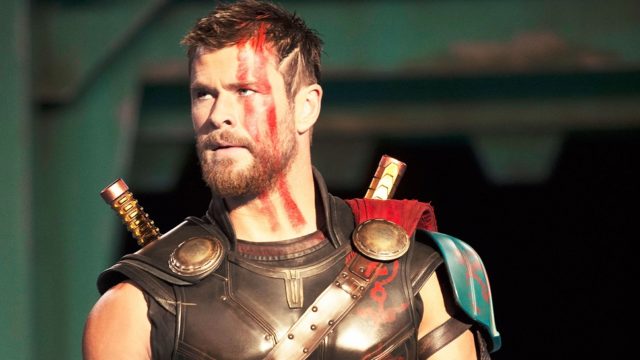 The new international trailer for Thor: Ragnarok looks absolutely stunning and what's more we get to see Thor assembling his own team to take on Hela, the goddess of death! Thor takes on a new look when Hela invades Asgard and is subsequently banished after a very one-sided fight with the goddess. This leaves one to believe that Hela is a goddess on par with Odin if she can shatter Mjolnir without any apparent difficulty, and then banish Thor as though he was a naughty child to another world.
The story gets even better thus far as Thor is captured and forced to fight in a gladiatorial arena where he meets up with the Hulk, who doesn't seem to take too kindly to his presence at first. Perhaps Banner is being controlled or maybe he's just a little peeved at having to fight the thunder god again since things didn't end on a high note last time. Whatever the case the two duke it out and then are seen later on discussing the end of the world and how they need to find a team in order defeat Hela.
https://twitter.com/FiImFeed/status/913386370009370624
They are joined by Valkyrie and, of course, Loki. One has to wonder where Odin and Heimdall are in all of this since the guardian of the Bifrost is seen in the movie but is not in the vicinity of any of his fellow Asgardians. It's very likely however that he will be joining Thor eventually since Heimdall is kind of an important character and not so easily killed off.
What's going to be really interesting is what comes later on in the trailer. We've already seen at this point that Hela is no joke, and that she can take Thor in a straight up fight. She's also come very close to razing Asgard to the ground with minimal effort. So how is Thor supposed to stop a goddess that lives and breathes the very thing that all beings, mortal and immortal, are born to fear? Well, if his supercharged form at the end is any indication he's going to receive a massive upgrade, and that could be the one thing that might finally turn the tide. If he can finally live up to his full potential then there's virtually nothing that Hela could do to contain him any longer. The final fight between these two is going to be absolutely epic.
There are even shots of the Hulk fighting what looks as though it could be Fenrir, the great wolf that is supposed to make a grand appearance at Ragnarok. Just from the trailer it looks like the Hulk might have his hands full, but it also seems that Fenrir might be trying to bite off more than he can chew. Truly impressive however is the image of Hulk going after what looks like a fire giant at one point, perhaps even Surtr himself. That seems like a fight that the Hulk might not win, and not just because of size. The Hulk doesn't back down from a fight, even when it seems like he should.
Thor: Ragnarok looks like it's going to be non-stop action and an awesome movie leading into Avengers: Infinity War.