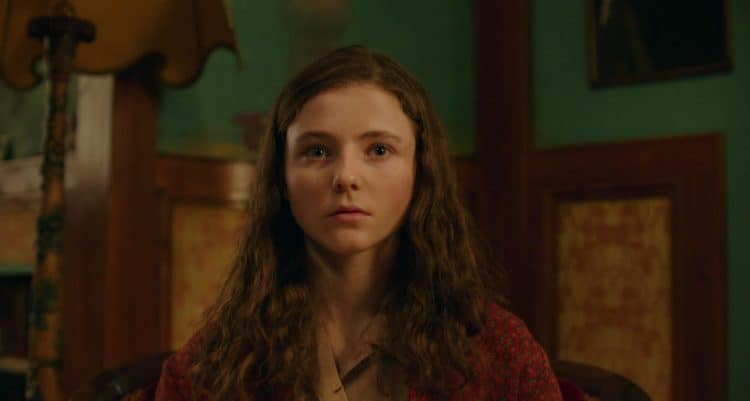 One actress who is making big waves in Hollywood right now is the lovely Thomasin McKenzie. She's been called upon by Olivia Wilde for an amazing new project the world is looking forward to, and she's making headlines all over the world for it. She is young, she is talented, and she is about to launch her career into a place she probably didn't think it would go this early in her career. It's time for her fans to get to know her and all that she stands for.
1. She is Young
Thomasin McKenzie is young. She was born on July 26, 2000, in New Zealand. She was born in Wellington, and she currently lives there despite her busy work schedule. She recently graduated in 2018 from the Samuel Marsden Collegiate School.
2. She Has Famous Parents
It should be mentioned that Thomasin McKenzie is not her full name. Her middle name is Harcourt after her grandparents. Her grandmother is Dame Kate Harcourt and her grandfather is Peter Harcourt. Her mother is Miranda Harcourt. Her father is Stuart McKenzie. Her father is a director, but both her mother and grandmother are actresses.
3. Her Family Has Huge Business Holdings
If you believe the name Harcourt is familiar, it is because her grandfather's family founded Harcourts International. It's a major real estate firm that has become quite famous over the years. Their family has major holdings in the company, and they are well-known for their business interests as well as their fame in the acting industry.
4. She is Working with Olivia Wilde
When Wilde began looking for an actress, it couldn't be just anyone. It had to be someone who could portray the life and times of the very famous Kerry Strug. She's a famous gymnast who was called a hero during the Atlanta Olympics when she literally took one for the team. She was badly injured, yet she finished her routine on the vault and brought home the win. Now McKenzie is portraying the famed American gymnast in the new movie "Perfect," and it's a big deal.
5. She Wants to Play Roles that Bring Open-Mindedness
Being an actress is great, but taking on roles that allow the world to ask questions and open dialogue that brings about a sense of open-mindedness that people might not have prior to watching her act is where she finds the most importance. She wants to change the world through her work.
6. She is Wise
When she was only 19, she had something very unique and very wise to say during an interview. The interview was published in the Los Angeles Times in October 2019. "Given the current inflamed climate in the world, it shows that schools or parents or whatever need to take teaching these parts of history even more seriously. Because there are still people who can't seem to understand the fact that there are different religions and cultures and ways of life and ethnicities. There are so many different ways of living, and not everyone can agree. The only way to be able to live in this world in harmony with each other is to be able to understand that. Because otherwise, you're always going to be fighting against somebody." She said this while discussing her role as JoJo Rabbit in a film about the Holocaust.
7. She Is a Fan of Her Mom
Of course she is a fan of her mom, but she also feels that much of her life was modeled after the things that she really appreciates about her mother. For example, she loves that her mother is a woman who is a strong female, and she feels that many of her own roles are modeled after her mother and what she is like.
8. She is Very Private
She is not a young woman who shares too much about her life with anyone. She works, she discusses her work and her beliefs, but she does not discuss her personal life or the things that she is doing outside of work. Those things are hers alone.
9. She Didn't Want to be an Actress
Growing up, she didn't necessarily want to go into acting. She was offered her first role as a child, and she had a realization that it was about so much more than acting. That is when she began to realize she might want to do this for the rest of her life.
10. She is All About Kindness
While she might be working on changing the world one role at a time by starting discussions, she's also a young woman who has a very simple belief. Her belief is that everyone should just be kind and treat others with respect. It's really that simple.