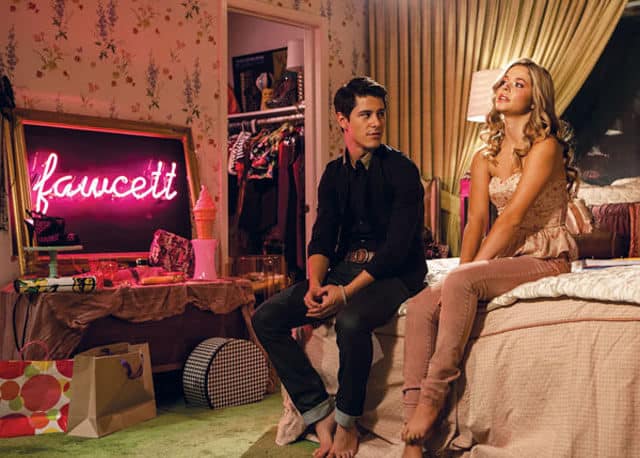 Some actors emerge as stars with surprise performances, revealing talent that fans did not know they possessed. Others require the right part to break out to a mainstream audience. A select few, on the other hand, appear born to be superstars. Such is the case with the South African-born Sasha Pieterse.
Best known for her portrayal of Alison DiLaurentis in the highly popular Pretty Little Liars, Pieterse has emerged as one of television's brightest young stars. The show is currently in its final season and will wrap up in June. Pieterse fits the archetype of a Hollywood star. She is a highly talented, beautiful, and charismatic actress. She has seen success as an entertainer throughout her life, leading her to be home schooled. Despite her somewhat abnormal upbringing, Pieterse appears to be handling her fame remarkably well.
Although most people know her best for her gripping performances in film and television, Pieterse has experienced a great deal in her young life. Here are five of the most interesting facts about this talented actress.
5. She was a successful model
Acting is not the only field in which Pieterse has seen incredible success. In fact, her teenage years were arguably defined more by her modeling than acting. She saw great heights as a young model, including being featured on a nationwide billboard for Supercuts. She also travelled throughout California, performing in the Macy's Passport Fashion Show. Further, she graced the covers of several magazines during her modeling career, including TeenProm.
4. Sasha Pieterse
Despite her young age, Pieterse is remarkably seasoned as an actress and model. With over a decade of experience as a professional entertainer, Pieterse has earned herself a considerable income. In 2017, her net worth is estimated to be around $2 million. While she has certainly earned a respectable sum from her modeling work, she owes the bulk of her personal wealth to her acting jobs. With upcoming roles in movies like Coin Heist, Pieterse will almost certainly see her net worth continue to rise.
3. She began acting at a young age
For an actress who is now only 21 years of age to have the long list of credits that Pieterse can boast, it makes sense that she began acting as a child. When she was only six years old, Pieterse was cast as Buffy in Family Affair. In addition, she had roles on House and The Adventures of Sharkboy and Lavagirl in 3-D. Clearly, Pieterse's talent emerged at a very young age.
2. She was raised in show business
Often, actors who find success as children have a very difficult time seeing continued success as adults. This can commonly be attributed to the fact that the pressures of show business can be overwhelming for a young person. Luckily for Pieterse, her parents were well equipped to teach her how to handle a life in the spotlight.
Interestingly, her parents were performers, but they were not actors. They traveled internationally as a professional acrobatic dance team. While these are very different fields, it was certainly an asset for Pieterse to have parents who understood life as an entertainer.
1. She is an accomplished musician
It may seem hard to believe that a young person could see success in acting, modeling, and music. However, this is the truth with Pieterse. She signed with Dan Franklin Music and has since established herself as a successful solo artist. She has described her music as a combination of country and southern rock.
In 2013, Pieterse released her debut single titled "This Country is Bad Ass." She has stated that the single reflects her love for the US, where she was raised.
Conclusion
Pieterse is a young star who has established herself as force to be reckoned with in acting, modeling, and music. Despite her age, she has seen a tremendous amount of success dating back to her childhood. While fans may be dreading the end of Pretty Little Liars, they have a great deal to look forward to, as Pieterse has already booked roles in some upcoming productions. She is an excellent example of how a young star can handle all the pressure and fame of a career in the entertainment industry.