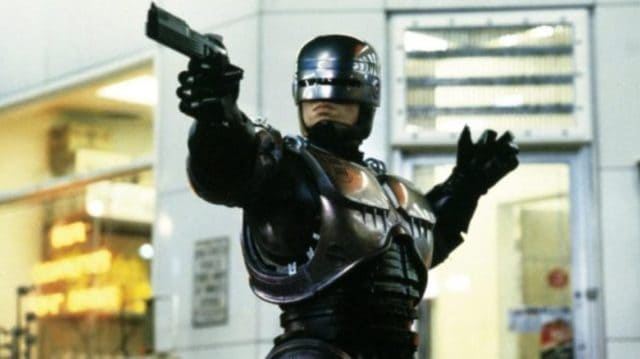 So hold the eye-rolling for a moment, there's now word that there's a new Robocop movie in development and it's intended to be a sequel to the original. Okay, go on and roll them and feel free to say "huh?". I know I did since there were already two horrendous sequels and one remake starring Joel Kinnaman. While the writer that's in charge of the new sequel acknowledges this he's also been heard to say that they're going to be ignoring the two sequels and the remake and focusing on moving forward with a new idea that he can't talk about as of now. So it's basically an "oops, that didn't work, let's scrap all but the original and go at it again" kind of moment. If you feel the need to groan, please do.
Okay, in all fairness Robocop is still a cool idea, but it was handled so poorly in the sequels and the remake that it's been just about played out. Also, Peter Weller, the original Murphy, is 70 years old now and won't possibly be coming back for anything more than a cameo at best, or a supporting role perhaps. I doubt that they're going to put Joel Kinnaman back into the role after the flop of a remake that was made, and as a result that leaves a wide open spot that needs to be filled and might be career suicide for anyone that tries. It's almost like Batman, you only take on the role if you're certain that your career can take the hit. George Clooney was a horrible Batman but he had such a great career that he just kept on going. Peter Weller wasn't much before Robocop and unfortunately didn't do much after either. Joel Kinnaman was at least a fresh face in Hollywood and was still able to get more acting parts after the disaster of the Robocop remake.
I loved this movie when it first came out. Some of the best scenes are still good memories, like the amazing shot through the woman's dress that very effectively took down the perpetrator that was threatening her. Or the thug that exploded into mush after being doused with toxic chemicals and then hit by a car. Watching it again is kind of anticlimactic now because after all we've been exposed to in the way of special effects this movie is now about as low-tech as it can get. But back then it was still awesome. The ending was so abrupt that he just barely got his name out when asked and then it went to black and then the credits. There was so much wrong with this movie that critics could have and probably did have a field day trying to sort them all out. There's a reason that the special effects never got much better for Robocop, I would imagine that their budget never got bolstered any further than was necessary by the studio.
And yet, it's still a cool idea, so maybe, just maybe, they can do something with it.