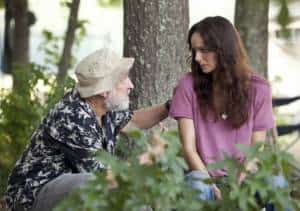 Sunday night's episode of The Walking Dead, "Secrets," was the penultimate episode of 2011, and as such served simultaneously as both a payoff and a set-up episode.
There were several major emotional payoffs in "Secrets." Meeting the walker in the drugstore gave Maggie and Glenn's relationship a little more substance than simply a need for physical intimacy, and the conversation in which Maggie identified Glenn as a leader will undoubtedly give him a greater sense of confidence — but that confidence might just pit him against the rest of his group of survivors.
Speaking of the word 'confidence,' Glenn played a major part in the episode by being hilariously bad at keeping secrets. In a show about the zombie apocalypse, it's difficult to find many situations for comic relief, so naturally Glenn's lack of a poker face was played up considerably, leading to some truly awkward scenes that eventually culminated in Glenn spilling quite a bit of information to Dale: there are walkers in the barn and Lori's pregnant.
The walkers in the barn, of course, were discovered by Glenn at the end of last week's "Chupacabra," and while they didn't play a major role save for the pre-credits scene, they served to add some tension to the previously calm farm scenes. Since next week's episode is the midseason finale, it seems almost certain that those walkers in the barn will be part of the cliffhanger that takes us into the new year.
Hershel, though, believes that the walkers are still people who are just sick, and while his view is certainly misguided, his discussion with Dale (and Maggie's subsequent discussion with Glenn) at least made his bad decision quite sympathetic — and lent a bit of context to his previous discussion with Rick about the hope for a cure.
Lori's pregnancy was also a major thread in the episode, with Lori deciding to have an abortion before deciding against it, vomiting up the pills, and telling Rick. Throughout the season, it's become increasingly obvious that the two opposite sides of the survival spectrum aren't Shane and Rick — they're Shane and Lori. Lori is so driven by her maternal instincts that she makes irrational decisions (i.e. her reluctance to let Carl learn how to use a gun). Rick, which his gentle question of "Can you defend that?" seems to be more toward the middle of the spectrum, between Lori's dogmatic emotionalism and Shane's disconnected survivalist tendencies. This evolving dynamic is quickly becoming the best thing about The Walking Dead.
Speaking of Shane, his relationship with Andrea was finally realized in this episode after an emotional shooting lesson which led a subdivision shootout with some zombies. Once again, the episode ended without Sophia being found, meaning that there are less and less chances of her ever being found. While I wouldn't mind if she never turns up, it's time for the survivors to either find her or quit looking — The Walking Dead III: The Search for Sophia is getting to be an overused story motivation.
But as TVOvermind's own Kevin Fitzpatrick points out in his Comic-to-TV comparison, Shane and Andrea were never an item in the source comics — instead, it was Dale and Andrea who became a couple. And while the show has previously hinted that Dale harbors some feelings toward Andrea, it was never more clear than in the confrontation between Shane and Dale — the best scene of the episode — in which the two hurled accusations and threats against one another. While Jeffrey DeMunn is certainly fun to watch as Dale, the scene really proved that Jon Bernthal (Shane) is perhaps the show's best actor. He managed to make Shane's declaration that he loved Rick like a brother both reassuring and somewhat threatening — as though Shane's trying to convince himself of that very fact. This is the very reason I'm glad they've kept Shane alive — since this season's "Save the Last One," the character has proven to be the most watchable of the entire bunch — and that's saying a lot.
"Secrets" was a solid episode that cleared a lot of the building inter-character tensions and served as the emotional payoff to several storylines that have been developing over the course of the season. The lack of major action in the episode, though, seemed to indicate the calm before the storm — almost guaranteeing that something major will happen in next week's midseason finale, "Pretty Much Dead Already." I can't wait. B+