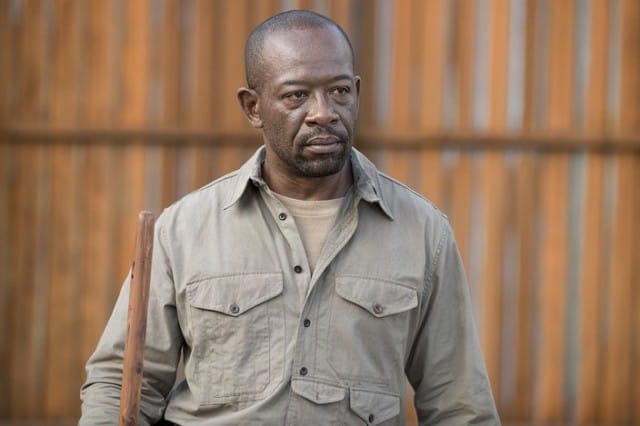 Enid's backstory serves as a haunting introduction to the chaos Alexandria becomes in "JSS." Opening on a white van her parents are trying to restart, "JSS" begins with a series of terrifying jump cuts, tracing her from isolation out in the middle of nowhere, to the moment she arrives at Alexandria's gate, covered in blood (some of it turtle) and dirt, weary from the violence and death she'd endured. The other thirty-plus minutes of "JSS" play out in similar fashion on the town, shifting from innocent to horrifying in a split second, and maintaining that relentless, anxiety-inducing fight for survival in a fine hour of The Walking Dead.
After the sprawling logistical mess of "First Time Again," JSS" is a tight, focused, and insanely violent hour of television, centered on a simple idea: survival. When The Walking Dead whittles an idea down to its root, it can deliver some wildly effective television; there's nothing fancy about how "JSS" plays out, no clever approach to storytelling that undercuts the simplicity of it all – it just moves, until every single extra in Alexandria is dead (seriously: this episode must be saving them a ton on background people) and the walls of Alexandria are left smoking and broken. And while it's not the most original story (it's essentially a mix of the climatic moments at Terminus and the Governor's camp, complete with bada** Carol running around on the fringes), it works because of how it openly compares the approaches Carol and Morgan take to survive, representing that everlasting fight for humanity each true survivor eventually struggles with.
The debate is really pretty simple: Morgan's non-violent approach is what gets people killed, a lesson he still hasn't learned since watching his zombified wife (who he wouldn't kill, remember) eat his son. We all know Morgan lost his marbles along the way somewhere, and it seems a short run (or run-in) with the Wolves only rejiggered that insanity into Morgan thinking he can help everyone live. Obviously, he knows this isn't really the case – which makes his "avoid killing until I really need to" point of view kind of annoying. The episode's one flaw is in depicting his side of the argument: keeping these wild animals disguised as people alive (and letting one of them leave with a GUN) is just not logical, a fact he should know after surviving in this world.
Obviously, The Walking Dead aligns itself closer with Carol's worldview. Maintaining humanity is all well and good until someone starts swinging a machete, then it's Murder Time. The debate really isn't even close, serving as a nice little proxy reminder of why Rick's own machinations with his conscience don't make for rewarding storytelling: this show's proven time and time again that the 'new' world only generates two type of people: those willing to kill at any cost, and those that aren't. The quick trigger fingers are often the ones surviving the longest, a fact Rick and Carol have both learned: while it may seem stupid for Carol to shoot someone giving them information, it's certainly a lot less idiotic than two men tying up one prisoner by the hands, while dozens of people are running around murdering everyone in sight. As The Walking Dead does with Rick's internal debates, it can't disguise its worldview, or even apply any nuance to it: the saying "just survive somehow" could be "live long enough to murder" and it would have the same meaning (though 'JSS' is a much better acronym than 'LLETM', I suppose).
As always, a violent climax also acts as a catalytic event for character transformation: primarily new character Denise, a former psychologist who becomes the new town doctor in Alexandria. Played wonderfully by Merritt Weaver, Denise's anxiety about the position and the numbing sensation of adrenaline that surges through when she sees the injured Holly give an emotional backbone to the events of this episode; as Eugene notes, the line between coward and brave is a tough one to cross mentally, especially when staring failure directly in the face. For the first appearance of a new character, The Walking Dead handles Denise's introduction flawlessly, right down to the final moment, when the only victory for her hard work trying to save Holly is a reminder from Tara to deal with Holly's brain before she reanimates.
That's the kind of cold, stark reality The Walking Dead is best at: depicting the end of the fight with Carl taking the casserole out of the oven is another, a darkly comical moment that puts a touching little coda on the events preceding it. Expanding on these ideas, of course, is never the show's strongest strength (again: Morgan is more than a little confusing in this episode), but when it boils itself down to self-contained hours about the primal instinct of survival, The Walking Dead can still deliver evocative hours of television like "JSS," momentum I hope it can maintain with its split storytelling approach, especially once the show moves from these big set pieces to depicting the fallout of them. It's there where we'll discover if The Walking Dead has any fresh nuance to offer. Right now, however, the immediacy of spectacle is allowing TWD to thrive, perfect avenues for the show to do what it does best: giving sharp definition to its characters through violent challenges to their realities.
Other thoughts/observations:
Let's explore the "Enid is a Wolf" theory, which began with the 'Wolf Fight' comic book of hers Carl picked up last season: she tries leaving the moment before the Wolves show up, she likes writing letters on things, says the Wolves "are just people," and she somehow has a key to every single house in the town (???).
That backpack of photos is the one Aaron lost while on a supply run with Daryl (I think it was Daryl) last season. See what having a photo hobby gets you?
Speaking of karma, The Walking Dead offers a very valid argument against smoking cigarettes. WOW.
Boy, they're really going all out on making the Mayor look 'ragged', huh? That poor woman looks like she's aging years with each passing hour.
Eugene, you are not helpful.
How does that baby monitor work? Wouldn't that need wireless internet to transmit the imag- ahh, screw it, who cares.
I'm very concerned we didn't see Judith at the end of the episode.
"You don't want to be a coward. I know."
All I wanted to do was see the annoying priest go ham with those two pistols in his hand, and "JSS" denied us this. Mediocre!
"Make sure you've got something worth dying for." Or be like Morgan, and just avoid responsibility until it bites your children's face off, or murders everyone in the town you just relocated to. Anyone think he survives the season?
"We're still here." If there's a mantra for The Walking Dead, there it is.
[Photo via AMC]