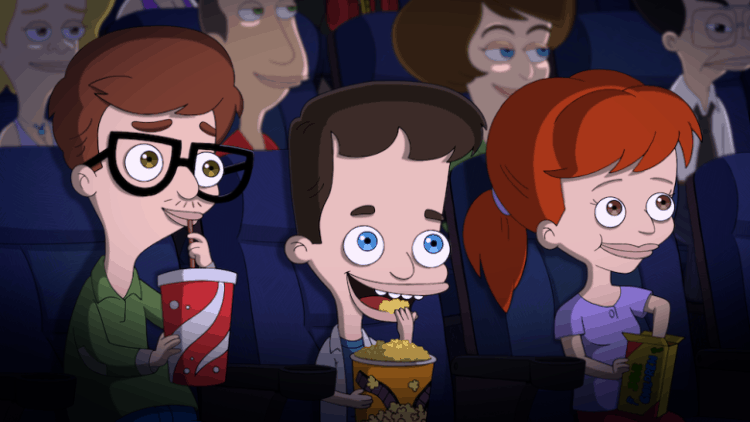 "Big Mouth" was one of the raunchiest and weirdest shows that ever premiered on any streaming service, although it calls Netflix home, it didn't compare to any other adult animated show on any service. As "Big Mouth" quickly maintained itself as what was known as oddly educational and real for being animated, as a comedy about the extremely difficult things we deal with growing up and personifying them as literal human resources components. This idea clearly led to the new "Big Mouth" spinoff "Human Resources" that showed the more monster side of things, as the creatures we've been introduced to in "Big Mouth" were so-called Hormone Monsters, Lovebugs, Shame Wizards, Depression Kitties, and others that we'll dive into below, as well as the recurring characters from "Big Mouth" and the new voices for new characters exclusive to the new "Big Mouth" spinoff "Human Resources".
Big Mouth
"Big Mouth" was written and created by Nick Kroll, who happened to provide an absolute ton of characters' voices in the several-season show on Netflix, and a few others. Other actors featured in the original show that inspired the show, we've done a deep dive into, were Maya Rudolph, John Mulaney, Ali Wong, Jason Mantzoukas, Jordan Peele, Richard Kind, and many others such as Jenny Slate who was removed from the show in order for a more appropriate actress to play the character's role. "Big Mouth" specifically featured children as they slowly become adults and experience over-exaggerated versions of the things we go through in order to become the adults we grow up to be such as shame, guilt, love, stress, and just about every other emotion personified into a very vibrant character.
Human Resources
"Human Resources" on the other hand, featured the opposite side of that world of emotions through emotionalized and personified monsters as it showcased what the show itself called "as they pitched to Netflix", "Big Mouth" meets "The Office". The show literally featured the office life of the characters we were introduced to in "Big Mouth", as well as many other monsters and creatures such as Addiction Angels and Logic Rocks. "Human Resources" also showed characters working with older adults, something we didn't see in "Big Mouth" so as exploratory as "Big Mouth" was shown to be, "Human Resources" will likely be even more expansive.
Nick Kroll
Nick Kroll of course had to provide several voices in the new "Big Mouth" spinoff "Human Resources", all classic of course, but the talented writer, actor, and voice actor played his fan-favorites Rick and Maury. Nick Kroll struck a deal with Netflix to provide more content to the platform outside of "Big Mouth" itself, but while "Human Resources" has made its official debut, we can expect adult animated content to come from Nick Kroll and his company, Brutus Pink.
Maya Rudolph
Maya Rudolph, another fan-favorite actress to make a return appearance, of course, played her "Big Mouth" Hormone Monster Connie. Maya Rudolph certainly played one of the greatest roles in all of "Big Mouth" where he roles on Saturday Night Live only helped shape her creative raunchy personality into her comedy and additional roles post-SNL.
Aidy Bryant
Speaking of women of Saturday Night Live, a new actress to make an appearance as a voice in the "Big Mouth" spinoff "Human Resources" comes from current SNL cast member Aidy Bryant. Aidy Bryant, who has made a true name for herself on the show, has provided some of the greatest content on recent years of the sketch show, not that the show has ever truly disappointed.
Randall Park
Peter the Logic Rock, which was one of the new monsters we were introduced to in this new somewhat off workplace comedy, was played by Randall Park, from "Fresh Off The Boat" and "The Interview", who provided one of the most interesting characters to be one of the new voices for "Big Mouth" spinoff "Human Resources".
Pamela Adlon
Pamela Adlon was one of the new voices of the "Big Mouth" spinoff "Human Resources" that could be known from a show that existed before the realms of streaming services such as Netflix and Hulu. Pamela Adlon provided the voice of the "King of the Hill" character Bobby Hill, another animated character that had difficulty with growing up through the show.
Rosie Perez
Rosie Perez was another new actress that provided a voice in the "Big Mouth" spinoff "Human Resources" and portrayed an Ambition Gremlin. While Rosie Perez doesn't provide voice acting over acting itself often, she could possibly be remembered from "Birds of Prey" or "Pineapple Express".
Other Voices of "Big Mouth" Spinoff "Human Resources"
Other new and returning voices in the equally, if not more-so, raunchy animated adult comedy as "Big Mouth" itself, "Human Resources" featured Ali Wong, Brandon Kyle Goodman, Bobby Cannavale, Henry Winkler, Helen Mirren, Keke Palmer, Hugh Jackman, Thandiwe Newton, and many more.
"Big Mouth" spinoff
Tell us what's wrong with this post? How could we improve it? :)
Let us improve this post!