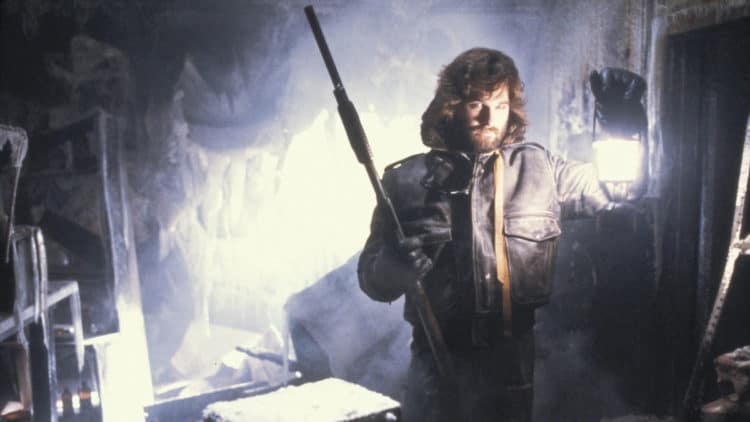 There are a lot of terrifying monsters in the movies that have come and gone throughout the years, but one of the most terrifying of all has to be the shapeshifter, the type of monster that can look like someone completely different from what people expect. While it's been easy enough to find a number of shapeshifters throughout cinematic history, but trying to decide which ones are really the most terrifying is kind of difficult since so many of them have so many different capabilities that it's tough to say who's the toughest. First and foremost though I'll have to say that as much as the classics such as Dracula and the Wolfman are concerned, they might be tough and impressive, but they would likely fall pretty quickly to some of those on the list simply because they're not in the same class or the same category when it comes to shapeshifting.
Here are some of the most terrifying shapeshifters in movie history.
5. Species
Sil is probably one of the least scary on the list largely because she was dealt with at the end of the movie and because while her DNA seems to be able to merge with human DNA, she is also highly impulsive and this works against her. But the scariest part about her is that she can get pregnant after a single fun night out and can produce young in great numbers in a short amount of time. What this means is that thanks to her DNA she can pass among humans and create hybrids that are stronger, quicker, grow at an accelerated rate, and are therefore much, much more dangerous when it comes to their impulses and how they react to the world around them.
4. Transformers-Decepticons
This might seem like cheating just a bit but monstrous is just one way to describe the Decepticons since they're more than willing to kill or enslave humans and they've shown nothing but disdain for anyone else throughout the movies. Plus, their shapeshifting abilities haven't usually limited them to one form as we've seen. Each Decepticon, just like an Autobot, can take on multiple forms if need be to blend in and hide among the humans. But their destructive capabilities are never lessened by this since they're capable of causing mass destruction at just about any size, though the bigger ones are a lot more intimidating.
3. Terminator 2: Judgment Day-T-1000
If there's any movie monster that just skirts the edge of the 'monster' trope but can blend in like few others, it would be the T-1000 since this murderous machine is composed entirely of liquid metal and a true nightmare to anyone it crosses paths with. The mere fact that all it needs to do is come in contact with someone to copy them is enough to wonder why it never bothered to copy the original Terminator. One explanation would be that it can't form into anything with moving parts, but then again, humans have internal parts that couldn't be copied as well, so why not just take on the form of its enemy and really fool John Connor?
2. IT – Pennywise
There's only one reason that Pennywise hits this level on the list and it's because he didn't come first. Had the deranged and murderous thing that poses as a clown been the first in theaters then it's possible that he might have made number one, but number two is no insult to be honest since this list is only for some of the best shapeshifters and Pennywise is certainly one of those. The worst thing about him is that he can take on the form of whatever a person is most afraid of, and in some cases that could be the most vile, disgusting thing you've ever seen, or it could be the most mundane and trustworthy mask you'd never expect.
1. The Thing
The Thing gets the final nod for spot number 1 for a couple of reasons. One is that it's simply terrifying to think that anything exists that could copy another human being and absorb them at the same time. Plus, the fact that it takes on so many other hideous forms was beyond disturbing and a good lesson from John Carpenter that not all aliens are going to look cuddly or somehow approachable, or even just ominous and obvious to spot. The second thing is that the men are in the middle of an arctic wasteland and there's little to no way out of their current situation. That means they're stuck on the base with the thing and left wondering just who among them they can trust, and who's going to reveal themselves and try to consume the others.
Shapeshifters are a scary proposition since a lot of the times in the movies they tend to look very human at times, only to reveal at the worst moment that they're anything but.