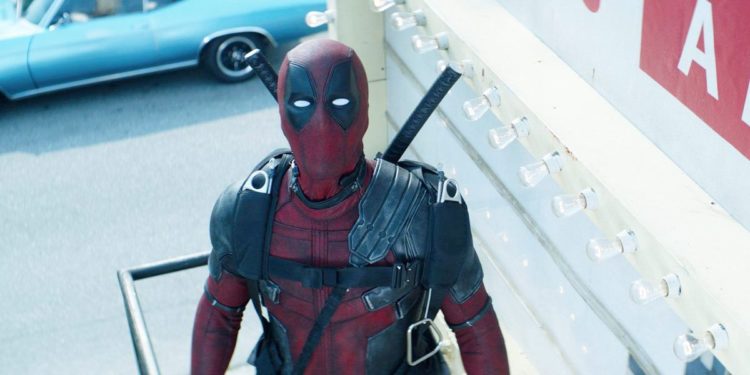 In 1983, the world was introduced to the "merc with the mouth" in the New Mutants #98 comics. It would be over two decades later when Deadpool would finally make his live-action debut in X Men Origins: Wolverine. Surprisingly, the "merc with the mouth" didn't have much to say in the comic book film. After the backlash that the Deadpool character received in the Wolverine movie, Wade Wilson would be given another shot, but this time in his own solo movie, Deadpool. Here are the top five moments in the anti-hero feature.
Opening Bridge Scene
This scene instantly set Deadpool apart from so many superhero films before it. It isn't particularly the action per se, but the moments leading up to it. Breaking the four-wall is a tricky move. Filmmakers are taught to make sure that the audience believes that they're not watching a movie, but this tactic breaks that illusion. Seeing Deadpool happily swinging his legs on a bridge drawing the generic British villain while listening to Salt-N-Pepa is a funny visual in itself, but him talking to the camera is layered with funny pieces of dialogue. However, the action is top-notch as well. The entire sequence is well choreographed throughout and the slow-motion, freeze-frame moment was a nice, inspired moment that had Deadpool spit out more of his quirky one-liners. The entire sequence on the bridge throughout the film is fantastic, but these scenes early in the film confirmed that the product was in great hands.
The Funny "Sex" Montage
It's not often that a sex montage in a superhero film is one of the highlights, but this unique moment continued to showcase just how clever and funny the film was. Plus, it helped audiences connect with Vanessa and Wade's relationship. We don't know much about Wade's new beau, but we do understand that she's a loving and caring woman who values the protagonist. Plus, it shattered the tropes of a stripper. Usually deemed promiscuous and troubled, showcasing that Vanessa is a loyal and gentle soul added some dimension to a role that could've ultimately been a nothing romance. Plus, it was downright hilarious that the their love making was showcased through various holidays. Thankfully, Deadpool didn't forget that characters are very important, and though this is Ryan Reynolds' show, there's several memorable names throughout the first film that make a great impression as well.
Wade Wilson Gets Cancer
This is where Wade Wilson's journey begins. He's struck with the devastating news that he has cancer and naturally, it's a dramatic shift that changes Wade's life forever. In addition to humor, action, and violence, Deadpool made sure to never forget the heart that makes us gravitate towards the protagonist. This moment effectively raised the stakes of the plot and set course for a bumpy and emotional ride throughout the remainder of the film. Deadpool was going to have one hell of an uphill battle trying to get audiences to cheer for a murderous psychopath, but Rhett Reese and Paul Wernick do an excellent job of humanizing the anti-hero by making the prime villains such deplorable people.
Dopinder Locks His Brother Inside Of A Trunk
To be honest, every scene with Deadpool and Dopinder is a highlight. The chemistry between the two is incredibly strong, but it also helps that the dialogue and banters is highly entertaining. Deadpool giving misguided advice is a laugh-out-loud moment in it's own right, but Dopinder going to the extreme by kidnapping his brother and sticking him in the trunk is equal parts absurd in a good way. The scene is built-up early when the two discussed his romantic rival before Deadpool's epic bridge fight. Deadpool trying to shame him in front of Colossus and Negasonic Teenage Warhead while side whispering instructions to kill Bandhu and kidnap his forever love is the highlight of this over-the-top moment.
Negasonic Teenage Warhead Uses Her Incredible Power
The final battle is here. Colossus just got his butt kicked by Angel Dust, so it's now up to Negasonic Teenage Warhead to reveal what she actually does. The antsy teenager builds up anticipation by hilariously acting like a typical teenage girl, texting away as she gives Deadpool the wait a minute gesture. Then the X-Men unleashes her cool powers that makes you wish that she was apart of the actual X-Men universe. The entire action sequence is cool, but dives into the generic final battle stage, but it's still a great moment nevertheless. The rapport between NTW and Deadpool is another fun dynamic and it's great that the first film was able to capitalize on a new mutant from the comics and showcase her personality and power properly.