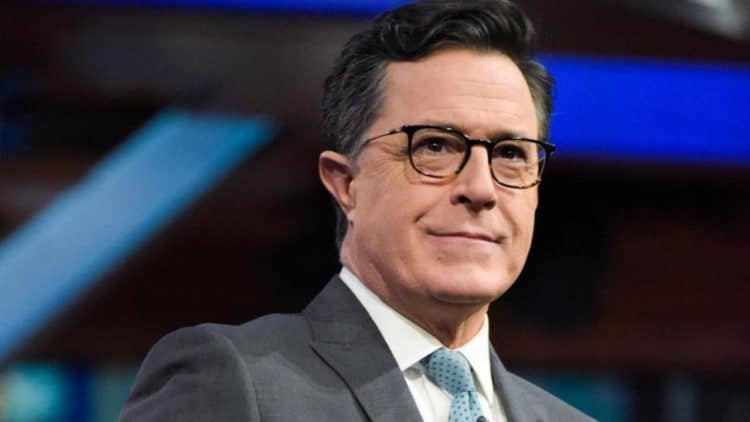 Comedian Stephen Colbert rose to fame as a correspondent in the news show parody "The Daily Show" on Comedy Central. Known for role as a conservative political pendant and dry sense of humor, Colbert became a household name. In 2015 he was chosen to succeed David Letterman on CBS's "Late Show". Since getting his own late night talk show, Colbert has become more popular than ever and the show has had consistently high ratings. This year, the "Late Show" has earned its highest ratings, mostly because of Colbert's scathing yet funny monologues about President Donald Trump. President Trump continues to criticize the late night comedians and particularly Colbert.
Here are the top 10 Stephen Colbert moments of 2018.
1. Manage au France
When French President Macron visited the White House with his wife, President Trump had a few cringe worthy moments. Stephen Colbert took advantage of this. At one point, President Trump goes in to kiss his wife Melania but her hat blocks him, which Colbert called it a "defensive perimeter". Then there was the moment that Trump tried to hold his wife's hand and she wasn't having it. Then Trump brushed dandruff off the French President's shoulder saying he wanted him to look good.
2. NATO
Colbert explored the G7 meeting and NATO summit this past summer in his monologue. President Trump famously alienated several foreign leaders. Colbert talks about President Trump's embarrassing handshakes. Then, as the world leaders were lining up to take a group photograph, Trump pushed the Prime Minister of Montengro aside. As Colbert said, "the Alpha Dog is here".
3. Brett Kavenaugh
Colbert spent a lot of his monologs during the Senate hearing for Supreme Court Justice nominee Brett Kavenaugh. One of the best moments was when Colbert pointed out a story that Kavenaugh threw ice at a man that looked like the lead band member of UB40 at a bar in the 1980's.
4. "No Talent Guy"
President Trump has been very vocal in his responses to anyone who makes fun of him. The President has taken aim at all of the late night talk show hosts. In one monologue, Colbert reviews a Time Magazine article where Trump criticized Colbert and the "Late Show". Trump called Colbert a "no talent guy" and insinuated that the show's ratings only improved when Colbert began making fun of the President so he has him to thank for it. As Colbert said, "winning!".
5. The woman and ghosts
Recently in the news, a woman, Amethyst Realm, claims to have had sex with 20 ghosts and says she's now engaged to a ghost. In honor of Halloween, Colbert discussed this story. Maybe the happy couple is registered at Bed, Bath & Beyond and Halloween Spirit.
6. Mike Myers
Mike Meyers came on The Late Show on Halloween. Myers discussed his appearance in the Queen biopic "Bohemian Rhapsody" and pointed out that the epic song appeared in his movie "Wayne's World" in the classic seen where the guys are driving in their car jamming to the song.
7. Robert Mueller
Recently in the news, FBI Special Prosecutor Robert Mueller, was framed by a twitter troll. Colbert discussed the troll who created a fake organization, Surefire Intelligence while using his actual email and his mother's voicemail.
8. Jon Stewart
Jon Stewart visited Stephen Colbert as a surprise guest. Stewart takes over the desk to deliver a speech to President Trump. Stewart is both funny and poignant when pointing out some of his criticisms of the President including foreign relations, his immigration policies, his accusations against late night hosts and the media, and his angry comebacks to anyone who does not agree with him.
9. Bill Gates
After discussing the upcoming British royal wedding of Prince Harry and Meagan Markle, Colbert discussed Bill Gates' story about meeting Trump in 2016. Gates said that President Trump spoke in third person. Trump then asked Gates is there a difference between HIV and HPV.
10. First Lady Melania Trump
Recently, First Lady Melania Trump sat down for an extensive interview stating that she was the "most bullied person in the world". Colbert spoke with a fake Melania in a hilarious parody. They discuss Melania's relationship with her husband, the media and any messages that her clothing express.