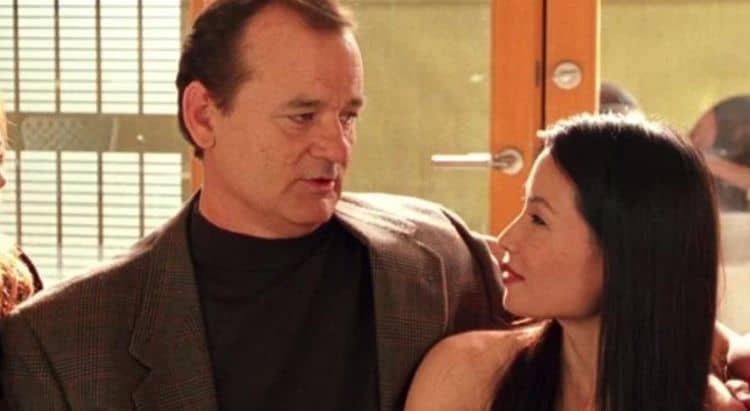 The rumors that fly around Hollywood are about as thick and cloying as balls of pitch and just about as juicy, which is to say that they're hard, mean, and fit to choke an elephant. But people swallow them all the same, and the fight that happened between Lucy Liu and Bill Murray on the set of Charlie's Angels is one of those that has made its way around throughout the years. The original thought was that Bill told Lucy she couldn't act, and Lucy snapped and tried to throw hands with him, only to be pulled away. Well, according to someone who was apparently there and has a distinct point of view on it, Bill decided to change up the script a bit and didn't tell anyone, including Drew Barrymore, who was a producer on the movie. This is obviously a big no-no since getting things like script changes cleared and approved needs to be done as soon as possible. When this was brought up among everyone though, it would appear that Bill admitted that he'd created the changes and went on to admit that he knew why Drew was there, and why Cameron Diaz was there but alluded to the idea that Lucy couldn't act.
According to the eyewitness, this sent Lucy into tears as she shouted a few expletives at Bill and then stormed off. Her costars, minus Bill, went to comfort her, and Bill apparently gave a half-hearted apology much later. But the fact is that no hands were thrown apparently, and the altercation would depend heavily on the point of view of the person watching. There was no need for Bill to be difficult or go over anyone's head, or step on their toes, however one wants to say it when it came to the script, but there is a wrinkle in the whole idea of who was being ridiculous. Granted, Bill Murray can be difficult as it's been told more than once throughout the span of his career. But he earned that right a long time ago.
I can imagine eyes widening and nostrils flaring at the idea that anyone could earn the right to be a pain in the backside, but it's pretty true. The output of an actor does give them a lot of leeway and leverage when it comes to their career since if they're one of the best in the business and have been for a long time, then there's a good chance that they can get away with just about anything. Considering how long Bill Murray has been around and how much he's done with his career, it's not hard to think that he can get away with a lot and still be considered one of the more popular actors in Hollywood because of what he brings to the screen is so great. Unfortunately, that means that behind the scenes, even if he's a massive jerk or says things to people that aren't appropriate, he's bound to get away with it. Is it right? Of course not. Should it be allowed to happen? You're more than welcome to try to stop it, since as long as an actor is a box office draw then there's not a lot of chance that anything short of a sexual misconduct scandal is going to stop them from moving forward these days.
Calling Lucy Liu a talentless actress isn't fair or even accurate, but stating that she reacted in a reasonable manner is pushing it with this explanation since her feelings were definitely hurt, but at the same time, those who think that she carried the movie really need to dial down her hype since she's a fun actress to watch, but she's not quite as great as some might want to think that she is. It's hard to say if there was something else going on in her life at that time, or if she's simply an emotional person, but the outburst does indicate that she's not always as ice-cold as some of her characters would have us believe. On top of that, it does feel as though this situation might have been blown out of proportion as it tends to happen in Hollywood.
Rumors in Hollywood are tough things to believe in their entirety since like it or not, they tend to grow and become distorted over time as the people that start them don't always take into account what's bound to happen when they start talking. The rumor hasn't changed much, but apparently, there were no hands thrown and Lucy was more inclined to shout a few expletives at Bill before storming off. Like it or not, many actors, men and women of all color in Hollywood, get away with one set of behaviors or other thanks to their fame. It's not something that sounds right, but it's definitely something that happens.