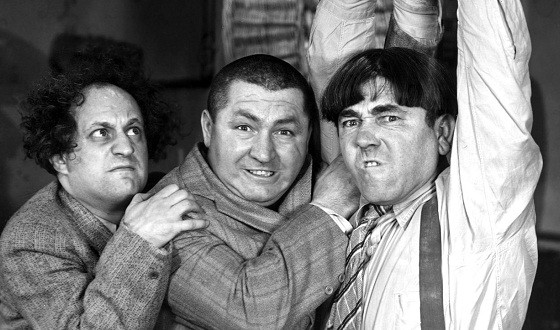 At this point it's interesting to see just who remembers that Curly, Mo, and Shemp were all brothers in real life, with Jerome Howard, aka Curly, being the youngest among them. Larry Fine wasn't a part of the family but he was definitely a part of the act and an integral one at that since without three men in the picture at all times there just wasn't any sense to the Three Stooges. Unfortunately, while the three men were great at what they did, they weren't always treated appropriately and had a devil of a time getting the kind of pay or respect from their bosses that they wanted. Despite everything though the three actors continued to do their thing and for years they were great at it, but after a while, Curly's health became noticeably worse and worse as his appearance and his acting abilities started to wane. Obviously this was something that just couldn't happen since his normally energetic and insanely funny schtick was what the stooges relied upon as the three men continually fed off of one another on-screen when it came to their comedic performances. But somehow, Curly just wasn't able to keep it up after a while, and as a result, his brother Mo took him in to get checked up and found out that he was suffering from hypertension and obesity.
Hypertension is of course another name for high blood pressure and can lead to a number of different ailments if not given the proper attention, but obesity was definitely something that stuck out in a big way since Curly was a big man. He enjoyed partying, laughing it up in social occasions, and he definitely enjoyed the finer things in life, but after a while, even the hardiest individuals find that a life spent without proper care for the body can force them to take a downward turn, and at one point in his career Curly suffered a stroke and could no longer perform his act. That's when his older brother Shemp, who had started out as one of the Stooges, came back into the picture to help out and took over the duties of being a part of the trio once again. Curly did come back for one final cameo before he was well and done with the group, and it was the only time that the Howard brothers were all seen on screen together since the Stooges had always had just three men, and while Shemp had stepped down and Curly had been brought on, Shemp was the dutiful brother that returned when Mo asked him to in order to keep the act going.
Today a lot of people don't know that much about the Three Stooges other than the fact that they were a funny trio that inspired a great deal of comedy back in the 40s and obviously inspired a lot of hilarity when it comes to their type of humor. Sadly, some folks don't happen to think that their slapstick humor was all that great, that it was more harmful than good, and leads to toxic behavior. Somehow in the current era, a lot of people have forgotten the nature of humor and why it's so important, but the Stooges had it in spades, and it's easy to see upon watching just one of their short performances. But the really sad part is that Curly's decline was fairly quick as he went from being the guy that would spin on his shoulder and offer up some of the best comedy among the trio to being cared for by his wife after a second stroke nearly put him down. Thankfully his legend has been able to weather the decades that have passed since he was truly in his prime and his brother Shemp did manage to step in and help the trio continue to thrive for a little while until the end. The Three Stooges were given a movie in recent years that wasn't all that great but did make the attempt to bring them into the modern era. Unfortunately, as one might guess, it wasn't that well-received since comedy has changed quite a bit since their day and the fans weren't as forgiving as one might have imagined they would be.
To be as realistic as possible though the Stooges were perhaps one of the funniest comedy acts of all time since together they had a chemistry that wasn't always perfect but was great for what it was and is still funny to this day. Obviously some people would disagree and state that their brand of humor was horrific in a way, but those that truly understand the need for humor and why it goes fringe at times would no doubt argue that the Three Stooges were, at their best, one of the best things that have ever happened to comedy.