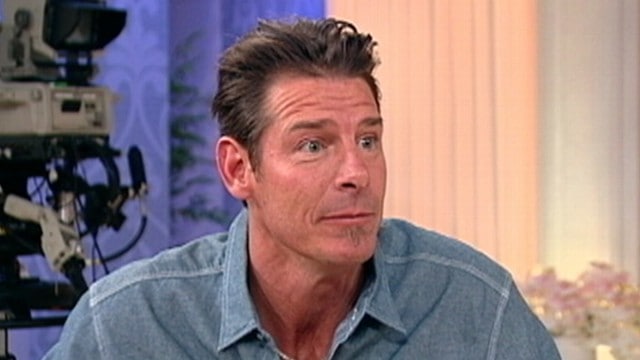 For almost a decade, Ty Pennington was the face of the ABC series, Extreme Makeover: Home Edition. The show, which ran from 2003 to 2012, featured a different home makeover each episode. The makeovers aimed to help families who were experiencing some sort of hardship. The show's combination of feel good stories and style made it a big hit. So much so, that the network decided to bring it back in 2020. However, when it was announced that a reboot of the show would be coming to HGTV, fans were shocked when the announcement also mentioned that Ty Pennington wouldn't be return it. After all, it's hard to imagine the show without Pennington. So, what's the deal? Keep reading to learn why Ty Pennington is no longer hosting Extreme Makeover: Home Edition
What Ty Had To Say
Many assumed that Ty no longer being part of the show was the result of bad blood between him and HGTV. But that doesn't seem to be the case at all. In an interview with TMZ, Ty seemed genuinely happy when he explained that he simply wanted to give someone else the chance to take the reins on the show. Ty also added that is "too old" for the show at this point in his life. However, Ty gave his blessing to the new host, Jesse TylerFerguson. When discussing his time on Extreme Makeover, Ty said, "It's one of the best shows, I think, ever, changing people's lives…that's really the fun part, when you put your heart and soul into designing something for somebody and seeing that reaction. That's what it's all about."
It's also important to note that Ty has been mostly absent from the spotlight since Extreme Makeover ended. With that being said, there's a good chance he's used to enjoying life away from the camera. HGTV didn't specifically speak on Pennington not being part of the reboot. But it does appear that the network is trying to rebrand the show a bit. In a statement, HGTV president, Jane Latman said that "Jesse's participation as host of Extreme Makeover: Home Edition is one of the ways that HGTV will put its own creative lens on the series." Even though the bones of the show will remain the same, HGTV will be taking some creative liberties to make a few changes to the show.
Ty's legacy will never be forgotten, though. By the time the original Extreme Makeover ended, Ty had worked on over 200 homes. In the process, he made many families' dreams come true. His time on the show has turned him into a home design legend. He helped pave the way for many of the similar shows that have followed in recent years.
Who Is Jesse Tyler Ferguson?
Unlike Ty Pennington, Jesse Tyler Ferguson doesn't have a background in design and carpentry. Ferguson is an actor by trade and has won four Screen Actors Guild Awards and earned give Emmy nominations. Throughout his career, Ferguson has built up a very impressive resume. He's appeared in shows like Ugly Betty and is best-known for his role as Mitchell Pritchett in Modern Family. The choice to have an actor on the show is likely a conscious decision by HGTV to shift the focus of the show. The reboot will probably spend more time developing each story and less time focusing on the technical elements of the renovations.
Either way, Jesse, who was a fan of the original show, is glad to be a part of the new iteration. When Jane Latman spoke about Jesse, she said, "Jesse's a funny guy, with a warm, caring nature who will help us find the humor and joy in every situation, so that will make this a unique viewing experience for everyone." For fans who miss Pennington, the good news is that he won't be entirely absent from the reboot. Ty will make appearances in the first season of the show. This will give fans a chance to see Ty and his skills back in action.
At the end of the day, Extreme Makeover will probably be successful no matter who is hosting it. Although fans miss Ty, they love seeing people's dreams come true. The bottom line is this: people love feel good stories, especially during times like these.