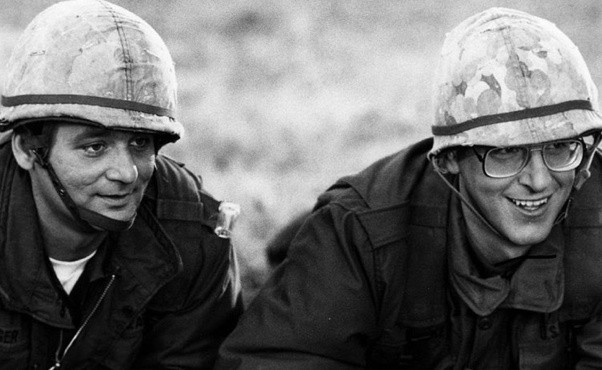 If one goes by the words of many people that have their own opinion on why Bill Murray and Harold Ramis stopped being friends it would likely be because of Bill Murray. That sounds pretty one-sided, doesn't it? Well, the unfortunate truth here is that Bill is apparently a little tough to work with and wants to do things his way quite often and can be a handful if such a thing doesn't happen. that of course doesn't tend to track well with a lot of directors and, unfortunately, it didn't sit well with his friend Harold either. While it's bound to be said in many different ways and a few different reasons might be given, the agreement is that Bill rubbed Harold the wrong way while on set at one point and as a result, the two friends didn't connect for around 20 years after that, which is regrettable, to say the least, and hard to imagine really. On camera, it looked as though these two were thick as thieves and enjoyed spending time with one another, but when it came to Groundhog Day, which to some is the most obvious, inciting incident, it's a bit too evident that Bill had finally pushed too hard and Harold had had enough. It does sound as though Bill didn't want to work with Harold or Dan Aykroyd for a long time, which is regrettable since the second Ghostbusters sequel that people really wanted could have been great while the guys were still more or less in their prime, but it just wasn't meant to be apparently.
When Harold passed however it does appear that Bill understood just what had been lost when he spoke of his friend and why the many years they hadn't worked together or really connected were worth whatever had passed between them. Bill likely realizes even now that Harold was a big part of why he became such a success, since the two were great together and in a way helped Murray's career to blossom into something that would eventually become known as one of the most legendary careers in Hollywood. The fact that Bill is hard to work with and has a big head is something that a lot of people have commented on and have known for some time, but while it hasn't won him that many friends he's retained his level of fame anyway and those that are willing to deal with what he brings to the table are those that are bound to benefit from Murray's status since the idea that he is one of the untouchables in Hollywood has been cemented now for quite some time. His reputation could possibly tank if things went south and he started behaving too badly around those that want to celebrate his career, but the fact is that Bill knows when to be a people person and he knows when he wants to turn it off. Being an introvert it's not too hard to understand this, though it's a wonder that Bill would be anything but an extrovert since he appears to easily work his way into a crowd, or past it, and doesn't look like he has any problems being out in public. Some folks might claim he's arrogant, too full of himself, egotistical, and many other things, but the one thing that Bill has been through the years is successful, and he did make it good with Harold at his side a fair number of times so it's accurate to say that he owed his old friend more than a little bit of his career.
It does sound as though Bill and Harold made amends shortly before Harold's passing though, which is enough to please a lot of fans since the two friends were great when they were together and it would have been a massive regret had they never closed that rift. Their creative differences in the movie Groundhog Day sound like a horrible reason for any friendship to end, but after a while, the reason for them staying apart might have been that neither man could find a way to give ground and admit any fault. This does still happen after all and with two men that were at the top of their game for so long, it's easy to think that neither one of them wanted to concede to the other and say that they'd been wrong. Going back and watching these two act side by side for so long makes it clear that their friendship was quite strong at one point, but it would look as though their feud was stronger for a while, or perhaps it was simply that they were both so strong-willed that giving ground just wasn't in their DNA at that time. In any case, Bill did manage to reconnect with his old friend before he was gone, which should give people a warm, fuzzy feeling.