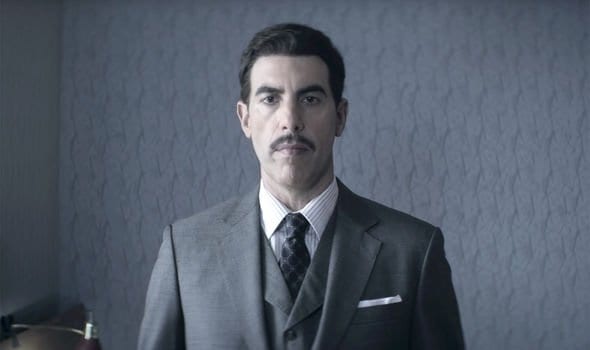 When Netflix launched its new six-episode miniseries 'The Spy' in early September 2019, it instantly captivated and intrigued viewers. The English-speaking French espionage thriller series is based on the life of Israel's top Mossad spy in Syria. Israeli director Gideon Raff is both the writer and the director of the miniseries. Viewers are already fascinated by this series for two reasons. First, they are surprised to see Sacha Baron Cohen in the lead role, says Distractify. This actor is best known for his comedic roles, and his characters are often goofy. In 'The Spy', he plays Eli Cohen, the lead role.
This character is at the opposite end of the spectrum to anything Sacha Baron Cohen has eve played before. This is a very dramatic role, and Baron Cohen delivers an excellently dramatic performance. His character goes from being an office clerk to a Mossad spy who is pretending he is a rich Arab in order to infiltrate the Syrian government. He manages to extract top-secret information when he reaches the highest Syrian government. This helps the Israeli government to bring down the Syrian regime.
Another reason why fans are so intrigued by these miniseries is that the storyline is based on a true story. They have found it fascinating to watch so far, and they cannot wait to see what happens next. So, who is Eli Cohen and what did he do that was worthy of adapting the story into a television miniseries? Eliyahu Ben-Shaul Cohen, known as Eli Cohen, was born in 1924 in Alexandria, Egypt. He was an Egyptian Jew, which meant he had to pay a fine to the Egyptian government like all other Egyptian Jews. The only way that he could avoid paying the fine was to join the Egyptian Army, which was his intention. Unfortunately, he was rejected by the army because they did not believe that he was loyal to Egypt.
In 1956, he was forced to leave Egypt after he smuggled Egyptian Jews into Israel. When he moved to Israel himself, Cohen was keen to join Israel's military intelligence services. Once again, his aspirations were denied, and he was forced to live a normal civilian lifestyle. He was working as an office clerk, which was a position he found boring. Things changed in 1960 when Israel was suffering some issues relating to the Syrian border. This meant that there was an opportunity for Cohen to fulfill his dreams, and he was hired to work for the Israeli intelligence services. Cohen was given Kamal Amin Thabet as an alias, then he was sent to Buenos Aires in Argentina so that he could integrate himself with the Syrian expat community.
While living in Argentina, Cohen had to create the persona of a rich businessman. Thi9s allowed him to enter into the circles of high-ranking and important Syrians. Eli Cohen soon became well-liked and accepted in these circles, which allowed him to host big parties at his Argentinian home and invite Syrian officials. These parties were the perfect cover for extracting delicate and secret information. Those who attended the parties would often repay Cohen for inviting them to his events by inviting him to visit top-secret official locations. For example, they would take him along to see Syria's fortifications, including Golan Heights, and Syrian military bases.
Accessing these locations gave Cohen the opportunity to access the secret information he needed, which he could then send to the intelligence services, either by sneaking the information through Europe or by sending messages using Morse code. As Cohen had accessed the Syrian secrets, it left the Syrian government vulnerable to Israeli officials. Cohen also used visual means to capture information, including taking photographs and making sketches of what he saw. This helped the Israeli intelligence services in several ways. For example, the Israelis had prepared for one line of Syrian bunkers in one location. However, Cohen discovered that the Syrians has built three lines of bunkers.
Although he had been a very successful spy, things took a downward turn for Eli Cohen in 1965 when he was captured by the Syrians. TIME explains that Cohen had made the mistake of transmitting code dispatches at the same time every day to Israel. This was an error that allowed Syrian counterintelligence to trace Cohen's activities and locate him. Just as Cohen was sending a message to Israel, the Syrian soldiers arrived at his apartment. As he was caught in the act, it was easy to prove that Cohen was guilty of espionage. Cohen was interrogated and tortured by the Syrian government. They found him guilty of espionage and he was publicly hanged on May 19, 1965.
Before he was hanged, the Israeli government stepped in and begged for the Syrians to spare Cohen's life. Pope Paul VI even got involved, asking that the Syrians showed some mercy. In the last letter to his wife Nadia in Israel, Cohen had written that he hoped she could look forward to the future and not waste her time weeping for him and the past. Prior to being captured, Eli Cohen had begged to end his assignment. One reason for this was that there was a new Syrian Intelligence Colonel who did not trust him. Eli Cohen knew this and believed that the suspicions of the new colonel would eventually lead to his capture.
In 1964, Cohen had returned to Israel, partly to be with his wife as she gave birth to their third child and partly to bring back information. He took this opportunity to ask for the assignment to end, but his request was denied. The Israel intelligence services wanted him to return to Syria for a final time. It was this final mission that led to his demise. As this is such a fascinating story, it is little wonder that it has captivated viewers. The miniseries have been critically well-received, with Rotten Tomatoes giving 'The Spy' an 83 percent approval rating.
Tell us what's wrong with this post? How could we improve it? :)
Let us improve this post!