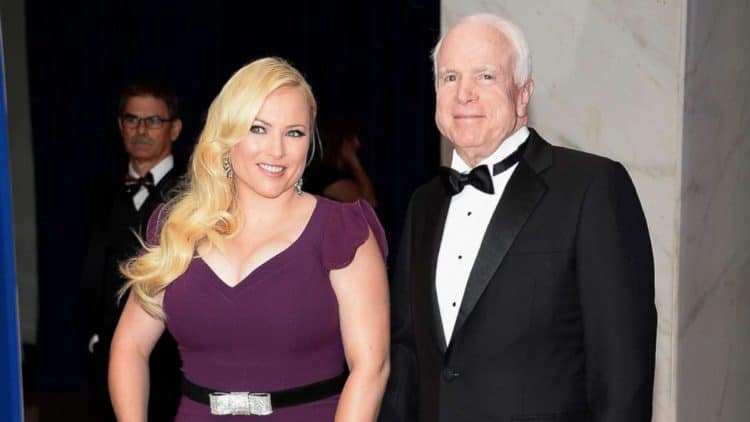 During its time on the air, The View has seen a lot of hosts come and go. The last few years have certainly been no exception. Whether it be drama with fellow co-hosts or personal issues, people don't seem to stay on the show for more than a few seasons. Now, one of the newer additions is already making her exit. In July 2021, Meghan McCain, who joined the series in 2017, announced that she would be leaving. Many assumed that her exit was because of the tense relationship she's had with some of her co-hosts, or the backlash she often gets from viewers. However, her reason for leaving probably isn't what a lot of people think. Keep reading to get the scoop on why Meghan McCain is leaving The View.
The Real Reason Meghan McCain Is Leaving The View
Meghan McCain's choice to leave The View comes down to something simple that a lot of people can relate to: family. When the studio shut down during the COVID-19 pandemic, Meghan and her family moved to Washington D.C. She took some time to re-evaluate what is truly important to her, and she realized she wanted to spend as much time with her young daughter as possible. She knew that regularly commuting between New York City and Washington D.C. would be too much
According to Good Housekeeping, when talking about her life in D.C. Meghan said, "We have this incredible life here. We're surrounded by my family, his family, friends, this incredible support unit. I think as any new mom knows, when I think about where I want Liberty to have her first steps and first words, I just have this really wonderful life here that I felt like ultimately I didn't want to leave."
Leaving the show is clearly an emotional moment for Meghan, but she is very thankful for the experience. She said, "This show is one of the hands-down, greatest, most exhilarating, wonderful privileges of my entire life. I've had so many amazing experiences in my life and this is definitely one of the top. It is a privilege to work alongside such strong, brilliant, intelligent, incredible broadcasters like the four of you. You are the most talented women on all of television hands-down. It has been so incredible to be able to do this with you."
Meghan will remain on the show until the end of July.
How Viewers Feel About Her Leaving
Typically when people leave the show, viewers are a little sad. However, lots of people have expressed happiness and excitement about Meghan's departure. After her announcement, people all over the internet started to celebrate. Meghan's time on the show was filled with controvesry and her comments were often deemed offensive and out of touch. While people agree that the beauty of The View is that there are people with different perspectives, they often felt like Meghan was too priviledged to add anything of value.
Writer Tony Posnanski tweeted, "BREAKING- Meghan McCain is leaving The View to devote more time into being a horrible person." Another Twitter user named Rob Gill said, "Ding dong the witch is dead Meghan McCain is leaving #TheView". It doesn't appear that Meghan has responded to or acknowledged any of these excited comments.
Who Will Replace Her?
At the moment, production hasn't decided who will replace Meghan McCain, but there are several conservative women whose names have been suggested. Among them are Kellyanne Conway, Caitlyn Jenner, and Megyn Kelly. However, none of these people appear to be in official consideration for the role.
Radar Online recently reported that Debbie Matenopoulos is actually in the running to fill the spot. Debbie was one of the original co-hosts on The View and she was the youngest person on the show at the time. However, The View chose not to renew her contract in 1999 and she was replaced by Lisa Ling. Even after her contract ended, Debbie returned to the show on several occasions as a guest host.
A source told Daily Mail, "'Next year is our 25th season and we're considering Debbie Matenopoulos making a triumphant return to The View. While we need to fill the seat that Meghan has vacated, there may be another change coming that we need to plan for. But Debbie would be the perfect fit for our anniversary season." This source also hinted at the fact that another host may be leaving the show soon.
Debbie may not be the person people would've guessed, but she could be exactly what the show needs.