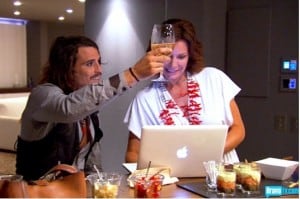 Well, well, well. Where shall I begin to dissect the train wreck that was on tonight's The Real Housewives of New York City, because it was really all over the place. And I mean that in the best way possible.
LuAnn's alleged tryst with Tomas started off the night as the Countess kept looking suspect every time she mentioned her "Italian guests," who I'm going to declare as nonexistent at this point. While Heather and Carole decided to keep quiet about LuAnn's obvious lie, Sonja and Ramona made it their top priority to get LuAnn to admit that she lied about having the Johnny Depp look-a-like over. Ramona didn't hesitate to corner Tomas and ask him what went down the night before, but the guy denied, denied, denied being the house, albeit hella sloppy about it. Later, Sonja made it her business to take "her turn" with Tomas as the two left the gathering early, having a rendezvous of their own that the others could clearly hear throughout the night. Keep in mind that LuAnn played cool throughout Ramona's interrogation of Tomas and Sonja's later conquest, because it comes into play later.
Plus, I must say that despite the small argument between Sonja and Heather in last week's episode, the St. Barth's trip has been a pretty light-hearted affair so far, making the last two Real Housewives of New York City vacations nightmares in their own right. However, as one of the Housewives said as they sun bathed on a boat, it was "the calm before the storm." Talk about foreshadowing…
Let me say that when comes down to the actual argument/verbal smackdown, everyone involved (Sonja, Ramona, Aviva, and LuAnn) were at fault and should have owned up to being wrong in some capacity, apologized, and moved on. But let's face it: if that had of happened, we would not have an interesting show to watch. But still…
First off, there was the conversation about whether Redd should leave the house once he and Aviva arrived, which everyone was sort of involved in. Would the dynamic between the girls have been different with Reed there? Of course, it would have, but only if Reed was with them everywhere they went. Not if he was on the island somewhere else while the women had their fun in the sun. Do I think Ramona and Sonja overreacted by going to the St. Barth's real estate office to look for a house in case they were asked to leave? You betcha. Plus for them to even entertain that idea was proof that they were ready to cause some sort of drama down the line.
Secondly, Aviva was reasonably shaken by the flight to St. Barth's and Reed was doing his duties as the doting husband expertly. Did he need to be thanked and awed over for his services? Of course… by Aviva only. The women thanked him for coming and being a sport, but they didn't need to start kissing his feet as soon as he walked into the house. Did Aviva and Reed deserve a party, complete with a red carpet, balloons, and fireworks? Not at all. I mean, seriously, where do they do that at? This is where I felt Aviva went way overboard with her arrival, because it seemed as if she was preparing for a war with Ramona and Sonja and instead of letting them shoot themselves in the foot, she shot the first round. From being upset that Ramona and Sonja didn't jump out the pool to run to her and Reed to demanding that the two go upstairs and thank the man again for bringing her to St. Barth's, Aviva really showed her ass and I didn't like it one bit.
On one hand, I can understand Aviva's reasoning for going off after hearing that Ramona and Sonja felt that Reed should go to a hotel during their stay. But other than that?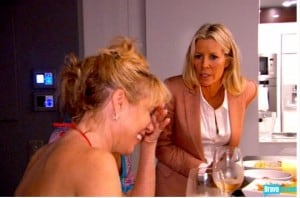 I can't side with her on anything else that came out of her mouth. Especially the "white trash" insult she threw at Ramona and Sonja, which Carole, Heather, and LuAnn all considered out of line.
Speaking of LuAnn, this brings me to point #3. Why would LuAnn even be in the middle of that argument between Ramona, Sonja, and Aviva? Um, for payback, anyone? This is where LuAnn's cool and calm demeanor during Sonja and Ramona's teasing of the Tomas Scandal turns into a trifling move of revenge, because there was no other reason for LuAnn to have any business being in the middle of that fight. Also, LuAnn's smug look after she threw Ramona and Sonja under the bus totally screamed, "Take that," in so many words.
But just when I thought the fight was over, I checked my clock and realized that we were only at the 30 minute mark. What else could go down now? How about more arguing?
After Ramona and LuAnn shared words and Aviva declared that respect will be given to her husband, Sonja tried to smooth things over withAviva, who continued to say how disgusted she was with Sonja and Ramona. Sonja, who obviously didn't get the memo that Aviva was pissed at her as well, was thrown aback by Aviva's accusations and refused to kiss Aviva's ass, because she wouldn't kiss Reed's ass any further. Despite Ramona giving Aviva a teary-eyed apology, all was not well as the women went for dinner and continued to talk smack about each other at the dinner table, albeit to Carole, Heather and LuAnn.
In retrospect, Reed coming to St. Barth's actually did affect the dynamic with the Housewives and their vacation. Just not in the way they expected.
So who do you guys think was right this year's The Real Housewives of New York City annual vacation verbal smackdown? Ramona & Sonja? Or Aviva?
[polldaddy poll="6509299″]