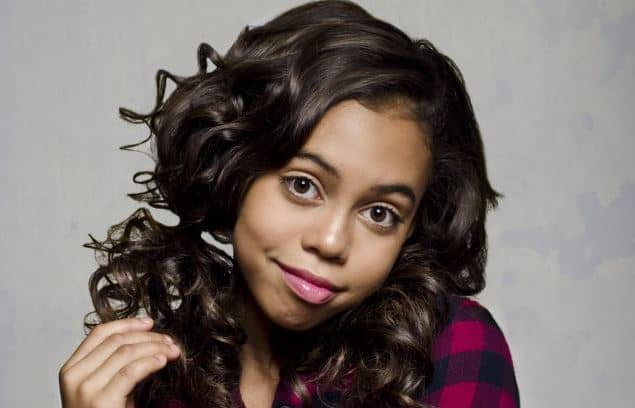 FX's limited-series The People v O.J. Simpson: American Crime Story is captivating audiences. The trial the entire country was obsessed with is once again being played out on our screens everyone's awe. The difference is now audiences get to see a spin on events they didn't know about before. This includes the dialogue between an accused Simpson and his children. In an exclusive interview with TVOvermind, reality star dancer Asia Monet talks about what it was like playing the daughter of O.J. Simpson and where her career goes from here.
TVOvermind: You obviously have an amazing gift and love for singing and dancing. What made you want to try acting?
Asia Monet: I have always wanted to take the leap into acting and see if I really like it. When I finally made the time, I realized I really love acting and getting into character. I appreciate and love everything about the craft of acting. I think my love for acting will continue to grow as I keep learning and maturing.
What about acting is different from the career you've had so far?
Monet: Well, I have a lot of experience in reality TV from a very young age. I feel like acting is so different on so many levels. I love how drama-free acting is compared to reality TV. I am in a real happy place right now and it's all because of my amazing team.
How much do you know about the O.J. Simpson story? When you landed the role of Sydney in The People v. OJ Simpson: American Crime Story, how did you prepare?
Monet: I am only 10 years old, so all of this stuff happened way before I was born. My mom and dad followed the trial and I was able to discuss it with them and do some of my own research online. I knew going in for this role that there would be a lot of girls that wanted to be cast as Sydney Simpson and I feel so blessed and grateful to be a part of such an amazing cast and story. I still can't believe I worked on a project with Ryan Murphy, I have always been a huge fan of his. I spent a lot of time with my acting coach, getting ready for a lot of emotional scenes. I had to really think about this tragic event and use my face and body language to show that.
You're talented far beyond your years. It seems like the sky is the limit for you. Right now, what would you say is a big goal you want to reach?
Monet: Wow, thank you so much! There's so much on my list of goals… I would love to be in a major feature movie (or a few!) and I really want to get ahead in the music industry. I would love to go on tour and perform for all of my fans, who I really like to call my "distant friends." They will always want me to keep performing and I would love to see them all at a big stadium, like the Staples Center… well a girl can dream. I also love fashion and think it would be really cool to design a clothing line in the future.
Who would you say is your idol, and/or your biggest inspiration?
Monet: There are a few actresses, dancers, and artists I look up to. I'm inspired by strong women who speak up and use their fame for good. Misty Copeland is an amazing dancer who inspires me everyday. She overcame so much to be where she is today and she never gave up. I love old school artists like Aretha Franklin, Nina Simone, Whitney Houston, and Michael Jackson and obviously my favorites like Beyoncé and Mariah Carey. My favorite actresses are Gabrielle Union, Viola Davis, Angelina Jolie, Jennifer Lawrence… and I can go on and on listing more.
Keep tuning in to see Asia as Sydney Simpson on The People v O.J. Simpson: American Crime Story on Tuesdays at 10 p.m. on FX.
[Photographer: Birdie Thompson and Glam: Nichole Ray]