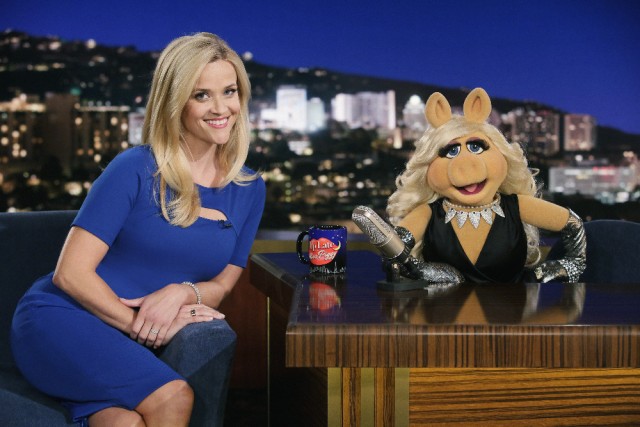 The Muppets is a pretty entertaining show. It presents the Muppet characters in a fresh and interesting way, and it's packed with laughs. It's quite a bit better than many other shows on television. However, as the series finds its sea legs, I hope it learns that Miss Piggy is just not a good character to lean on.
This week on The Muppets: Miss Piggy has Reese Witherspoon on the show in order to get revenge on her, much to Kermit's chagrin. Rizzo hits Scooter's new car in the parking lot, but wants to arrange to have it fixed. Fozzie complicates his relationship by talking about it in his stand-up.
It's no secret that Miss Piggy is my least favorite Muppet. She's boisterous and obnoxious, and the only reason I've ever cared about her is because Kermit loved her. I think strong female characters are extremely important, but Miss Piggy is written to be strong without grounds. She's petty and mean, and she doesn't behave in a way that's worthy of respect. Relying on Piggy for a major story arc in this episode totally took me out of it. I could tell even from the previews that all the worst parts of Miss Piggy were coming out to play.
The Muppets' previous episode was the perfect use of Piggy. She was essential to the plot, but in a way that made other characters come to the forefront. Her personality was not a hindrance to enjoyment of that episode. But in "Walk The Swine", her personality IS the episode. I'm willing to admit that maybe the turn-off to this story is all me. I change the channel when just about anyone talks "celebrity feuds." I did think that there was one redeeming quality to this whole story (aside from Kermit's "don't eat the muffins" gag), and that was Reese Witherspoon. She made herself so likable by showing professionalism and totally investing in the world that's been created. She got physical, she had fun, and I couldn't help but be invested in her story. Going blow for blow with Piggy, she proved that women in feuds don't have to behave like Piggy. Witherspoon proves that celebrity cameos can make The Muppets worthwhile.
I enjoyed the B and C plots pretty well, but they were overshadowed by how much I didn't like the main one. The whole Rizzo and Scooter thing was a little dumb, but the way that it was presented actually got a couple chuckles from me. Rizzo is one of my favorite Muppets, and the "opposites" storyline worked well here. Fozzie's stand-up actually presented a cool issue that plagues real comedians. Comedians get laughs by making their material relatable. Now, obviously, people might have trouble relating to a bear who dates a human woman, but lots of people have girlfriends. Lots of people have relationship problems. So while Fozzie was talking about her, he was getting responses because he related to the audience, and that's also why they stopped laughing when she made him stop. This was a story that translated pretty well to real life.
As always, here are some of my favorite quotes/moments from the episode:
"You never use your real name. They'll have drones over your house by nightfall."- Floyd…er…John Q. Public
"That's why I say a little prayer every time I start my car."- Kermit, living in fear of Piggy's revenge
"I told you to read my romance blog, but no, you had to play with your little trains."- Pepe the Prawn, arguably the best character on this show
"You're banging on a porta-potty with a pink bedazzled hammer." – Reese Witherspoon
Fozzie gets emotional at True Colors…hilarious and sad all at once.
"The last room you guys were in together doesn't even exist anymore."- Kermit, referencing Reese and Piggy's Habitat spat
This episode just didn't do it for me, but there are so many redeeming qualities that make The Muppets worth watching. Characters like Fozzie, Pepe, and Kermit give me some hope.
What about you? Did you enjoy the episode? Let us know!!
The Muppets airs Tuesdays at 8/7c on ABC.
[Photo credit: Nicole Wilder/ABC]