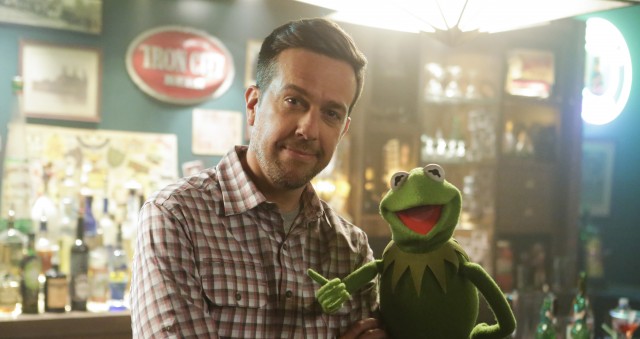 Every sitcom has one episode that makes or breaks a viewer's experience. There is always one episode that pushes people to stop watching, or guarantees they'll continue for some time. This episode of The Muppets was probably a make or break episode for many people, but I can be included in those ranks. After this week's episode, I am absolutely in it for the long haul. I've always loved The Muppets, but this was a truly hilarious episode.
This week on The Muppets: Miss Piggy insists that Kermit get her invited out with the crew after the show. When she's invited, she accepts (to Kermit's chagrin) and introduces the crew to Ed Helms. Fozzie accidentally hits Statler in the face with a launched t-shirt, and then tries to make it up to him. Sam the Eagle realizes romantic feelings for Janice.
Don't get me wrong, I have definitely found The Muppets to be a funny show thus far. This episode took it to another level. I was constantly laughing out loud at this week's gags. I can attribute a few reasons to that, but probably the number one reason is that it started using the supporting characters really well. All of the famous Muppets have had lots of screen time so far, but this was the first week in which some of the background players got a chance to shine.
Ed Helms was a perfect representation of the reasons this episode was so much better than the first three. As a cast member of The Office, which was done in the same style as The Muppets, he is a reminder of strong supporting casts and how they play such an important role in the life of a sitcom. I mean, he was also the perfect guest star because they were doing karaoke, but it couldn't help but feel symbolic.
The emergence of supporting players like Sam the Eagle, Janice, Scooter, and Bunsen Honeydew was a great help to this episode. Also, the fact that Statler and Waldorf did something besides just heckling. These are characters that any Muppets fan would know, but this show finally gives them the opportunity to become more than one-dimensional jokes. I'm a huge fan of all the supporting players and I can't wait to see how they continue to blossom.
As always, here are some of my favorite quotes/moments from the episode:
"The network is concerned that a child might jump in a vat of pudding at home..and drown!"- Sam The Eagle
I totally ship Sam and Janice, by the way
"Tonight my PhD stands for 'pretty hard drinking.'"- Dr. Bunsen Honeydew
Beaker's Piggy impression might be my new favorite thing
"Be rational" "That doesn't sound like me at all."- Kermit and Piggy, regarding after work plans
"He fell asleep in the waiting room once and they took him to the morgue."- Statler, RE: Waldorf's fear of hospitals
Ed Helms had a party at Chuck E. Cheese and he's my hero.
Newest viral sensation? The Swedish Chef doing Rapper's Delight at karaoke.
"I was late once and he said good grief like 10 times in a row"- Scooter, on Kermit's strict work hours policy
"Pig Out" was by far the funniest episode The Muppets has done so far. It hit all the right notes, and that's not just because they spent half the episode doing karaoke. I laughed really hard, and now the bar has been raised for the future of The Muppets.
What did you guys think? Did you enjoy the episode? Let us know in the comments!
The Muppets airs Tuesdays at 8/7c on ABC.
[Photo credit: Nicole Wilder/ABC]