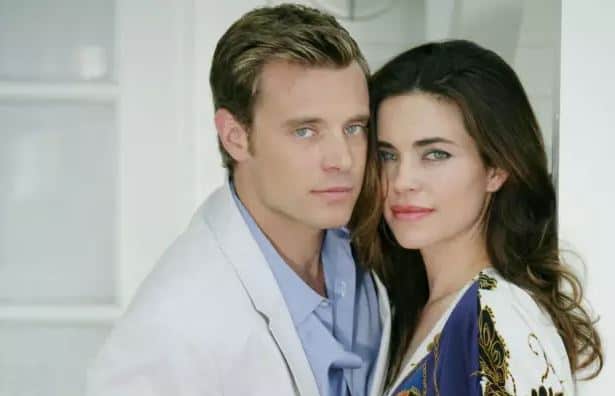 Young and the Restless fans are all about a good romance, but isn't is like everyone is just a situation when they are together? No one in Genoa City seems happy for themselves, for one another, for anyone else. They all seem totally and completely miserable. They all seem to make horrible choices. They all seem to be miserable with one another. They all seem to want to be with a different person all the time, and we cannot get on board with that. We like some couples, of course, but these are not the ones that we care for. We aren't fans of these people in some ways. Some of the couples here annoy us so much that it's hard for us to focus on being happy for them when we only want to be like, "No, please, don't be together. It's never going to work," to them. Do you feel we are accurate in our suggestions for most obnoxious couples?
Rey and Sharon
This couple has been trying so hard all year to make it work, and they cannot make it work at all — ever. They continue to make poor choices and put others first. She slept with another man while she was with him. He went back to his wife even though she cheated on him with his brother, and they both made decisions not to be together. They are trying again, and we just cannot get down with it in the least. They are not good for one another, and we cannot get on board with their decision to try and work this out when it's clearly not working for them. They need to move on, go their separate ways, and not be together. For the moment, however, we can do little more than sit here and wonder if there is anything we can do to make things better elsewhere so we can ignore this train wreck before it gets to the station.
Adam and Sharon
Adam and Sharon are not the kind of people we like together. We don't like Adam, and we think she can do better. Of course, we could also argue that there is nothing we can do that will make them feel better about their own situation, and we can argue that she just don't work with anyone and still be right. She doesn't actually work well with anyone. We get that, we appreciate that, and we are down with that. However, this might be the one situation she is most annoying in. Adam will never take another woman serious, she will never be into him as much as she thinks she is, and this will never work. They know this, and yet they continue to put themselves into this situation with one another like it's their job.
Nick and Sharon
Nick and Sharon are not the kind of couple we love. Individually, we like them both. Together, we don't see it. They don't have the chemistry. They don't have the thing that makes them seem like they need to be with one another. But, they do have a situation on their hands that is interesting enough for us to question. They both cheat on one another every single time, yet they always get back together. It doesn't work, but we see it as interesting into their relationship. They can't get it together, so we are annoyed when they get together.
Kyle and Lola
They just don't work. They could have, but she chose not to give him the time of day when he was a single man who was just unfortunate enough to have a best friend who was in love with him and tried to sabotage his efforts with Lola. If she had given him a chance then, we might like them. But, she waited until he was a married man — to the best friend — to make her move. She told him repeatedly she wasn't into drama and being with someone who had baggage and another woman in love with him trying to complicate their lives, and then he married that woman and Lola decided that was the time to be with him? It doesn't work for us. She's gross.