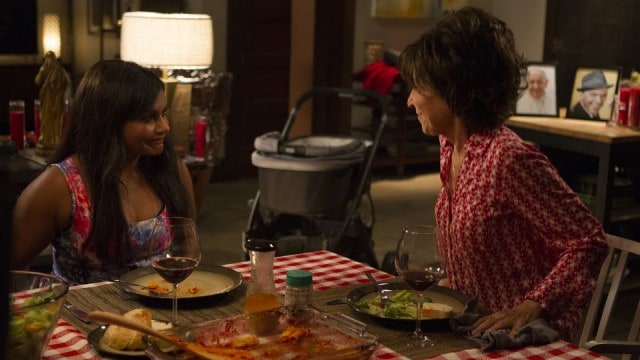 After dedicating last week to Danny and Morgan's road trip across the country, essentially eliminating Mindy from the entire episode, this week's The Mindy Project returned its focus to our favorite OBGYN/new mom and also gave us the very welcomed return of Rhea Perlman as Annette Castellano. And even though I would have loved to check in on Danny in California (he's apparently been there for weeks) and seen how things are going between him and his father, "Mindy and Nanny" was such a fun, solid episode of The Mindy Project that I ultimately didn't care. I was completely entertained by the half hour's central story about Mindy and Annette and the various other subplots, even as my worries about the show stretching out its important conflicts remained.
Ever since Danny's mother was introduced last season, she and Mindy have always clashed. You could not find two people more different from each other than Annette and Mindy, something that The Mindy Project makes clear yet again in "Mindy and Nanny." However, the episode also impressively showcases the strong similarities between both women and just how important their relationship is to not just each other but also their family overall.
Despite how much Annette's overly conservative values and Catholic preachiness conflict with Mindy's progressive and pop culture-obsessed personality, Mindy realizes, as she searches for other nannies to take care of Leo, that her soon-to-be mother-in-law isn't just babysitting her grandson. There's a level of love and commitment from Annette that goes beyond simply watching over Leo, making sure he's fed and that his diapers are changed, because Annette doesn't solely care about Leo: she also cares about Mindy because they're family.
The Mindy Project does a terrific job in "Mindy and Nanny" of exploring the idea of always loving your family even when you don't necessarily like them. Sure, Mindy and Annette will continue to butt heads and disagree on a number of issues, but they'll also be able to depend on one another for things that they couldn't reach out to anyone else for. The love between family members, especially between parents and their kids or between in-laws, is an unspoken agreement of how much you mean to each other. You may not always want to spend your weekends with them, but when times get tough, you're there with a kind word, a helping hand, or a full dish of rigatoni in the fridge.
Does everything work perfectly in "Mindy and Nanny"? Not at all. There's an unnecessary harshness to some of Annette's comments to Mindy (like the one about Danny meeting a new woman to marry while he's out on his road trip), and the subplot involving Jeremy, Jody, and Whitney still feels like a retread of all of Jeremy's past stories with women, even if this one does give Garret Dillahunt more opportunities to show off how fantastic he is in his new role.
However, the message that this week's The Mindy Project spotlights is powerful and positive enough, and conveyed in such an entertaining way, that it's easy to overlook many of the flaws found in "Mindy and Nanny," especially anytime Rhea Pearlman and Mindy Kaling share the screen. After a slight misfire last week, it appears that the show's fantastic fourth season is back on track.
Other thoughts:
I know we got an entire episode dedicated to Danny last week, but I'd be lying if I said Chris Messina's absence wasn't felt throughout "Mindy and Nanny." Get Danny back to New York ASAP.
As I mentioned above, the whole Jeremy/Jody/Whitney storyline feels like a retelling of so many other Jeremy stories from the past. Still though, it mostly succeeds because of how damn good all the actors involved in it are. And even though he might be a bit of a Southern scumbag, Jody is making a case for my favorite new character on TV.
I really missed having Rhea Perlman on this show. Annette Castellano, please never disappear again.
For some reason, Maya Kazan, who played Clara, reminded me so much of Zoe Jarman's Betsy that it was distracting.
Beverly continuing to sleep on Morgan's shoulder during and after Jeremy's presentation is an absolutely priceless image.
I now want a Mindy Project spin-off centering on Donny Castellano and all his adventures as a lawyer.
Annette is adorable. She brings over photos of Pope Francis and Frank Sinatra to Mindy and Danny's apartment and calls them "The Franks."
"Doing cocaine once doesn't make someone a coke head. I hit a bicyclist with my car once. Does that make me a murderer? I don't know. I drove off."
"Because he deserves a cool, young nanny, who has never had a landline and who only knows the Chris Pratt version of Jurassic Park."
"You want to pay me to break up with him? What are you, the dad in a Nicholas Sparks movie?"
"I would never be friends with you. You're an old lady like Britney Spears."
What did everyone else think of this week's episode of The Mindy Project? Comment below and let me know.
[Photo via Hulu]