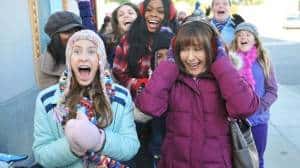 Sue has a severe case of Bieber fever in the February 15 episode of The Middle, "The Concert." Meanwhile, Brick prepares for his next attempt at a spelling bee, and Axl tries to break the speed limit on foot.
Sue can barely speak slow enough to explain to her parents, but Justin Bieber is having a concert in Indianapolis and she needs to be there. Frankie says they can't afford it, but Sue is determined to raise the money. She comes up with a plan to only use shampoo once a day (lather, rinse and don't repeat), give up all of her birthday presents for three years, and not use any electricity. Frankie can barely remember what it felt like to be that excited about something–but she does remember: it was over a Shaun Cassidy concert–so she decides Sue can go. Let the screaming begin.
Last year, Brick won his school spelling bee and proceeded to the regional competition, but he was more interested in the road trip than winning. This year, he's decided he wants to win. Mike agrees to train him again, but promises to be hard on him. One of the rules: no whispering. Brick says, "You got it, kemosabe," and then fights the urge to whisper.
In last week's episode of The Middle, while on their Valentine's Day group date, the adults talked about the crazy things that teenage boys do. Well, Axl proved their point again this week. Driving along with two of his friends, they approach an electronic speed limit sign that tells you how fast you are driving. To slow down, Axl takes his feet off the gas completely and props them up on the dashboard. He claims he could walk faster than the 15 mph speed limit. The challenge is on, and they get out of the car. After his first few tries, Axl gets up to 12 mph, but he's determined to do it.
Brick and Mike start training for the spelling bee. For Mike, it's just as much about being prepared for distractions as it is about spelling. He hits the table during one word, and the next time, he tells Brick that he and Frankie are getting a divorce. Brick's response, "U R?" is not the correct spelling of "fuselage." Training for positive outcomes, Mike insists that Brick needs a victory dance for when he spells a word correctly. It turns out that Brick is a funky little dancer!
Mike didn't really need to create distractions, because Frankie and Sue are nearby, preparing to get Justin Bieber tickets the second they go on sale. Sue has the phone, Frankie is on the computer, and the code word for when one of them secures tickets is "Bieber." Frankie gets through, only to be challenged by a difficult CAPTCHA. She can't figure out what the blurry words are, and she only has two minutes to enter her information. After refreshing the CAPTCHA several times, the tickets are sold out.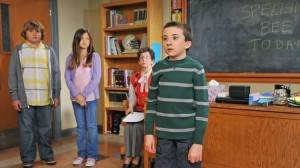 Sue is devastated, but later finds out that a radio station is selling 200 tickets. It just means that she and Frankie have to camp out overnight in front of the station. Frankie agrees again, knowing that Sue is getting older, and this might be one of the last fun things she gets to do with Sue. She will buy Sue's love with concert tickets. It's working–Sue keeps saying that she's the best mom in the whole world.
It's time for Brick's class spelling bee. Mike is there, but he's so confident that Brick will win that he's rude to another parent and barely pays attention. Unfortunately, Brick gets his first word wrong ("reindear" instead of "reindeer") and completes his victory dance before he realizes what he has done. At home, Brick is absolutely humiliated–even Axl knows how to spell reindeer. Brick is having one of his first normal emotional responses, so Frankie and Mike are happy even though Brick is so upset. They decide to let him get over it on his own terms, and Brick refuses to go back to school because all the people who saw him at the spelling bee are still alive.
At the radio station, Frankie tells Sue how happy she is to spend this time with her, because she's growing up so much. Sue agrees, "It's true, I am growing up. Look at me: I'm in line for a Justin Bieber concert." One hundred and seventy-forth in line, Sue is confident that they will get tickets until people start cutting in line–Frankie won't tolerate this and starts yelling at the people who cut, until she realizes they're actually deaf and using sign language. Frankie wants to cut in line to reclaim their rightful spot, but Sue doesn't want to: "Why are my teen years so full of hard choices?"
Meanwhile, Axl manages to run 15 mph, but his friends point out he said could go faster than the speed limit, so he needs to hit 16 mph.
Frankie and Sue cut in line, but they get called out for it. Frankie gets escorted to the back of the line, but Sue uses her amazing ability to go unnoticed. She stays in line, gets the tickets, and achieves Bieber.
Brick has found a private school across town, but he is also willing to do homeschooling. Mike tries to explain to Brick that his emotions should be treated as fuel to be stronger and carry on, but Brick is too afraid that people will laugh at him. Mike takes Brick back to school, and nobody laughs at him. People laugh at Mike, though, when he's asked to lead the Pledge of Allegiance and he can't remember the words. Mike comes home and says he's never going back to that school.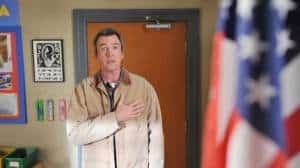 Axl has gathered a group of "warp speed fans" to see him break the speed limit. Unfortunately, the speed tracker sign has been removed. Now he and his friends are bored, so they sit in a parking lot trying to see how many times they can rotate a bottle in the air until Axl hits a parked car. They run away, and although they don't know it, they all break the 15 mph speed limit.
Now that it's time to leave for the concert, Frankie has also caught Bieber fever. She has the tickets in her purse, which confuses Sue because she needs to go to the concert–she had planned on going with Carly all along. It's sad for Frankie, who is nearly in tears, but at least Sue keeps calling her the best mom ever.
Axl picks the best day to be a good son. He comes home, asks if there were any calls for him–or about him–and then sits down with Frankie on the couch, props his feet up on her legs and watches TV with her. She's about to rest her hands on his legs, but she knows he's like a butterfly and she doesn't want to scare him away. She just has to be cool.
What did you think about this week's episode of The Middle? Watch The Middle, Wednesdays at 8pm ET on ABC.
Tell us what's wrong with this post? How could we improve it? :)
Let us improve this post!